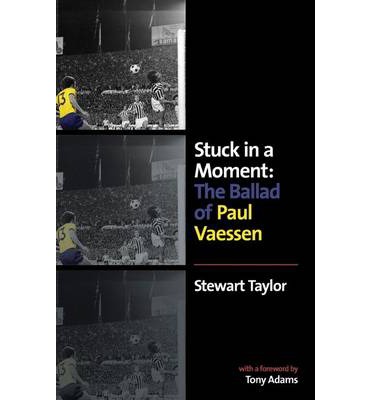 Arsenal fans of a certain age will be familiar with the name because the then 18 year-old Paul Vaessen scored a very famous goal for the Arsenal. It was in Turin on 23rd April 1980 against Juventus with seconds remaining in the second leg the European Cup-Winners' Cup semi-final. At the time Juventus had never been beaten at home by a British Club and were intent on reaching the final with a goalless draw thanks to their away goal in a score draw at Highbury. The enormity of Paul's fine headed goal was to have lasting repercussions. Nothing was ever again to provide Paul Vaessen with the buzz to match that brief experience as a goal-scoring substitute. This was essentially his 15 minutes of fame because his short career in his beloved football was to be cruelly curtailed.
Although the long-term build up to this goal from street kickabouts to professional footballer is well dealt with thanks to some assiduous research this volume is way more than just a football tale. It is an important account of addiction which ruined more than one life and seriously effected many others. It is a tale of how one young top quality footballer did not anticipate and could not begin to cope with life without football. Paul's career at Arsenal was very brief due to unfortunate circumstances and ended even sooner than most due to serious knee injury. His connections with the wrong kind of people and a drug habits that surfaced in his early teens accelerated this particular decline and fall saga. Make no mistake, this is certainly no happily ever after fairy tale ending type book, but rather a heart-breaking and tragic story.
What makes this particular title special is the caring way in which Stewart Taylor has been able to get so close to the truth of Paul's addiction by earning the confidence of Vaessen's close family, especially his mum, dad and brother and then relaying their take on Paul's decline with honesty and sensitivity. Early friends, girl-friends and work colleagues have also contributed to the warts and all commentary. While well-known fellow players, coaches and management staff, including many from his time with Arsenal, have contributed quite freely. The tale which unfolds is not a pretty one because it exposes character flaws which couldn't be overcome. It has an almost inevitably sad ending and confirms Paul's own predictions to those close to him that he'd never live to be 40. He didn't, he died aged 39 and the painful description of his accelerated demise is a sorrowful read, but essential in the understanding of Paul's decline and battle to survive.
Hopefully because this well written work helps to confirm through the experiences of others that more needs to be done for the many young players who'll fail to make the grade, others will take up that baton and act upon it.
The general impression given is that Football Clubs are certainly far more aware of the psychological effects on the dismissal of young players than they were in the early 80's, but this doesn't really mean they're necessarily doing enough today to combat the problems for such players. If this tragedy of one specific individual helps to enlighten the footballing community it can only be a good thing and makes this a book of real importance worthy of widespread reading within the industry.
Although Tony Adams book 'Addicted' was a real eye opener, this title manages to convey a far sadder story with meaningful sensitivity.
Stuck in a Moment: The Ballard of Paul Vaessen by Stewart Taylor £18.99
Hardback published by GCR Books - ISBN 978 1 9090500 6 8
Official Publication date is 8th August 2014, although it is on general release as at the beginning of June. Available through any decent bookstore or your favourite online bookseller. Or for the best deal I've found it is available here for £13.99.