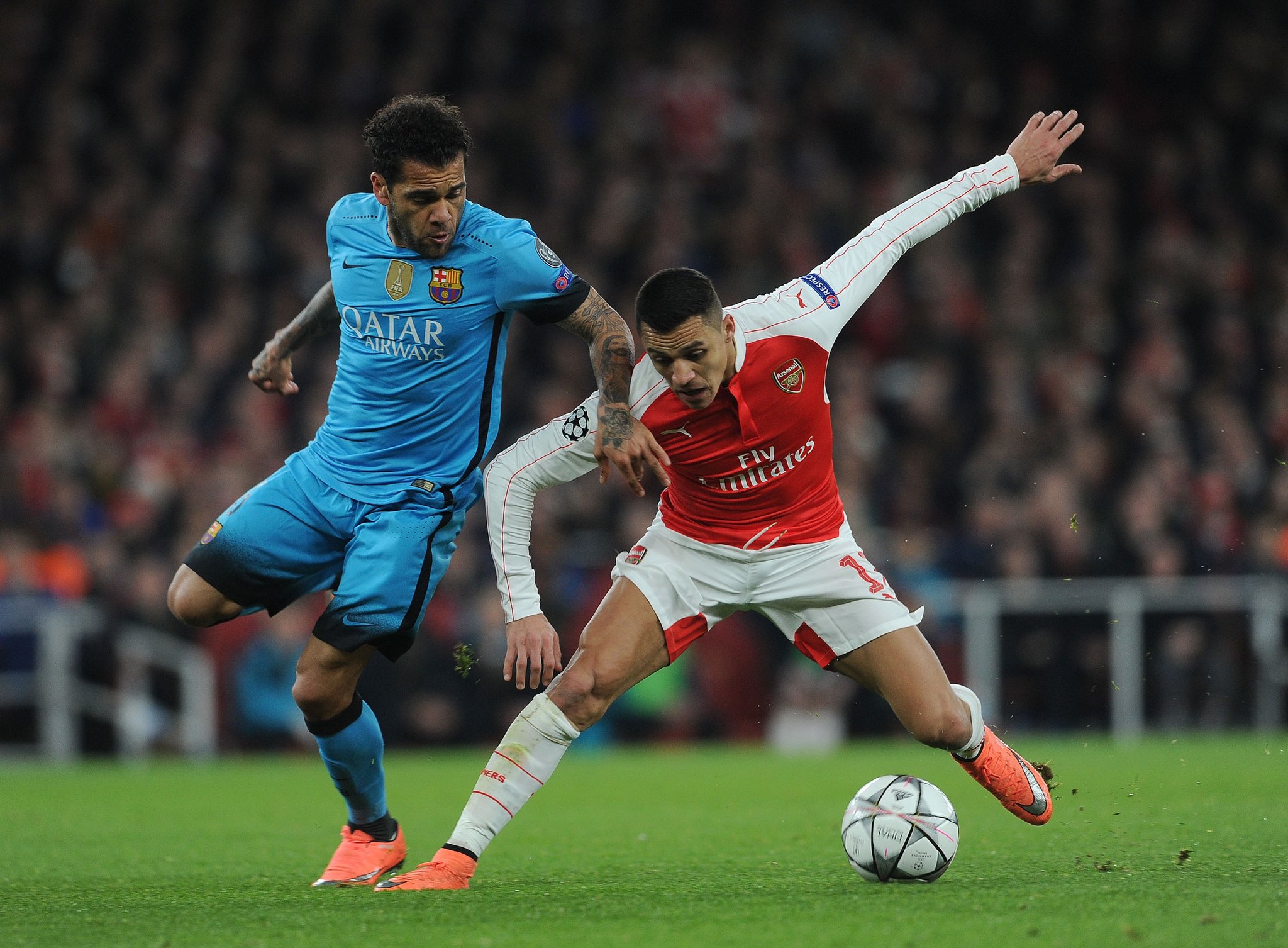 Finally Lionel Messi had the space and room and this time he did not disappoint, thumping home Neymar's cross past a stranded Cech.
Minutes later he finished the job, converting a penalty awarded when he was tripped by Flamini.
Arsenal had a number of chances to score, but they failed to convert, missing a great opportunity to beat the world's best team.
Player Ratings:
Cech 7: He had no real chance on both goals. Made a key save off Neymar early in the second half and made several other good saves, including a fine save off Neymar.
Bellerin 6: He had his hands full dealing with Neymar and had to utilize his speed a number of times. On Barcelona's first goal he got caught upfield and couldn't recover in time. Offensively he was timid at times, brave at other times.
Mertesacker 5: His hand in the two goals nullified what had been an excellent display at the back, where he'd made a number of key interventions, illustrated best by his blocking of a Messi shot. On the first goal he was caught a little too far upfield and missed the challenge that may have stopped the attack. On the second goal, he failed to control the ball which bounced back to Messi, who then drew the foul.
Koscielny 6: Was generally solid, but he too disappointed on the first goal, with a weak challenge that failed.
Monreal 7: Was unlucky to draw a yellow card so early, but he was generally solid dealing with Messi and Alves. On the goal he was caught in a quandary as to whether to deal with Neymar or Messi. In the end, he stopped neither. I would've stuck to Messi, but that's my wishful thinking.
Coquelin 6: He had a good match dealing with the Barcelona offense, but he too was caught upfield on the Barcelona goal. A mystery why he went off to be replaced by Flamini.
Ramsey 7: In our half he worked hard, but made several poor passes which were luckily left unpunished. Offensively, he came close to scoring a number of times, but passes to him were short or behind.
Ozil 6: Some of his set piece deliveries were disappointing and Barcelona worked hard to deny him space and to keep him out of the middle. He was not as sharp as he should've been
Oxlade-Chamberlain 6: The Ox looks to have injured himself again, this time after he squandered a great counterattacking chance with a poor touch and a challenge by Mascherano. He'll be dreaming about the chance he fluffed in the first half, tamely hitting the ball at Ter Stegen. Otherwise he was playing well until the injury.
Giroud 6: A few good touches, a few poor passes, and a couple of moves which didn't come off. He had the best chance to score, but his header was magnificently saved by Ter Stegen.
Sanchez 5: There were a few great moments from Alexis, who kept Alves busy, but there were more awkward moments from a player who is struggling for form right now. Missed passes, poor control, dribbling into packs of opponents, just a few of his problems.
Substitutes:
Walcott 5: Did not really impact the game as hoped.
Welbeck 7: Another promising cameo from Danny. Almost found Ramsey at one point. His hustle drew a yellow card for Pique.
Flamini 4: Why he came on, I don't know. His first act was to foul Messi, who caught him cold and a little flat-footed.