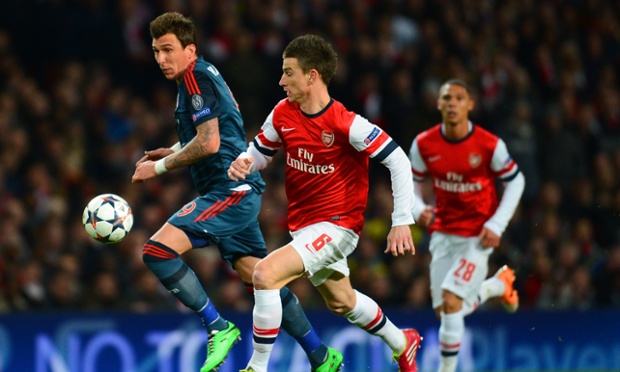 For the first twenty minutes Arsenal played brilliantly and put the defending European champions under repeated pressure.
Mesut Ozil won a penalty when he was tripped by Boateng, but he kicked a penalty not worthy of a player his worth. It was the second time he's missed a penalty this season and this was as bad as his first.
Bayern earned their penalty when Robben was fouled by a rash Szczesny, who was shown a red card. I believe a yellow card would have sufficed and would not have ruined the game as a spectacle.
Alaba's resulting penalty would hit the post and Arsenal survived to halftime.
Toni Kroos is gaining a reputation as an Arsenal killer and his rocket early in the second half put Bayern on top.
From that point on it was a battle to see if Arsenal could halt the tide and limit the damage. That the second goal came so close to the end hurt more than if Arsenal had surrendered five or six.
Thomas Mueller cut behind Mertesacker, beat Flamini and Sagna and headed past Fabianski.
This time Bayern will not take Arsenal so lightly when the rematch takes place in Munich. Arsenal have their work to do.
Player Ratings:
Szczesny 6. A super save from Kroos early in the game, but the match will be remembered for his foul on Robben.
Sagna 7. Will regret not getting closer to Mueller on Bayern's second goal. Worked hard and his side was relatively secure.
Mertesacker 7. A solid game for Per who made a couple of key blocks.
Koscielny 8. Man of the match. Made a number of key plays in the match and was lucky to get away with a foul in the penalty area. Bayern will step up their efforts to buy him.
Gibbs 7. Was having a good game prior to getting injured. I hope it's not a hamstring injury.
Flamini 8. Worked his socks off and barked his commands to marshal the defence.
Wilshere 7. Also worked tirelessly through the match. Did lose possession a couple of times.
Oxlade-Chamberlain 7. Provided a spark to the Arsenal attack. Unlucky not to score early when Neuer beat him to Sanogo's through ball. He worked hard and covered a lot of ground.
Ozil 5. Was excellent early in the match, won the penalty and then hit such a poor spotkick. His confidence oozed out and he wasn't the same player. Did poorly covering runners on his wing and didn't help Monreal that much.
Cazorla 6. Sacrificed when Fabianski needed to come on.
Sanogo 7. Another surprise outing for Yaya. He actually played really well, challenged for the high balls, made some good passes, and covered a lot of ground.
Substitutes:
Monreal 5. His first touch was a poor clearance which fell to a Bayern player who missed. Monreal was busy, his wing featuring Robben, Lahm, Goetze, and Rafinha. His evening was made busy by Ozil's poor efforts.
Fabianski 8. Another solid outing for Lukasz. Unfortunately the second goal was beyond his reach.
Rosicky 5. His only real contributions were a couple of nasty fouls, the second of which could have been disastrous.