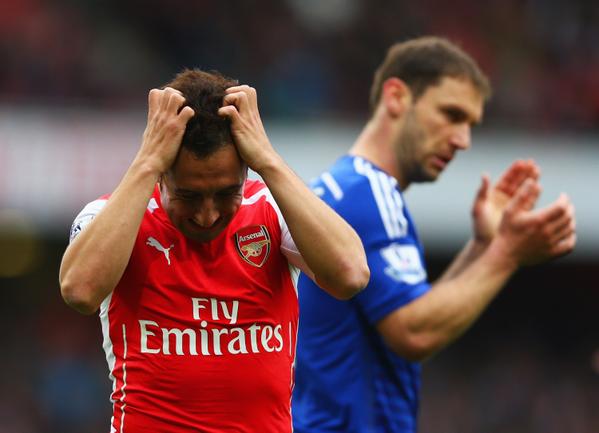 Arsenal never produced a shot which troubled Courtois and they signally failed to convert a couple of half chances which might have won the game.
As it was, it was Chelsea who had the best direct chances of the match, all in the first half.
The first chance saw Oscar latch onto a long pass and he lobbed Ospina, only to have Bellerin head the ball off the line.
Ospina rugby tackled Oscar and managed to avoid being carded. Arsenal dodged a bullet there.
Later in the half Ramires was played in on goal and Ospina made a great save off not a very powerful kick.
The second half saw Chelsea keep the midfield crowded and keep Arsenal from penetrating the penalty area.
Arsenal's best chance came late, a Monreal cross saw both Ozil and Welbeck fluff their chances to score.
Arsenal didn't play like a team worthy to take the title and still have to improve if they want it next year. They need to break down a team like Chelsea.
Player Ratings:
Ospina 8. His tackle on Oscar was a little aggressive, although he was entitled to challenge. He made some easy saves and he made the key save off Ramires.
Bellerin 6. He had a busy day and largely kept the wing safe. He was guilty of a number of poor passes and the pressure seemed to make him a little nervous. Didn't get forward enough and Arsenal didn't utilize him on the wing enough.
Mertesacker 7. Was effective and won most of the aerial challenges that came his way. He had one shot to score after latching onto a poor headed clearance from a corner, but he hit it well wide.
Koscielny 8. A rock at the back and my man of the match. He came charging forward several times and one cross found Cazorla, who made a mess of it.
Monreal 8. His late cross should have been converted. He probably should have been utilized more on the overlap as well. Played very well on defence.
Coquelin 7. He had two very aggressive challenges early, the one on Hazard should have earned him a card. As it was, he was carded shortly after and that limited his effectiveness a little. He was good on the ball and passed well.
Cazorla 7. He again had a few moments of magic, where his movement out of trouble was outstanding, but he offered little in the way of clinical moments. I was hoping Wilshere would replace him near the end.
Ramsey 7. Some magical moments with a trap in mid-air followed by a flicked pass were memorable. He worked hard, threw in a couple of good crosses, but was not able to get in positions to score.
Ozil 8. Will be dreaming about that late chance he should have scored. He worked hard, he tried to create, but at times he looked a little off.
Giroud 6. Never really got involved as he should. His best chance was handballed by a Chelsea player, but no penalty was given.
Sanchez 7. Crowded out and fouled for most of the game. Alexis was guilty of a number of giveaways as well, as his game lacked precision at times. He couldn't get hold of the ball in a dangerous place and Chelsea were happy to see him wander back to get the ball.
Substitutes:
Welbeck 5. Forced a save from Courtois as he tried to cross the ball. He fluffed his chance right after Ozil fluffed his.
Walcott n/a. Came on too late to make an appreciable difference.