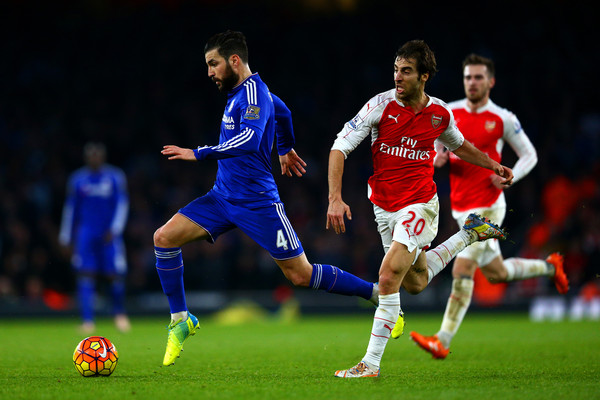 Once again it was Diego Costa who drew the red card, this time from Per Mertesacker, who lunged at Costa to try and prevent a breakaway.
Once again there was controversy about the challenge and whether Per had made any contact. The replays showed there was no contact.
Andy Townsend (who I was forced to listen to ad nauseum) said that the red card was still appropriate given the perceived intent to make the foul in Per's mind.
How about the intent in Costa's mind, I would argue, who saw a chance to draw a foul and fall with dramatic intensity?
The upshot of all this is that Arsenal have squandered a chance to move back on top of the league and now find themselves in a four way battle to win the title. Two points out of the last nine available in just not good enough.
Should Giroud have been withdrawn? Should Gabriel have done better against Costa? Should Sanchez have started? These and other questions will probably never be sufficiently answered.
Arsenal had their chances to score, but they lacked composure in front of the goal and they were always a person short.
Player Ratings:
Cech 6: Not much to do and he will wish he'd challenged Matic's cross more to cut the angle on Costa.
Bellerin 7: He did a lot of running, but there were no good targets in the middle to cross to. He was one of our better players on the day.
Mertesacker 4: Probably should have just left Costa to see if he could've beaten Cech. Per's lack of speed tends to catch up to the team when we play elite teams with fast players.
Koscielny 7: Our best defender on the day, but he was lucky a penalty was not awarded when he body checked Fabregas. Unlucky not to score when Monreal's return pass was out of reach in the second half.
Monreal 6: He had his hands full dealing with Willian most of the day. Got forward several times, but his crosses were poor.
Flamini 6: He had three decent chances to score (irony of ironies) and he flubbed them all. In the first half his attempt to pivot and shoot saw him miss making contact. At the end of the half he burst in free of goal, but instead of heading the ball, he tried something out of a martial arts kicking demo, which made little contact. In the second half he had another opportunity to hit Chamberlain's deflection, but again he made poor contact. Defensively he was okay, but he had trouble dealing with Cesc.
Ramsey 5: Worked hard as usual, but he had a number of poor passes, showed some poor control, and gave away a couple of free kicks.
Ozil 6: Apparently pilloried on twitter, but I thought he was okay, given that he had few options to pass to up front and irregular service from behind.
Campbell 6: He had a glorious chance to score in the first few minutes, but he made poor contact with Walcott's cross. He made a couple of nice runs, but then he faded.
Giroud n/a: Had just started to break a sweat and then he was replaced. Had been injured midweek, so maybe that was a factor.
Walcott 6: Captain for the game. He made a nice cross to Campbell early, had a couple of near chances but was called offside, otherwise the game passed him by (again).
Substitutes:
Gabriel 6: Had just come on and was punished for allowing Costa too much space. Otherwise, he was pretty solid most of the game.
Sanchez 7: He gave the team a lift. He had a decent chance when the ball was ping ponging around the penalty area, but the ball came at him a little too fast. He showed signs of rust, but we need him if we are to turn the momentum around.
Oxlade-Chamberlain 6: He had a few good touches, but wasn't able to really impact the match in the time he had.