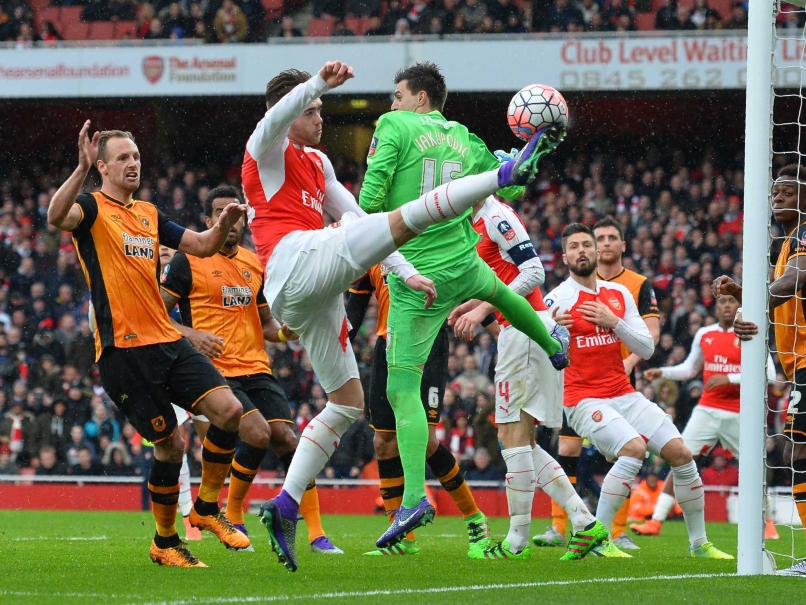 The first half saw Arsenal dominate but they failed to unlock the Hull defence. Referee Mike Dean denied a penalty shout when he excused the Alex Bruce handball against Elneny's goalbound shot.
Welbeck and Walcott had tight shots that were well covered by the goalkeeper and Iwobi narrowly missed.
In the second half the pressure continued, but Jakupovic, the Hull keeper made several excellent saves, most noticeably off Welbeck and off a Joel Campbell free kick.
Mike Dean again turned down a shout for a penalty when Chambers was brought down. Hull almost stole the game near the end when Aluko, in front of the goal, could only hit tamely at Ospina.
Alexis forced a late save from Jakupovic from another free-kick and the Hull defence denied Arsenal the chance to win with a concerted effort.
Player Ratings:
Ospina 5: Looked timid on a cross in the first half, but was in the right place on Aluko's shot at the end. He had very little to do.
Chambers 6: A couple of decent crosses, but he could've done more and wasn't always precise with his passes. He picked up a silly yellow card when he held and bundled down his opponent. Mertesacker 6: He looked comfortable the entire afternoon.
Koscielny 7: Very solid at the back, mopping up a number of times. Picked up a somewhat undeserved yellow card and luckily avoided a second.
Gibbs 6: Decent display, but he could've done more. He had a couple of good attacks down the flanks and found Walcott with one of his crosses.
Flamini 6: A good display and he found himself in decent positions in the box several times, but produced nothing. Elneny 6: Good energy, lots of passes, although only one stood out. He had a good shout for a penalty in the first half.
Iwobi 7: Interesting player who can razzle dazzle at times with his dribbling ability. Unable to unlock the defence though. He had two shots that both came close.
Walcott 7: A good match for Theo, who looked dangerous on a number of occasions, had a couple of chances, and got involved in the game, but never got on the end of a gilt edged opportunity.
Welbeck 7: He had a header early that he headed straight to the keeper. He had several shots, the best being his chance in the second half that the keeper had to dive for. Might have been the man of the match.
Campbell 5: Produced very little, but he did have a great free-kick saved by the keeper. He will rue this chance he had to impress.
Substitutes:
Giroud 7: He came on and had several half chances. He provided some energy up front.
Sanchez 5: Not in sync with his teammates and he fluffed several decent opportunities. Appears to be trying too hard.
Oxlade-Chamberlain 5: A couple of sloppy passes and a poor half-volley were his contribution to the game.