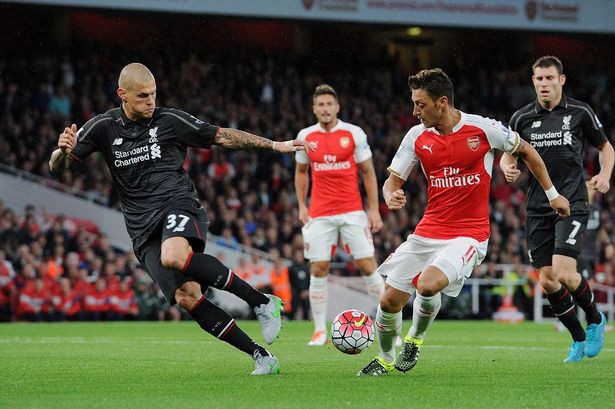 Liverpool dominated most of the first half, courtesy of a generous Arsenal feeding them opportunities with a litany of poor passes and clearances.
Coutinho almost scored in the first five minutes but his shot hit the post with Cech well beaten.
Arsenal settled for awhile and produced some superlative passing, the best being Cazorla's through pass to Aaron Ramsey which resulted in a goal, nullified by a questionable offside call from the linesman.
Callum Chambers made four giveaways, but Bellerin, Cazorla, and Gabriel also contributed to feeding the Liverpool attack.
Benteke, who was starved for ball in the FA Cup Final, found himself feasting on these giveaways, but he couldn't convert any of the opportunities that came his way.
His best chance saw him make minimal contact from a cross, but Cech made a great save and kept out a certain goal. Cech made another save off Coutinho's rocket of a shot, just getting enough contact to guide the ball against the upright.
Arsenal were a shambles and were glad to hear the halftime whistle.
The second half was dramatically better for Arsenal. The eliminated the giveaways and they put Liverpool under pressure.
However they were unable to create many clearcut opportunities and along with a couple of fine saves from Mignolet, they couldn't score their first goal at the Emirates this season.
Arsenal lack that extra special something right now and lack a directness which would create better chances. Too often they nibble around the edge of the box and lack that bolt of lightning which would open defences up.
Player Ratings:
Cech 8: Man of the match. He had to deal with a new nervous defence in front of him and he had to be sharp. Made great saves in the first half from Benteke and Coutinho.
Bellerin 6. He had a rough first half and he had his hands full dealing with Coutinho. A poor clearance by Hector gave Liverpool their best chance of the match. He looked nervous when he had the ball in his own half. He was better going forward and he had a good chance to score early in the second half.
Chambers 5: A horrible first half. Some sloppy passes, losing the ball upfield, allowing Benteke to turn and blow by him … On the other hand, he was a lot better in the second half.
Gabriel 6: He had a tough night dealing with Benteke. He also looked nervous in the first half, but was able to compose himself sooner and he looked better in the second half.
Monreal 7: He made several decent crosses, one of which Sanchez headed over. He was our best defender on the night and he linked up with Ozil and Sanchez effectively.
Coquelin 7: Made a couple of vital challenges in the first half. That said, he too made some poor passes.
Ramsey 6: He also made some poor passes and back heels during the game. He came close to scoring once or twice, but nothing is going his way right now.
Cazorla 7: He was another guilty of a not so good first half, although the linesman denied him one of the passes of the season in the first half. Was very good in the second half.
Ozil 7: Good on the ball, creative at times, but wasn't able to break down the Liverpool defence.
Giroud 6: A couple of times he was unable to reach crosses which promised goals. He made a fine pivot and shot, ignoring Lovren's foul, but Mignolet saved his shot. Was substituted.
Sanchez 7: Too often was crowded out by a committed Liverpool defence. He was influential throughout, but he couldn't find an opening.
Substitutes:
Walcott 5: Made no real impact on the game. He's better when he starts.
Oxlade-Chamberlain 6: One good run, one poor shot, one decent shot. a poor pass … all in about ten minutes.