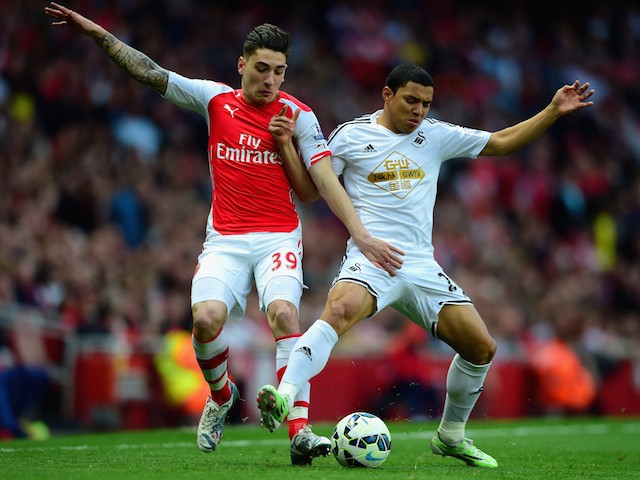 Last night's match featured a Gunner's team unable to create great chances and unable to convert the one's we had.
Enter Gomis, like he did earlier this season, and once again he latched onto a Montero cross and headed home.
It was probably the only real chance Swansea generated the entire match and they converted while we floundered at the other end.
We were particularly abject in the first half, where the pace of our passes was slow and we generated few chances.
We picked up the pace a little in the second half, but still we struggled to seriously test Lukasz Fabianski.
The best chances fell to Alexis and Walcott, but both of their shots were near Fabianski and he made the saves.
Wenger will need to pick up the squad for the upcoming match against Manchester United and maybe just change some of the personnel, who looked a little stale.
Player Ratings:
Ospina 6: Made an easy save off the near post in the first half and had to come off his line to head the ball away from Dyer. Could he have done better on the goal? Probably.
Bellerin 6: Attacked fairly frequently and whipped in one or two good crosses. Could have been used a little more down that wing. Had a reasonably good night against Montero … until the end when he allowed him to put his cross in to Gomis. It was Montero who had ripped Chambers apart and Hector knew what he had to do … but in the end he too was beaten by Montero who delivered the deadly cross.
Mertesacker 7: A good night, but he probably should have been assigned to stick to Gomis.
Koscielny 6: A solid night until Gomis rose above him and headed home the winner. Kos has had trouble several times dealing with crosses at the end of games (witness the failure to stop Harry Kane).
Monreal 8: Another good game for Nacho, although Dyer did give him some headaches. On the offensive end he came close to scoring once and made several overlapping runs into the box.
Coquelin 7: Typical performance from Francis. Good effort, but did make several errant passes. Needs more confidence coming forward.
Cazorla 7: Several of his shots were charged down and a couple were saved by Fabianski.
Ozil 7: He made a number of decent passes to create chances, but wasn't able to serve up a golden chances.
Ramsey 7: Looked likely to score several times, but shots were charged down, or saved, or missed.
Giroud 6: The game largely passed him by. He headed over the bar in the first half and had a half chance that he hit at Fabianski in the second. Wenger shouldn't have removed him as we then lacked a target man for the last twenty minutes.
Sanchez 7: Wasteful at times, essential at other times. He missed a hatful of chances.
Substitutes:
Wilshere 6: Showed some good touches, but all of his crosses were hit too close to Fabianski.
Walcott 6: He had a couple of chances, the second being the best, but hit too close to Fabianski. Wasn't able to utilize his speed.