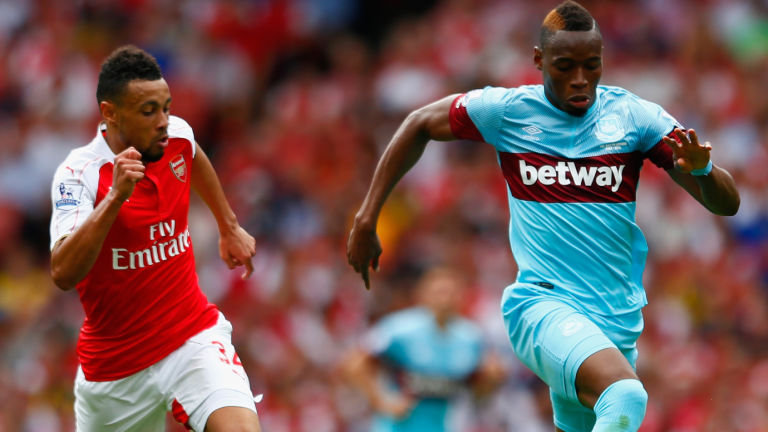 All of the good will created during the preseason went down the drain in ninety minutes.
Arsenal had the run of the play but couldn't break down the West Ham defence and had few genuine great opportunities to score. By the end of the game they looked out of ideas and without confidence.
At the other end Arsenal didn't look defensively sound and Petr Cech can be held partially to blame on both goals.
The first goal saw him come out too late to challenge Kouyate, who'd managed to elude Koscielny. The second saw him dive late at Zarate's shot.
At halftime I hoped being a goal down would show how much character we had. Unfortunately, we showed little and now questions will be raised over just how good this squad really is.
Player Ratings:
Cech 5: Not entirely to blame for either goal, but he definitely could've done better, particularly on the second. If Arsenal fans were hoping he'd make things better, they're going to have to wait awhile.
Debuchy 6: Defensively he was fine, but on attack some of his crosses could've been better. That said, he did make a couple of decent crosses in the first half.
Mertesacker 6: He had a busy day dealing with Sakho and Kouyate and looked a little slow once or twice.
Koscielny 7: Certainly was slow to react to Kouyate on the first goal. Otherwise he was very strong and his quickness was critical on a number of occasions, particularly on his sliding tackle near the middle of the second half against Sakho (I believe).
Monreal 6: He had a decent match but he couldn't deliver any killer cross or pass when he was in position. Once or twice he dwelt too long on the ball.
Coquelin 7: Good effort. Particularly liked when he won the ball back and dribbled to the byline and made a cross to Giroud.
Cazorla 6: Santi normally destroys West Ham, but today he was not able to impose himself on the game. His set piece delivery was good for the most part.
Ramsey 6: He had a shot that ricocheted off a defender onto the crossbar in the first half and he had one shot that narrowly missed, when he should've played the ball wide instead. He worked hard, but lacked any creativity.
Ozil 6: A tackle by Tompkins prevented a great opportunity Ozil had to equalize just before halftime. Like everybody else, he wasn't able to make the great pass that would've opened the West Ham defence.
Oxlade-Chamberlain 7: Arsenal's man of the match. Made a number of exciting runs, although they all lacked end product. He had a shot near the end of the match which he put wide. Was partially to blame for the second goal when he lost the ball to Zarate.
Giroud 6: A busy man who took a lot of abuse, but failed to cash in his chances. His best chance came in the second half when he received a cross and had time to shoot, but his shot lacked pace and Adrian made a good save. He had a couple go just wide and a couple charged down by defenders.
Substitutes:
Walcott 5: Theo was not able to make a big splash in the time he was out there. He had one shot that was deflected, made a couple of decent runs, but offered little.
Sanchez 5: Alexis appeared rusty, giving the ball away on a number of occasions. That said, he had two good chances to score in extra-time. The first he hit tamely, the second produced a fine save by Adrian.