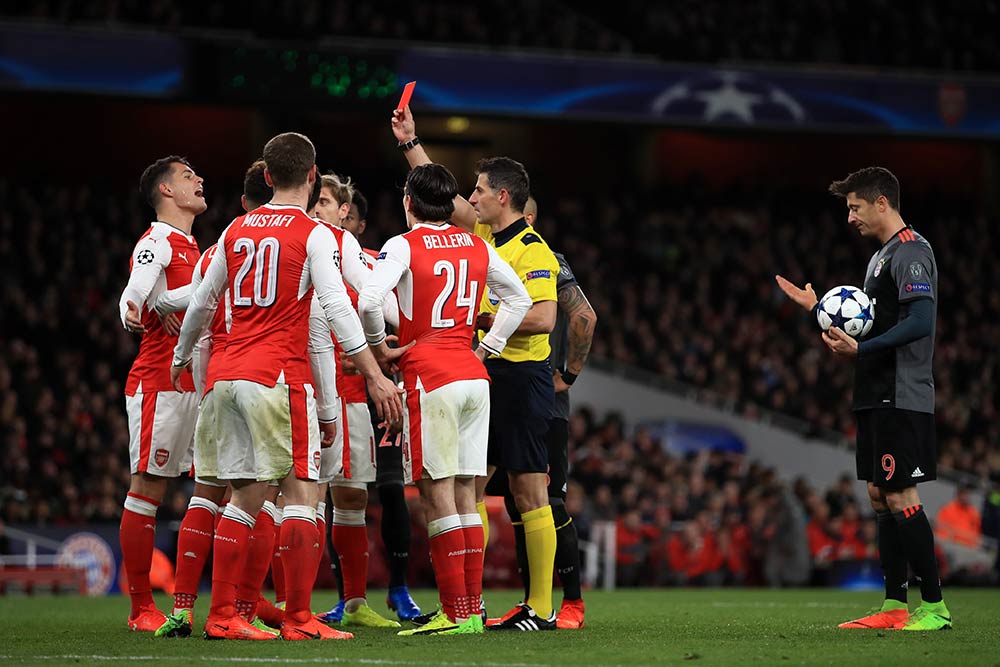 Well actually, there a quite a few. It's tough to know where to start with this one. On paper we had no chance tonight, 4-0 against Bayern? - Come on!
But wait... We came out of the blocks flying, and Bayern looked distinctly second best. When Theo put us one up you thought "hang on, can we do this?" - Shprt answer: No chance.
When the penalty was turned down it was obvious that this wasn't going to be our night. Had we gone 2-0 up then anything could have happened.
Once Koscielny got his red card, all hope disappeared. It was a ludicrous sending-off - how much were the officials getting paid to ensure Bayern progressed in the competition?
From that point on it was all downhill. We simply gave up.
Loyal fans who pay a small fortune to support the team have every right to call for a change of management. We backed Arsene when he was delivering a team that could challenge, but now he isn't. It's time for him to depart gracefully.
Time for change.
Report:
Arsene Wenger saw Arsenal humiliated again as their 10 men crashed out of the Champions League after another five-goal mauling at the hands of Bayern Munich.
The visiting Bundesliga champions were hot favourites to advance from the tie having won the first leg at the Allianz Arena 5-1 last month and they were too good for Wenger's men as they triumphed by the same scoreline.
The Gunners had their backs to the wall but started well and took a deserved lead through Theo Walcott before Bayern reacted after the interval.
Laurent Koscielny was sent off for bringing down Robert Lewandowski, who scored the resulting penalty before Arjen Robben struck and then Douglas Costa and an Arturo Vidal double inside seven minutes added insult to injury on another tough night for Wenger.
It meant Arsenal tumbled out at the last-16 stage for a seventh successive season, a major gripe of French manager Wenger's critics, who have grown in number this season.
After denying reports of a training ground bust-up involving Alexis Sanchez, Wenger recalled the Chilean for part two of a tie Arsenal were never going to win once they had been brutally picked apart in Bavaria.
Some 200 supporters marched from Highbury to the Emirates Stadium before the game in protest against Wenger's position, and plenty more stayed away altogether.
The visiting fans also got involved, halting the game early on as they threw till roll onto the pitch and held up a banner complaining about the cost of tickets for the match.
If Wenger had not been paying attention to the protest, his night was to bring some bad news before a ball was kicked as Danny Welbeck was taken ill in the warm-up and replaced at the last minute by Olivier Giroud.
Manuel Neuer had to be switched on to intercept the marauding Walcott as the England forward broke behind the visitors' defence.
Giroud then had a good chance but was well marshalled by Mats Hummels as he looked to get his head on the end of a Sanchez cross.
Arsenal were sharp in attack and soon got the goal their early persistence deserved as Walcott broke into the box after 20 minutes, taking the ball back from Giroud without breaking his stride, and thrashing an effort past Neuer.
Arsenal continued to threaten as Bayern appeared lethargic, with Walcott unfortunate not to be awarded a penalty when he was tripped by Xavi Alonso.
Walcott hit the outside netting with a similar chance to that which he had tucked away early on before Lewandowski scuffed a great chance wide for the Germans, as the hosts headed into the dressing room disappointed not to be further ahead on the night.
And the same story continued briefly after the interval, Aaron Ramsey crossing for Giroud to head onto the roof of the net, with Hummels then having an effort rightly ruled out for offside.
But Bayern eased any pressure on themselves as Lewandowski tucked home a penalty after Koscielny brought down the Polish striker when through on goal.
Referee Tasos Sidiropoulos originally showed the Arsenal skipper a yellow card but altered his decision and dismissed Koscielny after a conversation with the assistant referee behind the goal.
The fate of the tie was sealed when Robben picked up a wayward goal-kick from David Ospina and then robbed Sanchez of possession on the edge of the Arsenal box before finishing coolly.
Wenger introduced Mesut Ozil, Lucas Perez and Francis Coquelin but it was Bayern in control, with Lewandowski hitting the post before substitute Costa scored at the end of a speedy counter-attack.
Vidal then took centre stage, deftly lifting a cheeky shot over Ospina after a sloppy Shkodran Mustafi pass and then slotting home with Arsenal down and out.
The team no longer play for him. Ian Wright claims that the players have let him down, but Wenger signed them. There is no way he can dodge the blame for our current total lack of pride and committment.
It's time for change.