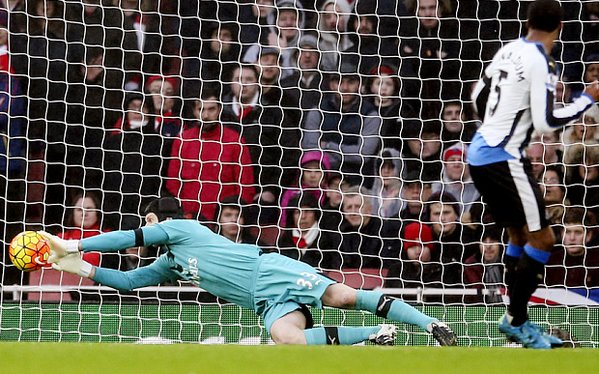 It appeared things would be easy as Arsenal came flying out of the blocks, prying Newcastle open in the first ten minutes, particularly on the right where Bellerin on four occasions looked dangerous.
However, none of those moments produced any chances of note and for the rest of the half Newcastle started to dominate.
Ramsey mistakenly gifted Wijnaldum a chance, but Cech saved the day. Mitrovic had a chance to bicycle kick on goal as well, but he hit it straight at Cech.
In the second half Newcastle started to look even more dangerous and Arsenal afforded them too much space.
Wijnaldum was sent off on a breakaway, but Cech made an excellent save and the shock seemed to jolt the Gunners into action.
A sustained period of pressure finally produced a goal as Koscielny latched onto Giroud's header from a corner and knocked it home.
Arsenal had to dig in to hold their lead, although Aaron Ramsey had two good chances to seal the win.
Eventually the final whistle went and coupled with Leicester's draw against Swansea the Gunners have now opened a small gap at the top of the league.
Player Ratings:
Cech 8: A solid game from Cech, whose save off Wijnaldum was critical in winning the match. Another clean sheet from my man of the match.
Bellerin 7: A great start, although some of his crosses could have been better. Was having a solid match until a poor back pass to Mitrovic put us under pressure.
Mertesacker 6: Decent match, although he still needs to be more dominant in the air.
Koscielny 7: Was solid at the back, although he was caught out by Wijnaldum a couple of times. His goal was huge as usual. He has a way of scoring at key times for the team.
Monreal 6: Offensively he made only one good move and cross. Defensively, he had a difficult day dealing with Janmaat, who managed to cross the ball more than he should have.
Flamini 5: Arsenal were unable to dominate the midfield and there was too much space for Newcastle in midfield. Flamini was lucky his high kick never hit anyone as he might've received a red card (he got a yellow card).
Ramsey 6: Like Flamini, he had a tough afternoon controlling the midfield. He gave the ball away several times as well. Offensively, he finished strongly when Wenger moved him more upfield near the end. He should have scored on his second chance at the end.
Ozil 7: Not his best day, but he was still better than most of the players out there. He came close a number of times to making the decisive pass and his mere presence always kept Newcastle on their toes. Oxlade
Chamberlain 6: The Ox got the start, but at times was guilty of forcing the action and being sloppy, no better illustrated than his forty yard "shot" at goal. That said, he did make several good runs, combined well with Bellerin, and he set up Giroud with a decent opportunity.
Giroud 6: This was supposed to be his game, the man who makes a living scoring against Newcastle. He tried hard, but did not receive great service. His chance set up by the Ox, was blocked. He did get an assist on the goal, as he reacted first to the high ball.
Walcott 5: Another player who has a good scoring record against Newcastle, but he had few chances and was contained.
Substitutes:
Gibbs 6: Came in and helped to shut the door on Newcastle, especially Janmaat.
Campbell 5: Helped add more energy to our defending late in the game.
Chambers n/a: Came in at the end and allowed Ramsey to move further forward.