GOALS: Watford: Kaboul (10), Deeney (13) Arsenal: Iwobi (58)
MAN OF THE MATCH: Alex Iwobi. I'm being generous here as nobody really stood out. Iwobi had a poor first half, but had a decent second half and scored.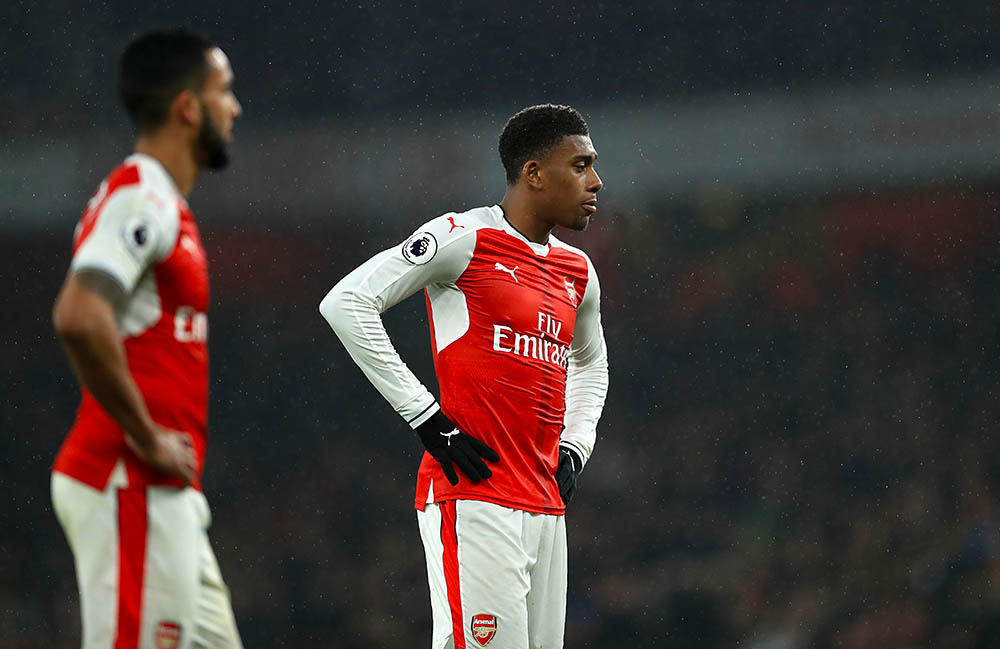 THE WEAK LINK: The entire team. The defence were poor at the start, the entire team were poor at the outset as well. Players were bitching to the referee instead of getting stuck in. Wenger was right that we lost most of the 50/50 challenges. We had ample time to get an equalizer, but the team lacked the poise to tie or win the game.
THE REFEREE: Andre Marriner 4. We never got many calls and when we committed fouls, he was quick to issue yellow cards (to Gabriel and Nacho). On the other hand, Behrami and Prodl were allowed to foul constantly without sanction. He appeared to be hostile to us from the get go.
THE MANAGER: 5. He needs to find a way to fire up the team at the start of the match. He should've played Bellerin at right back, but I can understand why he didn't.
OVERALL TEAM RATING: 3: Poor defence from the start, some weak finishing, lack of poise when it appeared that we were coming back, impatience by wasting possession on a number of occasions, one can go on. We should've come back as we had over 30 minutes to get the equalizer after Iwobi's goal, but we contrived to let the game slip by.
VERDICT: Our chances of winning the Premier League fell, but we lost just one point on Chelsea. This was a game where we needed to get the business done and we failed. A big game with Chelsea this weekend means we have to find solutions soon.
PLAYER RATINGS:
Cech 6: A couple of good saves but he probably could've done better on the second goal and maybe he could've set up a small wall on Kaboul's free-kick.
Gabriel 5: He looked out of his depth for the first time since he's been playing right back. Niang beat him several times and it was his poor throw that started the sequence that led to Watford's second goal. He got into some good positions but couldn't deliver good crosses and mishit a good chance to score.
Mustafi 5: Mustafi complains too much to the referee, which doesn't mask the fact that he didn't have a great game. He was complicit on their second goal and he wasted a number of possessions on poor passes upfield. His winning streak came to an inglorious end.
Koscielny 6: Still looks to be our best defender on the pitch.
Monreal 5: Almost scored a fabulous volley, but it was just wide. He attacked often, but Sanchez often avoided giving him the ball as he probably doesn't trust Nacho to deliver a good cross. He could've done better on the second goal as he was the last one who could've made a strong intervention on Deeney and he didn't.
Coquelin 5: Largely ineffective, especially at the outset where he wasn't able to impose himself.
Ramsey 4: Like Coquelin, he was poor at the beginning. The Kaboul shot deflected off him and into the net and then he wasn't able to get Gabriel's throw on the second. To top it off he has hurt his calf and will be out for who knows how long. This blows a great chance for him to get back into the squad and leaves the team short in the coming couple of weeks.
Iwobi 7: He didn't have a good first half, but he became more effective in the second half and he scored a key but not particularly beautiful goal. He almost scored a second, but only hit the ball weakly and Gomes was able to save.
Giroud 4: Olivier received no support and was not able to impose himself at all during the first half. He was substituted at halftime.
Ozil 6: Largely went missing in this game. His set pieces could've been better, he had a shot which he mishit, and he cut a frustrated figure much of the time.
Sanchez 6: He had some good moments, but many poor ones as well. He set up the goal with a nice move along the goal line, but that was about it. Too often he tried too hard, hit predictable shots, and ignored other teammates who were better placed.
Substitutes:

Walcott 5: Missed a glorious chance early in the second half when he hit it straight at the keeper. He had a few runs and a few other moments, but not the type of impact we needed.
Oxlade-Chamberlain 6: Alex came in for Ramsey and played reasonably well, but wasn't able to unlock the defence.
Perez 7: Some nice touches and a shot that hit the crossbar.