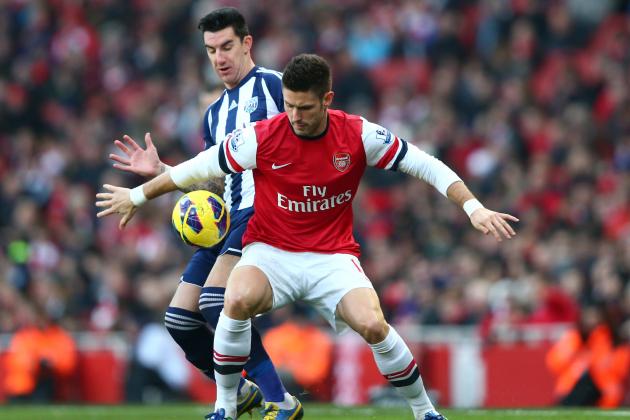 Olivier Giroud scored off a Santi Cazorla corner early in the game and the Gunners seemed content to protect the lead, rather than go all out for a second.
For the remainder of the game, both teams played with little sense of urgency, with Arsenal occasionally creating chances, which they couldn't convert.
Everton's failure to garner a point yesterday meant Arsenal haveclinched fourth and they had little inclination to try and impress their fans with a high tempo display.
Player Ratings:
Szczesny 6. Had to stretch for a Berahino shot early in the game, but it had little pace. He also had to come off his line during the second half to challenge a West Brom forward, but otherwise had little to do for most of the game.
Sagna 6. He played a safe game throughout and managed to get forward a lot, but nothing really came off for him.
Mertesacker 7. Kept the back safe. I had the feeling that if he upped the tempo of the passing the team would've come alive.
Koscielny 7. A good game all round for Koscielny, who sniffed out any danger and took care of it.
Monreal 7. He was the most effective fullback coming forward today and he put in a couple of decent crosses.
Arteta 6. A quiet game for Mikel. He was efficient throughout, but he too was happy with the slow tempo.
Flamini 7. Replaced Ramsey at the last minute. He came forward more and he played with a lot of energy.
Ozil 7. Man of the match. All of our attacks seemed to flow through him. He made a number of fine passes as well, but we lacked the focus to finish off these moves.
Cazorla 7. He played well, but he also misplaced some passes and wasn't as sharp as he needed to be. He had several shots, but these one was charged down and the other produced a fine save from Foster.
Giroud 7. A good header off the corner and he scored his 22nd goal of the season. Just missed another header off an Ozil cross, interfered with a cross that Kallstroem should've headed, he failed to pass to Podolski when he tried to score himself … a typical Giroud performance.
Podolski 7. He seemed energized and he wanted to score. His best chance came off an awkward volley that deflected against the post. He worked hard defensively as well. My cynical self suspects that a lot of his fine form at the end of the season is his desire to impress Jurgen Loew, the German national team manager.
Substitutes:
Kallstroem 6. Came in and did okay. He might have had a good heading chance if Giroud hadn't got in the way.
Rosicky 6. Tomas was largely quiet in his brief cameo.
Vermaelen 6. He made one lovely pass down the line to Podolski. Otherwise he was solid for the brief time he was on the field. Perhaps his last home match?