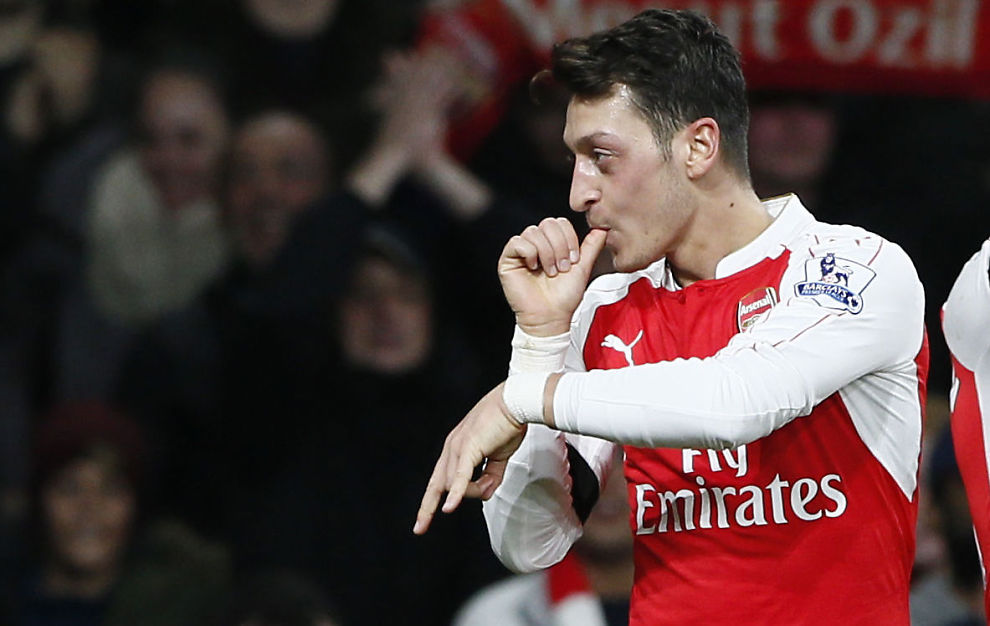 For much of the first half Arsenal appeared tired and lacked creativity, but after about thirty minutes they came to life.
Gabriel Paulista scored his first ever Arsenal goal with his head, when he was left unmarked on Ozil's corner kick.
For the last fifteen minutes Arsenal laid siege to the Bournemouth goal, looking particularly dangerous on corner kicks. Gabriel almost scored a second, the ball hitting the upright and bouncing off the surprised Mertesacker's head wide of the goal.
Bournemouth had more possession in the second half, but they failed to create any real dangerous chances. Arsenal, on the other hand, should have scored six, but they scored only one, but it was a thing of beauty.
Ozil slid a sizzling ball through to Giroud, whose glancing touch put the ball back into Ozil's path and he slid the ball beneath a stranded Boruc.
Walcott came close a couple of times, Giroud missed a sitter, Chamberlain hit the upright, a few of the moments Arsenal failed to put the game to bed.
Arsenal begin the second half of the campaign with a home game against Newcastle on Saturday.
Player Ratings:
Cech 7: He made several saves, but they were easy ones. Cech now has the record for the most clean sheets in Premier League history (170).
Bellerin 7: He had several terrific runs forward and he looked more dangerous today. He did have a couple of poor crosses and he was caught unawares by Stanislas once, but his pace allowed him to recover and stop the cross.
Mertesacker 6: He made several poor passes today that a better team would've pounced on. In the second half when the legs tired, he made a number of decent interceptions/clearances. Almost scored when Gabriel's header came off the upright.
Gabriel 8: An excellent match for Gabriel. He scored a fine first goal and was unlucky not to score again. He was solid defensively as well, making several good interventions.
Gibbs 6: Solid outing for Gibbs who played well defensively and offensively. He went off with what appeared to be a cramp.
Chambers 7: His first start as a holding midfielder. The team had trouble moving the ball upfield at the beginning, which may have been because of him. However, soon the Gunners were dominating and Chambers looked fairly comfortable. Made one great through pass to Walcott.
Ramsey 7: Picked up a yellow card after he had to foul after giving the ball away. He had a solid game, without any real scoring chances, but maybe Wenger had him sitting back a little more to help Chambers.
Ozil 9: Man of the match. Another assist, a wonderful goal, many great passes, lots of running … you can't ask for more. His pass to Giroud deserved a goal.
Oxlade-Chamberlain 7: Good game from the Ox. He made a number of good runs and several good crosses. His only shot deflected off a defender and hit the upright.
Giroud 6: At times he looked tired and he wasn't able to compete for Cech's high kicks. However, he came alive a little in the second half and he made a wonderful assist on Ozil's goal. He should have scored on Ozil's cross, but missed the target and he had a chance to send Walcott in but hit the ball behind him.
Walcott 7: Theo is playing more defence and that is good to see. He had chances to score several goals, but his shots missed, or passes to him were not perfect, or he missed altogether (he missed an Ozil lob in the first half). He even missed (he was offside and it wouldn't have counted) an open goal with Boruc sprawling on the ground.
Substitutes:
Monreal n/a: Played a few minutes for an aching Gibbs.
Campbell 5: Played with energy and almost had a chance to score.
Iwobi n/a: Alex only played about two minutes.