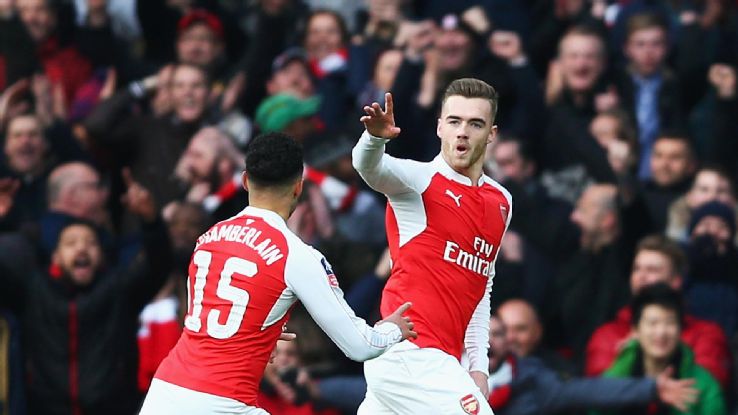 Arsenal's defence looked shaky at times and allowed an eager Burnley to stick around with a chance till the end.
Burnley's Gray had two chances within the first ten minutes, the first he hit wide, the second produced a fine save from Ospina.
The Gunners dominated most of the first half, but were only able to score once, a sensational shot from Chambers following a slow buildup.
Burnley equalized following a corner when the ball was put again into the box and Vokes rose highest to header into the corner.
Arsenal took the lead early in the second half when Alexis slammed home an Oxlade-Chamberlain cross.
The Gunners were unable to put the game to bed, lacking sharpness in the final third, but were able to keep Burnley at bay and to see out the victory.
Player Ratings:
Ospina 7: He made a big save off Andre Gray early in the match. He was steady for the most part, although you sensed danger whenever we had to defend a corner. His first appearance in a couple of months.
Chambers 7: He scored a beautiful goal, hitting the ball with great technique and excellent accuracy. He had an earlier chance, which he hit well, which was charged down. He had a solid game defensively as well.
Gabriel 6: At times he looked vulnerable and made a few sloppy passes. At other times he made a key challenge on Arfield and looked comfortable. Was outjumped by Vokes on his goal.
Koscielny 5: He made a few errors, especially flapping on an early ball that allowed Gray to charge through and have a shot at goal. He also committed a flagrant handball, that could've resulted in him being sent off, threatening Arsenal's title ambitions (with Mertesacker out for two more games).
Gibbs 7: A good game for Kieran, perhaps the best he's looked so far this season. He attacked effectively and put himself about. He had one excellent move in the first half where he managed to keep the ball in and cross from the touchline.
Coquelin 6: Signs of rust, but it was good to see him back. Made a couple of memorable tackles.
Elneny 7: A quiet and efficient debut, but he showed he has an eye for goal, shooting the ball five times.
Iwobi 7: Another good outing for Iwobi, who shows signs of increasing confidence and good skill. He always seemed a step or two from breaking through and making things happen.
Oxlade-Chamberlain 7: A good outing for Alex, but he still can't buy a goal, coming close twice when it seemed as if he'd score. He assisted on the second goal when he crossed the ball to Alexis. He made a great through pass to Walcott, who failed to score.
Giroud 6: Good control and nice flicks at times, some poor flicks at other times, particularly near the end when he gave the ball away several times. He had no real decisive chances during the match.
Sanchez 8: He assisted on the first goal and he scored the second. He made several wonderful runs, where he miraculously stayed on his feet. He looks to be back now for the title run.
Substitutes:
Arteta 6: A tidy performance for Mikel, who helped to keep the midfield under control.
Rosicky 6: It's great to see Tomas back and he showed a few neat moves … along with a few rusty ones as well.
Walcott 6: Kept Burnley's defence honest at the end. He had a great chance at the end, but he couldn't beat the keeper. The effort smacked of someone lacking confidence right now.