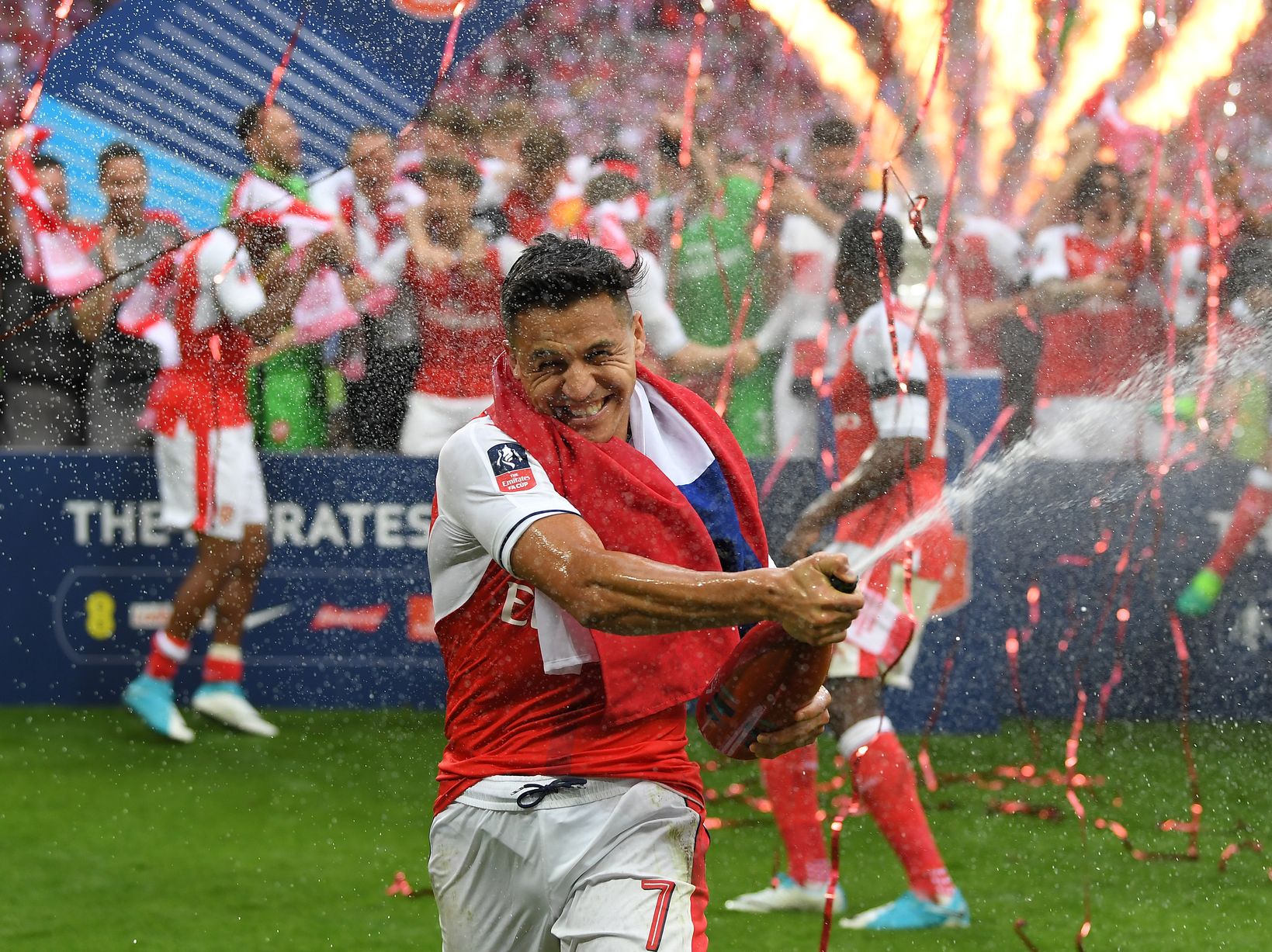 GOALS: Arsenal: Sanchez (5), Ramsey (79). Chelsea: Costa (76).
MAN OF THE MATCH: Alexis Sanchez was my man of the match, although you could make a case for Mesut Ozil, Aaron Ramsey, Granit Xhaka, and Per Mertesacker.
THE REFEREE: Anthony Taylor 8. I had grave concerns about Taylor prior to the match, given our history with him. However, we got the rub on the major incidents of the match. Our first goal was suspicious to say the least, involving a handball and an offside Ramsey who might have been construed as interfering with play. Taylor and the linesman obviously hadn't seen the handball and Taylor consulted with the linesman about the offside flag and they decided that Ramsey hadn't been in the way. Kudos to Taylor for spotting Victor Moses's dive and for sending him off. It was flagrant, but some refs would've just waved play on.
THE MANAGER: 9. Everybody played well and the team started with confidence and energy, whereas Chelsea looked a little slow. If ever a manager made the case for getting a new contract, this was it.
OVERALL TEAM RATING: 9. A brilliant first half, but Arsenal couldn't score that second goal, although they came close. They attacked with flair and kept Chelsea on the back foot. They played more conservatively in the second half, content to counter and allowed Chelsea to attack more. Chelsea went a man down, but still managed to equalize through Costa. That just woke up the team and they promptly took the lead again through Ramsey. Arsenal should've then scored two or three more, but their finishing let them down. Chelsea could only really muster one more good chance, but Ospina saved Costa's effort on goal.
VERDICT: A massive and impressive win despite the team entering the match with a new defence, courtesy of injuries to Mustafi and Gabriel and a suspension to Koscielny. The team defended well for most of the day and limited the chances of players like Hazard and Pedro. Costa did manage several shots, but Ospina came up big on two of them. Offensively we dominated, with Welbeck and Sanchez constantly finding space and stretching their defence. The challenge is to use this victory as a springboard for next season, to avoid a collapse such as what happened in February and March. The frustrating thing for fans is we knew we were not as bad as we played at that time, but certain players went missing. Chelsea showed how good we can be. We just need to replicate this performance every week.
PLAYER RATINGS:
Ospina 7: A surprise inclusion. Either Cech was hurt in training (according to the Guardian) or Wenger stood by his word (he had promised Ospina the FA Cup matches). I suspect the latter, which was a brave choice given Cech's recent strong form. Ospina probably could've done better on their goal. However he was solid the rest of the way and he made two key saves from Costa, one in the first half which went against his head, and a huge save late in the game.
Holding 7: Another solid match from Holding, although Costa managed to elude him a couple of times. Holding is definitely the bargain purchase of the entire season in all of England.
Mertesacker 8: He steadied the ship on a number of occasions, made key interceptions, many headers, and one important slide tackle. Given his lack of playing time this season his performance was quite remarkable.
Monreal 8: He seldom went upfield, but was always back, especially focussed on stopping Hazard and Pedro. He did a fine job.
Bellerin 7: He had a good match and became a lot more dangerous as Chelsea legs tired in the second half.
Xhaka 8: A dominant display by Xhaka, whose long passes kept stretching the Chelsea defence. He was disciplined, didn't lose his head, tackled effectively and, based on yesterday's performance, looked a better purchase than Kante. He had one good shot on goal in the first half.
Ramsey 8: He combined well with Sanchez and Ozil and was often involved in the buildup to our attacks. He couldn't react quickly enough to Welbeck's header off the post to tap it in with his chest. In the end he scored the winning goal, timing his run into the box impeccably and scoring the winning goal at Wembley again.
Oxlade-Chamberlain 7: The Ox managed to recover for the final and he was placed on the left, but he still delivered a fine performance, both offensively and defensively. He was particularly dominant in the first half. He didn't fall for Moses's attempt to win a penalty either.
Ozil 8: Could've had two goals. Cahill cleared his effort of the line in the first half, and his second half effort late in the game hit the upright. His set pieces were good and he was strong on the ball throughout the match. For most of the game he played good defence as well.
Welbeck 8: Welbeck was hard to contain and he was at the centre of much of the action throughout the game. One of his efforts was cleared off the line by Cahill. He also headed an Ozil corner against the upright. In the second half he continued to be effective and his quickness drew the first yellow card shown to Moses.
Sanchez 8: His efforts throughout the match: prodigious. His goal: dubious. His effects on the entire squad: stupendous.
Substitutes:
Giroud 7: With his first touch he wins the race to the byline and hoists the ball across the goal to an oncoming Ramsey. Assist! Good game.
Elneny n/a: Not on long enough.
Coquelin n/a: Came on to provide some defensive stability.