GOALS: Sanchez 34, 92 (pen)
MAN OF THE MATCH: Alexis Sanchez. It was not one of his greatest, but he worked hard, was a constant thorn in their sides, he was fouled, but he scored both goals.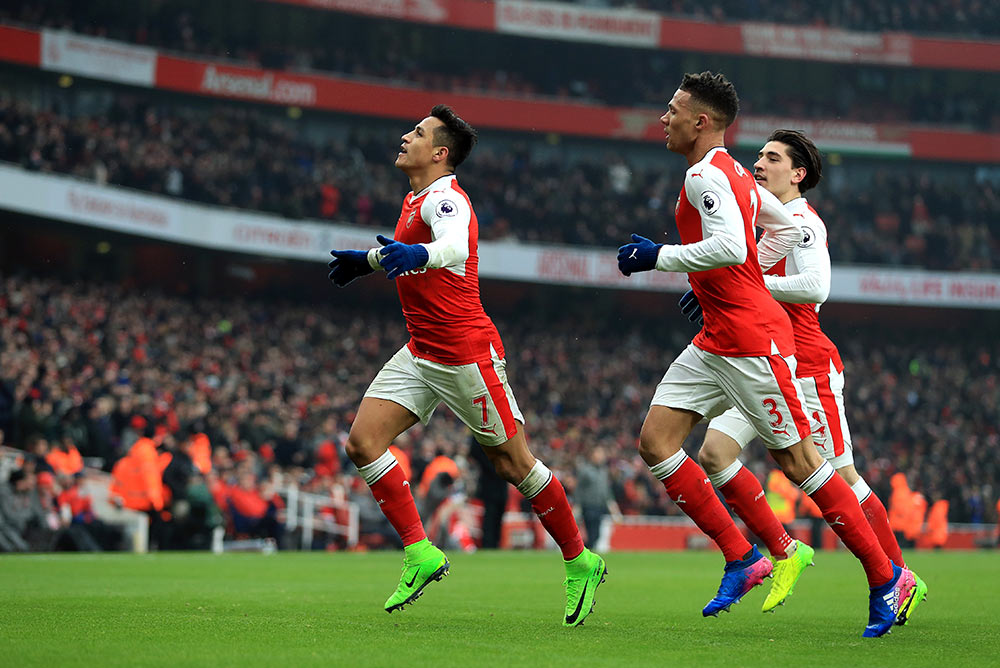 THE WEAK LINK: Alex Iwobi. Poor decision making upfield on a number of occasions. Early in the match he should've played the ball to Walcott on the right, but moved it left. Twice, he lost the ball upfield and Hull managed to launch dangerous attacks.
THE REFEREE: Mark Clattenburg 8. He made the big calls, but Hull will feel aggrieved that the first goal came off Sanchez's arm.
THE MANAGER: 7. Most of the decisions seemed to be the correct ones.
OVERALL TEAM RATING: 7. The team were a lot sharper in the first half, but couldn't convert most of their chances. As the game wore on they became a little nervous and had to defend more than they should've. Given the importance of the match, it was a key victory considering their fragile confidence.
VERDICT: Finally a victory to stop the bleeding. They'll need to get ready for Bayern Munich this week.
PLAYER RATINGS:
Cech 7: He made a couple of good saves off Niasse and he looked strong in claiming crosses. Some nervy back passes tested him, but he made no mistake like he did last week.
Bellerin 7: Should've opened the scoring, but he hit his shot just wide. He had a decent match offensively, but he did make a few errors. Defensively, he was quite solid.
Mustafi 7: A good showing today, although he and Laurent chased the same man once, leaving Gibbs exposed and having to commit a foul.
Koscielny 7: He made several late interventions to stop attacks, as well as several headers clearing crosses out of the box.
Gibbs 7: It was his shot that was cleared off the line into Alexis that led to the opening goal. Gibbs had a solid outing and was safe for most of the day. He picked up a yellow card for an intentional foul when he was the only man back.
Coquelin 7: A much better display than last weeks. Broke up a number of attacks and played energetically throughout. Picked up a muscle injury early in the second half, but was able to play through it.
Oxlade-Chamberlain 7: Another solid game from Alex. He moved the ball upfield, made some nice runs, played solid defence (usually his weakness), and kept the ball moving. I prefer him in this position to Aaron Ramsey.
Ozil 6: Not his day. He had an early chance to score a difficult volley, but he fluffed it. Many of his touches didn't really come off today and he was caught offside a number of times. Still he made a key pass in the lead up to the final goal.
Walcott 6: He worked hard on defence most of the day, but offensively nothing really came off for him. Tossed the ball at the linesman and got into a pushing match with Maguire, earning himself a yellow card.
Sanchez 7: He missed a sitter early on, but was in the right place to score the opening goal, which deflected off his arm. He worked hard, but was not sharp and got a yellow for diving. He was also fouled a number of times. He played a key cross to Lucas to win the penalty, which he converted, although he did kick it dangerously close to the keeper.
Iwobi 5: Wasteful at times and often guilty of forcing the action. Not his best game.
Substitutes:
Elneny 6: Came on for Walcott. He helped to steady the boat in midfield.
Welbeck n/a: Had little impact on the game.
Perez 6: His header drew the handball and the penalty in extra-time.