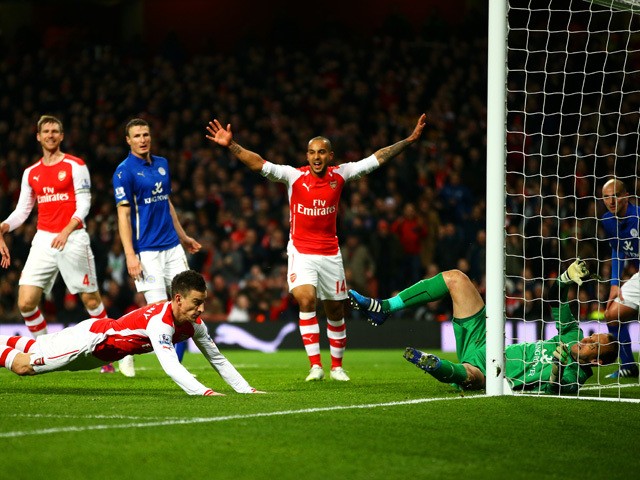 Considering Leicester sit at the bottom of the table, Arsenal's display was disappointing, but in the end they delivered the result.
Leicester began the game on top with Mahrez having two good chances to score, the first going between Ospina's legs but out, the second shot flashing wide of the post.
Arsenal woke up after fifteen minutes when Ozil put Walcott through but he shot straight at Schwarzer.
Later on, Ozil weaved his way through the area and suddenly pushed a slow but well placed shot that Schwarzer had to dive for and deflect out of bounds.
On the ensuing corner Arsenal scored. Ozil's cross ended up at Koscielny's feet and he calmly kicked the ball in the net.
Mahrez came close to equalizing at the other end, but it was Arsenal who scored next.
Ozil was given too much space and he used it to tee up a fabulous strike that Schwarzer dove for. Unfortunately for him, his deflection came straight to Walcott who smacked it into the corner of the goal.
The second half saw Arsenal squander a number of opportunities and Leicester gradually becoming a bigger and bigger threat.
Kramaric finally scored for Leicester following a goalmouth scramble and suddenly the game was on.
Schwarzer made an impressive save off Cazorla, but it was Ospina who was the busier of the two keepers.
Kramaric burst in on goal but underhit his lob, which Ospina saved. Mahrez had a glorious chance to score, but hit his shot just wide.
Arsenal clung on and grabbed a vital three points, which moves them into fourth spot temporarily.
Player Ratings:
Ospina 7. Was lucky when Mahrez put the ball between his legs early on. Made several good saves, but also parried one or two back into harms way. Was solid on most of his crosses, although he did miss one.
Bellerin 6. Some good, some bad. He is getting better, but he still leaves too much room for his opponents. Konchesky was able to look like a threat several times. Once or twice his crosses went in to where nobody was waiting or racing to get them.
Mertesacker 7. Solid most of the night. Made a couple of goal line interventions.
Koscielny 7. Scored our first goal with good poise. Was good most of the night, but his side looked vulnerable towards the end.
Monreal 7. Very good game for the most part. Was beaten once by Simpson a little too easily. It was his side (along with Kos) that looked vulnerable at the end.
Coquelin 6. He was good most of the time, but perhaps he ventured too far forward at times and got stuck upfield. Made several loose passes and a couple of rash challenges, but usually his decision making was good.
Rosicky 6. An energetic performance from Tomas. He had one volley he hit wide.
Cazorla 7. Much better display than the one he produced against Spurs. Had an excellent shot in the second half. Looked a little tired near the end.
Ozil 8. Man of the match. He assisted on both goals and came close to scoring several times. He was the most creative player on the field. Was the recipient of a number of fouls late in the game, most of which referee Mike Jones ignored.
Sanchez 6. He had several shining moments, but a strong challenge appeared to have hurt his knee. Hopefully, it's not serious.
Walcott 7. Scored the winning goal confidently, his third of the season. On one breakaway he failed to find Ozil and on another he hit the ball straight at Schwarzer.
Substitutes:
Giroud 6. He came in and took a number of licks from the Leicester defence. Was bizarrely given a yellow card when Schwarzer kicked the ball into his back!
Ramsey n/a. He had barely arrived on the field when he asked to come off. It appears it's a hamstring injury and he'll be out for awhile. The only positive here is the imminent return of Jack Wilshere.
Flamini n/a. Came in for Ramsey and helped to see out the game.