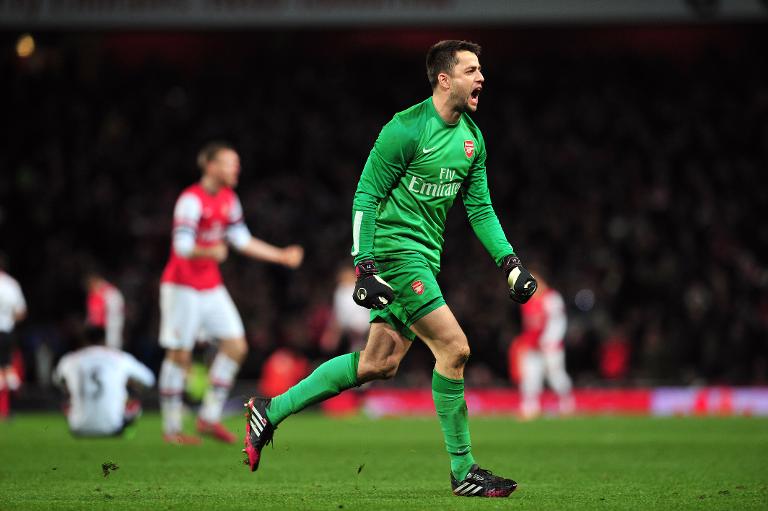 It wasn't at all easy, as Liverpool generated a number of chances and kept the Arsenal defence busy to the end. Sturridge and Suarez cannot complain about a lack of service, as each had at least three good chances to score, but they couldn't take them.
Sturridge had two good chances early on to score, but Fabianski was solid. Arsenal were able to apply pressure on the opposite end and eventually Oxlade-Chamberlain converted Sanogo's deflected shot and Arsenal were ahead.
Arsenal struck again early in the second half when Oxlade-Chamberlain broke free on the right and found Podolski, who scored using his right foot.
From then on, Arsenal looked fairly comfortable until Howard Webb awarded Suarez a penalty after a clumsy challenge by Podolski. Gerrard converted and the game became a lot more tense as Arsenal sought to keep their lead.
Liverpool failed to create any great opportunities, save Agger's header from a free kick, which missed the goal. Arsenal now have to concentrate on Bayern Munich and the Champions' League.
Player Ratings:
Fabianski 8. Excellent game for Lukasz, who made several excellent saves and looked safe throughout. The only blip came when Agger reached a cross before him, but he headed wide.
Jenkinson 7. A solid game for Carl, who defended well, and bombed forward whenever he could. Helped to play a key part in the second goal.
Mertesacker 7. Much better than last week. There were still moments when he lost track of a Liverpool player, but he wasn't left exposed. He was strong in the air throughout.
Koscielny 7. He too was much improved. Laurent made a number of vital interventions during the game.
Monreal 7. Nacho was much improved this week as well. He did pick up an early yellow card, but his play was solid and he kept Sterling relatively quiet.
Arteta 6. He was better this week as well. Mikel was guilty of a couple of giveaways, but he helped to support the defence.
Flamini 8. Flamini's more robust performance in midfield was important today. He worked tirelessly.
Ozil 7. Mesut had a hand in both of our goals today and he looked more creative than I've seen from him for awhile. He had a good shot at goal late in the second half and at times he just shimmies his way into the box.
Oxlade-Chamberlain 8. My man of the match. The Ox in the Box. Alex scored a fine first goal, the kind of goal a predator likes to get. He assisted on the second, breaking free and having the composure to pass to an open Podolski. His speed troubled Liverpool a number of times. His knocking Suarez over was reckless, but Howard Webb was not going to give Suarez a second penalty, when I think he felt the first was a little soft.
Podolski 7. Lukas was good today and scored when he had the opportunity. Was clumsy in fouling Suarez and giving away a penalty.
Sanogo 7. I was surprised Yaya got the nod over Bendtner, but he delivered a raw and physical performance. I read some months ago that he needed to become more physical, which is what he delivered today. He also delivered several blows to the head of Agger and showed he wouldn't be intimidated. He set up the first goal, with a good volley after he got control of the high ball. While he did miss several good chances by failing to make contact with the ball, he did battle hard and managed to link up with his teammates at times.
Substitutes.
Gibbs 7. Managed to play some good minutes and was effective in shoring up the defence.
Cazorla 6. Flubbed a great chance that could have made the game safe. Later on he was fouled in the penalty area, but Howard Webb waved play on. He helped the Gunners keep the ball near the end.
Giroud n/a. Came on for the last five minutes.