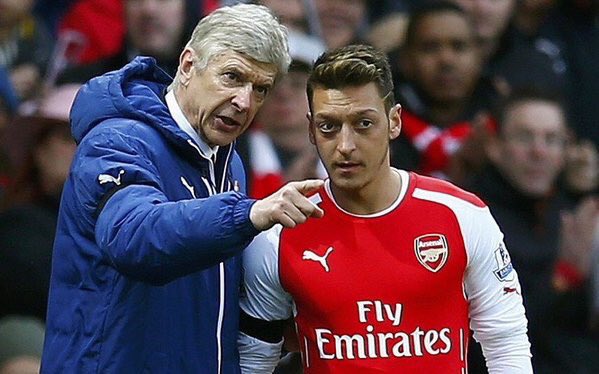 For most of the first half Arsenal were unable to generate any good opportunities, while City appeared only slightly more dangerous.
Then the game burst into life. Kevin de Bruyne broke free and narrowly missed scoring, hitting the ball just wide.
A minute later Theo Walcott cut inside and unleashed a swerving thunderbolt that beat Joe Hart.
Right at the end of the half Arsenal doubled their lead. Walcott intercepted a poor pass, found Ozil, who gently laid the ball into the path of Olivier Giroud, who tucked the ball under Hart.
In the second half City and Arsenal both went for the next goal and it was Arsenal who came closest on a number of occasions.
Joel Campbell had the best chance, but hit Monreal's cross over the goal.
Minutes later he had a breakaway, but run out of gas at the end and could only toe poke it as he was challenged and Hart made the save.
Aaron Ramsey had two great chances to finish the game off, but the first was saved by Hart's face, the second he lobbed wide of the goal.
Arsenal were then punished for their profligacy in front of the goal as Yaya Toure scored a sensational goal, his strike zipping straight into the top corner.
The last ten minutes were uncomfortable and Arsenal defended aggressively and nervously. However, City never really created a great opportunity to score.
Player Ratings:
Cech 7: He had few saves to make and when he did he was in the right place. He saved a couple of Aguero headers and a de Bruyne drive. On the goal there was little he could have done.
Bellerin 7: He played his best game in quite a while. Didn't attack a lot, but defensively he was steady.
Mertesacker 7: Usually City are able to exploit his lack of pace, but he had a quiet evening and he mopped up when he had to.
Koscielny 7: He attacked more and exploited the space City's press left. He had Aguero in his sight most of the day. Did lose him on a couple of free-kicks, but Cech was able to anticipate where the headers would go.
Monreal 7: He continues to attack well, making several decent crosses into the box. Defensively he had to deal with de Bruyne, who kept him on his toes. He got some support from Walcott, but not always, especially when de Bruyne broke free but shot wide.
Flamini 7: A quiet game spent shielding the back four and following David Silva around.
Ramsey 7: In our own half he's a liability and he gave the ball away several times. Offensively he was effective going forward and had several chances to seal the win. Perhaps he needs to hang back a little more, when the game has yet to be decided.
Ozil 8: Another solid match, with two more assists to add to his impressive tally. He worked hard defensively as well.
Campbell 8: Helped defensively and had a strong second half. Had two glorious chances to score, but will probably replay these moments in his mind for a number of days.
Giroud 8: Another goal, another day when he put in a solid defensive shift.
Walcott 8: A great first goal and helped start the move that led to the second goal. His my man of the match.
Substitutes:
Gibbs 6: Put in a good defensive shift.
Oxlade-Chamberlain 6: A good twenty minutes for the Ox.
Chambers n/a: Helped to shore up the defence.