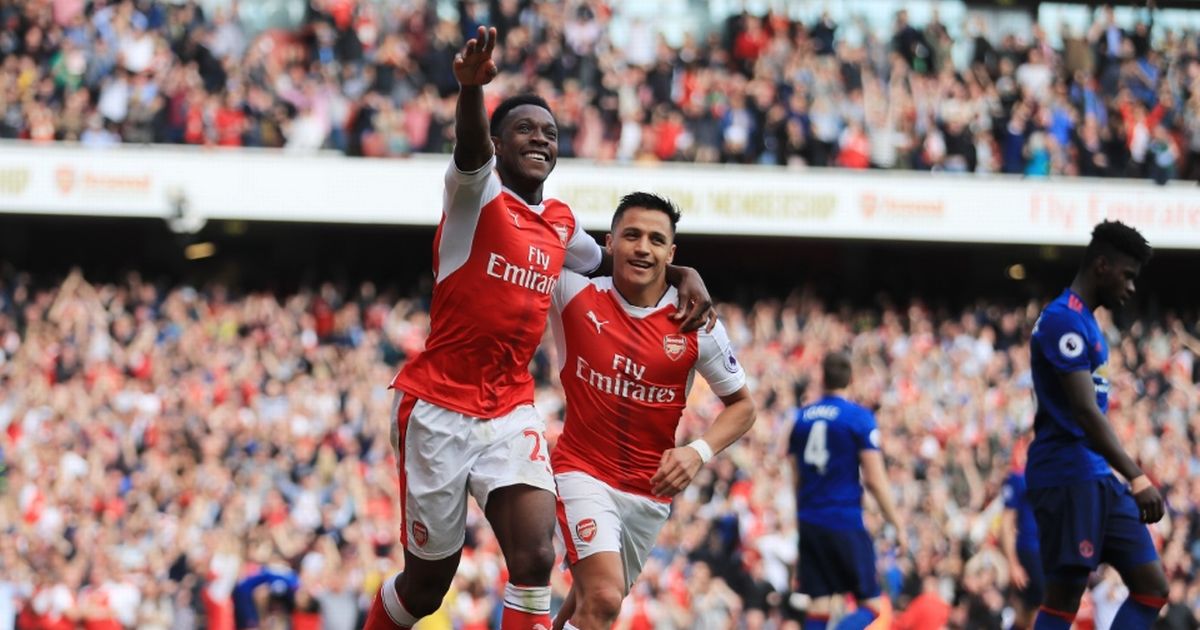 Goals: Arsenal: Xhaka (54), Welbeck (57).
Man of the Match: Aaron Ramsey was my man of the match, although several others could've been chosen.
The Weak Link: Nobody. Everyone had a good match.
The Referee: Andre Marriner 6. Generally unsympathetic to Gunners who are fouled, while quite attentive to United's men. Luckily the match had no real incidents of note.
The Manager: 8. Arsenal grew into the match and deservedly won. This was his first regular season win over Jose Mourinho, so that monkey has been removed.
Verdict: The first Arsenal goal resulted from a lucky deflection, but the second was pure class. Arsenal bossed the game from then on and never looked in danger. Now they need to play four times in the next two weeks to try and win a Champions League spot.
Player Ratings:
Cech 8: He made two big saves early in the first half, the first from Martial at the near post and the second from Rooney, who had been gifted a chance from Holding.
Holding 7: His one big mistake was a poor back pass that gifted Rooney a chance. His best play of the day was taking the ball off Martial and getting it to the Ox who whipped in the assist. Holding looked calm under pressure most of the day.
Koscielny 7: Was involved in the mix up on the Holding back pass, but most of the day he was a safe pair of hands at the back. Late in the game he stretched to prevent a dangerous cross from getting through.
Monreal 7: A good game from Nacho, who seldom appeared vulnerable.
Xhaka 8: Granit was lucky on his goal as the ball deflected off Herrera just perfectly to spin over de Gea. Xhaka was solid throughout the game, but went off limping.
Oxlade-Chamberlain 8: A solid game for the Ox, who was much better than he was a week ago. He had one good shot in the first half and he made a spectacular cross to Welbeck and picked up a great assist.
Ramsey 8: He had the best chance to score in the first, but his shot was just saved by de Gea. Influential throughout, with a high workrate, Ramsey didn't give the ball away in our half and produced one of his best performances of the season.
Gibbs 7: Another good outing for Kieran, who is well suited for his role on the left.
Ozil 7: He flitted in and out and had a good match. His late run into the box and cross through the box deserved a fine finish. He tended to combine with Sanchez on a number of moves.
Welbeck 8: In the first half he had a half chance when he swiveled and shot during a corner. Sadly the shot was blocked. He also came close to latching onto a chipped through ball, but was flagged offside. His goal was sensational, a bullet of a header from the Ox's cross.
Sanchez 7: Another hard working match from Alexis, who was always busy and always keeping United's defenders busy.
Substitutes:
Coquelin 6: Brought in to take Xhaka's place and he did what was required, including a spectacular leap at a shot from Rooney.
Giroud n/a: Not on long enough.
Bellerin n/a: Came in to help keep Rashford and Lingard under wraps.