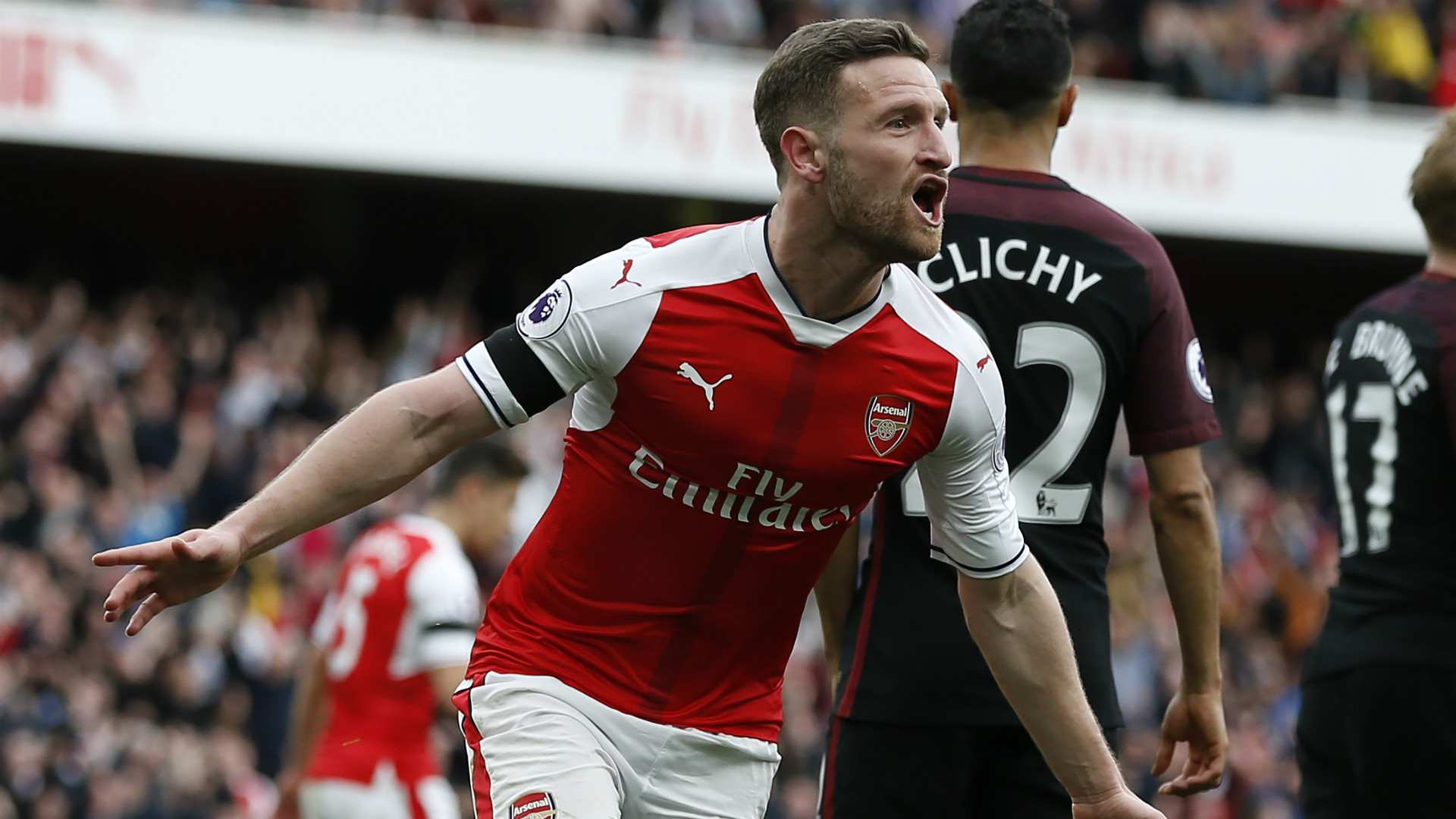 GOALS: Arsenal: Walcott (40), Mustafi (53). City: Sane (5), Aguero (42)
MAN OF THE MATCH: Nobody really stood head and shoulders above the rest. Alexis was probably the best Arsenal player on the field, but he had moments he would rather not remember.
THE WEAK LINK: The entire Arsenal defence looked vulnerable all afternoon. Everytime we were short on numbers they looked shaky. Our two defensive midfielders also made things worse due to their early yellow cards, courtesy of lunging flying tackles.
THE REFEREE: Andre Marriner 6. He generally let the players go, resulting in calls that sometimes favored Arsenal and sometimes not. He didn't call a penalty on Monreal for a dubious handball late in the match.
THE MANAGER: 6. The losses of Ramsey and the Ox prior to the match left him with few options and the players did a decent job for him.
OVERALL TEAM RATING: 6. Defensively the team looked shaky, but they came back twice from deficits to force a draw. In the last twenty minutes they gave the ball away too often. They were not able to maintain possession and we failed to create enough to win the match.
VERDICT: Hopefully the bleeding from recent weeks is now over. The team showed some fight and managed a draw against a top squad full of confidence. Now they need to start winning again and finish the season strongly.
PLAYER RATINGS:
Ospina 6: On the opening goal Sane waltzed around him somewhat easily. Should have saved the shot from Aguero, although the moment Aguero took it, I expected it to go in. That said, he made a fine save from Silva after De Bruyne had hit the upright. He made a good save off a weak header from Aguero in the second half as well.
Bellerin 6: Poor positioning allowed Sane to get the ball and score. Hector was a lot more careful after that, but the damage had been done. A couple of his crosses failed to find their mark.
Mustafi 6: When he makes a challenge high up on the pitch and doesn't get the ball, he leaves the entire defence exposed, which is what happened on the Sane goal. However, he made up for it with an excellent headed goal off a corner.
Koscielny 6: Another dreaded Achilles strain saw him leave the game at halftime.
Monreal 6: He had a tough match, but he kept Sterling relatively quiet and Navas was not too lethal. His crosses could have been better, especially once Giroud was on the field.
Coquelin 5: Struggled and battled much of the game. He got a yellow card for a reckless challenge early and had to walk a tightrope the rest of the match. He needs to not leave his feet.
Xhaka 5: Same as Coquelin. Flying lunges should be verboten. Why he still has this problem is beyond me. Some of his passing was good and some not so good.
Ozil 6: He had a few moments and he worked hard defensively. He had one good chance to score, but couldn't get any power on the shot once he'd swivelled around. He assisted on the Mustafi goal as well.
Walcott 6: Scored Arsenal's first by reacting first when the ball was hoisted back into the penalty area and he out-hustled Clichy and poked the ball home. He had another chance to score near halftime, but he volleyed over the bar. He did not see enough of the ball in the second half.
Sanchez 7: Worked hard, but City did their best to contain him, foul him and deny him possession. Most teams have figured out that he always moves to his right, favoring his right foot, and their defences force him to the middle. When he dribbles in our half instead of passing it, my heart literally stops beating.
Welbeck 6: His pace bothered the defence a number of times, but he received no clear cut chances to score.
Substitutes:
Gabriel 6: This performance coming off the bench for Koscielny was much better than the last. He made several key interventions several times to keep the score level.
Giroud 4: No real impact on the match.
Iwobi 4: Missed the best chance to score late in the match when he blasted it over the bar. A better shot perhaps or a chip to Giroud …?