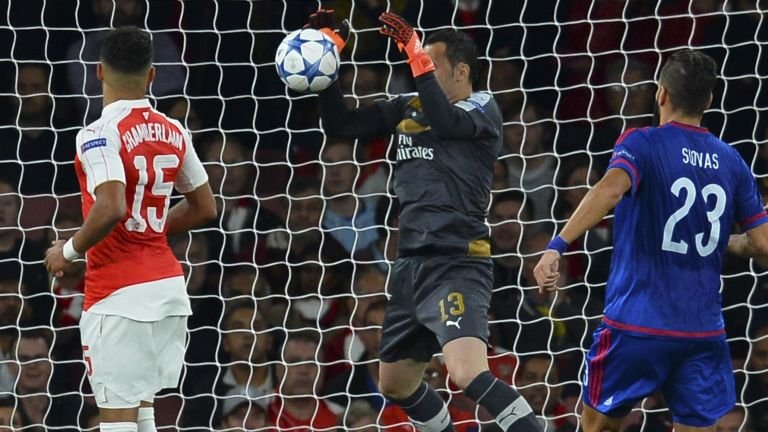 Olympiakos, having never won in England in twelve tries, defeat Arsenal at the Emirates.
The Gunners gifted them two own goals in a calamitous and uninspired performance.
Early on the Gunners squandered two breakaway chances as Theo and the Ox couldn't convert.
Olympiakos started to take control of the match, dominating possession and creating more chances than the Gunners.
They finally scored, an unopposed outside shot deflected off the Ox.
Arsenal responded quickly and Sanchez found Walcott who beat the keeper, although he had a fortunate deflection.
However Olympiakos struck again. This time David Ospina fumbled a corner kick over the line and Arsenal were stunned.
Arsenal pressured Olympiakos for an equalizer in the second half and created great chances for Cazorla, Ramsey, Mertesacker, among others.
They finally scored the tying goal, Walcott crossed to an unmarked Sanchez who headed home.
Suddenly Arsenal seemed in the ascendancy, but this was merely an illusion.
Olympiakos came right down and scored almost immediately from a suddenly passive Arsenal defence.
The remainder of the game consisted of Arsenal pressure, but few great chances. Ozil missed a free kick, Walcott squandered a break, the Ox missed the goal, and many other small chances.
Arsenal couldn't tie the game and now have the onerous task of facing Bayern Munich for the next two games. Elimination in the opening round is staring us in the face.
Player Ratings:
Ospina 3: Why was he even playing? Having him play sent a message to the team that the game was easy. Ospina's own goal will make the highlight reel of Arsenal Goalkeeping Blunders and perhaps resurrect the reputation of Manual Almunia. He made a couple of decent saves, but was haunted by his blunder.
Bellerin 6: He had some scrappy moments, but he had a few good moments, particularly in the second half when he attacked more. He weaved his way into the box at one point, but there was no end product.
Gabriel 5: His poor command of English is a problem. There was a time when he and Koscielny chased the same ball and almost conceded a good opportunity. He also didn't communicate later on and ended up conceding a needless corner, the one that Ospina couldn't catch. Later he was booked for an aggressive foul, one that might have seen red if we were playing away. He was better in the second half.
Koscielny 6: Was playing okay. Went off hurt in the second half, not a good sight.
Gibbs 6: He was fine for the most part and made a couple of decent crosses, but for someone trying to win back his job, he never produced the kind of performance I would have expected.
Coquelin 6: He never had the influence on the game I was expecting. He was average and unable to dominate the middle. He becomes a liability if we are behind and need more offence.
Cazorla 7: He had two glorious chances to score. One was cleared off the line, the other produced a fine save. Fairly anonymous in the first half, but most of our play flowed through him in the second.
Ozil 5: Another largely anonymous game from Mesut. Too often he's out on the wing and away from being in the thick of things. He had a free kick that produced a fine save, but I find myself dreaming of Cesc more and more these days.
Oxlade-Chamberlain 5: A player who really lacks confidence right now. Scored his second own-goal in a Champions League game (right now he's competing with Chambers in this dubious category). Missed a golden chance to score early in the match when he shot into the side netting. He had several other chances, a couple of decent crosses, and a few good runs, but he's struggling. I really thought this would be his year, but so far, not so good. Not to mention that he's been playing a fair bit in recent weeks, so he should be getting better.
Walcott 7: Scored his fourth of the year, but he squandered a couple of other decent chances with some poor finishing. He had a couple of decent runs and he set up the second goal with a lovely cross. He gets the dubious honour of man of the match.
Sanchez 6: He helped set up the first goal and he scored a great header for the second goal. However, he was often wasteful, making poor passes and taking poor shots. He was fouled often, but he will not be entirely happy with his performance.
Substitutes:
Mertesacker 6: He had a shot in a goal mouth scramble which produced an excellent save. Perhaps on their third goal he could have been tighter to the goalscorer.
Ramsey 7: Arsenal looked more dangerous with him in, but still they couldn't tie the game. He could have done better with a couple of chances that came his way.
Campbell n/a: A brief cameo against his former team, but couldn't produce any thing of note.