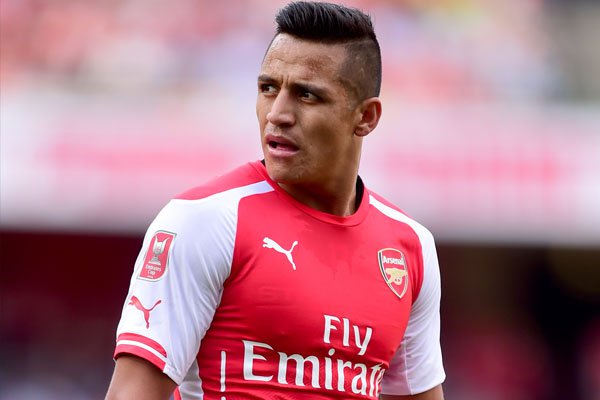 Immediately from the start Arsenal put the defending Premier League champions under pressure. Every time Alexis Sanchez got the ball things started to happen and Arsenal looked menacing.
Santi Cazorla scored the opener, allowing the ball to roll to his left side where he slotted home past the stranded keeper Willy Caballero.
City looked dangerous a couple of times, but failed to create any direct chance of note. Most of the time they were defending and trying to contain the Gunners.
Arsenal sealed the game just before the break when Sanogo's pass found Aaron Ramsey streaking forward and his well placed shot doubled the lead.
The second half was more untidy than the first, Arsenal more content to maintain their lead than to continue to add pressure. Substitutions also disrupted the flow of the game.
Despite this, Arsenal added a third goal, the beauty of the bunch, through a thunderbolt from Olivier Giroud. Whether a slight touch by the defender provided just enough spin for the ball to drop under the post, we'll probably never know, but Giroud will add this one to his personal highlight reel.
City created a couple of chances during the half, but a couple of good Szczesny saves allowed Arsenal to keep a clean sheet.
Understanding that this was a pre-season game, that there's no prize money for winning the shield, and that many key players were absent, it still is an achievement. Good players want to win every game, they don't want second place medals, and no manager wants to answer awkward questions from the press after losing.
Arsenal won and things are looking good for Arsene Wenger's squad prior to what promises to be an excellent season.
Player Ratings:
Szczesny 7. A decent game, although a couple of poor clearances put the defence under pressure. He made a couple of decent saves, was largely strong gathering in crosses, and brave coming off his line. Was hurt a little in a clash with Jovetic.
Debuchy 7. Was very effective going forward in the first half. A couple of times he was stranded upfield when City counterattacked.
Chambers 7. A solid outing for the youngster. I'm still convinced we need to buy a centre-back, but he did not look out of place. He did make several poor upfield clearances though and was once beaten for pace by Dzeko.
Koscielny 7. He only played the first half, but he was quietly effective.
Gibbs 8. A strong game for Gibbs, who largely kept Jesus Navas quiet. He got forward a number of times, had a good chance blocked and came on the overlap a couple of times.
Arteta 7. He was just made the team captain prior to the match. With Arsenal looking to buy a defensive midfielder, is that wise? Another lame duck captain sitting on the bench? However, Arteta was solid for most of the match, although he had to commit several fouls to keep City from attacking.
Ramsey 8. A typical Ramsey performance. Lots of running and defending, a key part of a number of attacking moves, and the ability to turn up in the nick of time to score a decisive goal. May it continue!
Wilshere 7. The victim of Tony Adams' pre-game bombastic statement about him needing to prove himself, he was good going forward and came close several times to unlocking the defence.
Sanchez 8. In many ways it was not a great performance by Alexis. Most of his moves didn't come off, most of his through passes were intercepted, yet he added an element of pace and menace to our attacks.
Sanogo 7. A typical Sanogo performance … lots of movement, a couple of chances, a couple of times he looked awkward, he battled with the defenders, he combined well with those around him and he assisted on Ramsey's goal.
Cazorla 8. My man of the match. Santi appeared to be popping up all over and he was heavily involved in the running of the offense. He scored a fine opening goal.
Substitutes:
Monreal 7. He came on and played centre back and he looked solid.
Flamini 6. A typical Flamini performance. Some fouls, good defending, and he even managed to get forward and try to cross the ball once.
Campball n/a. Was not on the field long enough.
Giroud 7. Scored a wonder goal, otherwise the scrappy game didn't really allow for him to shine in the second half.
Oxlade-Chamberlain 6. Another player who got a half under his belt, but didn't do too much of note.
Rosicky 6. He came on and did his normal shtick. However, nothing really happened of note.