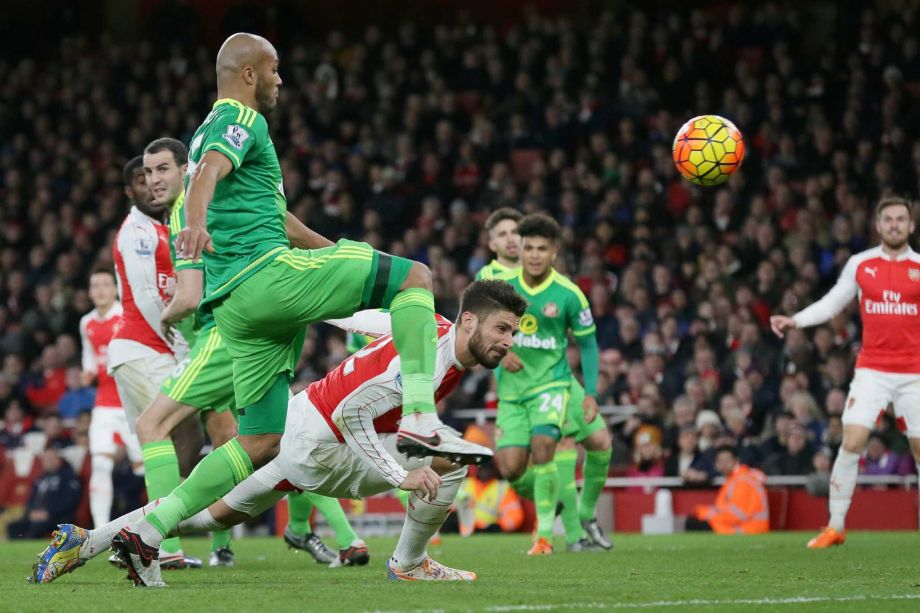 It took till injury time to put the game away, a game where they could easily have relinquished the three valuable points.
Arsenal dominated the early part of the game, but created nothing. In fact, it was Sunderland who created the best chance, a Fabio Borini breakaway which Cech saved.
The Gunners finally took the lead when a lovely Mesut Ozil through ball found Joel Campbell, who slid the ball through the legs of the advancing Pantilimon.
However, Arsenal conceded a free-kick prior to halftime. M'Vila's kick swung dangerously across and Giroud stuck out his foot and put the Black Cats level. Once again, shades of what Gunners had seen in the last few weeks.
The second half opened up more and both teams had their chances. Sunderland's best chance came off a corner, which Fletcher reached, only to have Cech make a sensational save right on the line.
Arsenal took the lead shortly after when Giroud headed home a Ramsey cross, rectifying his first half error.
Giroud almost scored again, his header from a corner was headed off the goal line by a Sunderland defender.
Sunderland's Whatmore broke free (I thought he was offside) but couldn't get any power or direction on his shot and Cech saved.
Right near the end of the match Bellerin was caught napping and van Aanholt blasted a great chance over the bar.
Aaron Ramsey finally sealed the win, latching on a deflection from a Chamber's shot, and firing home the third.
Hopefully this new look Arsenal squad can get their act together in Greece this coming week.
Player Ratings:
Cech 8: Big saves off Borini and Fletcher. He is certainly earning his money.
Bellerin 5: His defensive game is looking a little scraggly at times. When Younes Kaboul gets round you and manages to cross the ball, you're having a bad day. Fell asleep and van Aanholt almost made him pay. Offensively, he looks too cautious and only once got the ball in the box and looked dangerous.
Mertesacker 6: Generally decent, but he looks vulnerable when the game stretches out and players can run behind or at him.
Koscielny 6: Conceded the free-kick that led to the goal. Borini and Whatmore caused some problems and had chances.
Monreal 7: Defensively he was good. There was one nervous moment when he chested the ball back to Cech, who had to dive for it. Was involved in the build up to the second goal. He is providing more width and attack to the team than Bellerin, which is a turnaround from a year ago.
Flamini 6: Did an adequate job and he passed quite well, except for one wayward pass which caused problems.
Ramsey 7: The good, the bad, and the ugly. The good. He scored. In fact, I got the impression right from the start that he'd score and he was looking to shoot a lot. He should have scored a few minutes before he did but he hit at the goalie. He also assisted on Giroud's goal. The bad. Aaron's no Santi. He doesn't have that slick control and that ability to make quick passes. The ugly. He made a couple of poor passes, dribbled himself into trouble …Hopefully he'll rectify some of these tendencies.
Ozil 8: Man of the match. A great assist on the opening goal. He had a good chance to score, but hit it wide. He made some sublime moves on the ball. Another good game.
Campbell 7: Well taken goal. His celebration with the pacifier? Questionable. Why even wrap the item in your shorts? He had some other good moments and was a lot better on the left than on the right.
Giroud 7: A lazy kick stabbed an own goal home in the first half, a half where he produced little. He scored the equalizer and almost headed another home. Good finish.
Oxlade-Chamberlain 5: The first start in a while for the Ox, but it was one to forget. He was a little better on the right, but he'll want to do better than that next time.
Substitutes:
Walcott 5: One shot flashed wide and he had a couple of runs and looked a little dangerous. Good to have him back.
Gibbs 5: Added a little more defence at the end. Chambers 6: He had a couple of shots, both of which were charged down, however the second shot deflected to Ramsey who scored. Assist?