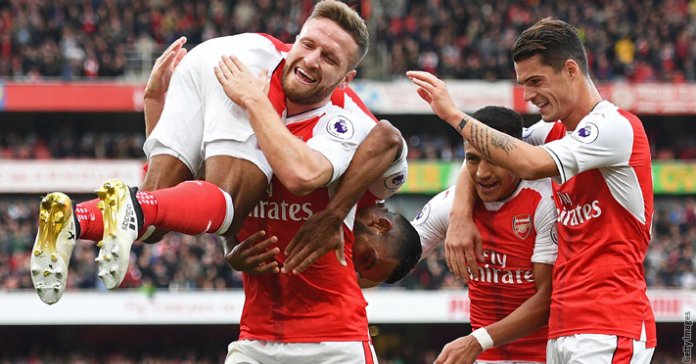 It was a match Arsenal should have won comprehensively, but mistakes and an opportunistic Swansea kept the game close.
Arsenal started well, but couldn't put the finishing touch to a number of well-crafted attacks.
Theo Walcott opened the scoring when he nipped in to take the ball from Amat and slide it home. He doubled the lead when Swansea failed to clear a corner, it fell to Walcott, who swiveled around and fired home. Both goals showed a poaching side to Walcott that many feel he lacks.
Swansea were handed a lifeline when Xhaka's poor control gifted Sigurdsson a chance, which he put away with ease.
In the second half Swansea tried to attack more, but Arsenal had the better chances. Too often they squandered them or were caught offside.
Mesut Ozil scored a stunning volley off an Alexis cross and restored the two goal lead.
Barrow, a thorn in Arsenal's side all day, crossed to Baston who found space between our central defenders and he scored to make the game close again.
Granit Xhaka then committed a cynical foul on Barrow and was shown a red card. It definitely was a yellow card, red … maybe.
Arsenal were then forced to defend for the last thirty minutes. Swansea had their chances which they didn't convert. Barrow headed at Cech, Fer headed over, and Sigurdsson hit his chance over the bar.
The Gunners had two glorious chances of their own, both fell to Walcott (courtesy of the Ox both times) and he failed to convert on both. The first hit the post and rebounded across the goal and the second he blasted past the goal.
Arsenal hung on and with both City and Spurs being held to draws, they move up the table.
Player Ratings:
Cech 6: He never had a chance on either of the goals. Most of the game he had little to do and the saves he made were easy.
Bellerin 8: A fine game at both ends of the field. He forced a good save from Fabianski in the first half and again, late in the match. His first half intervention against Routledge was an indication of how valuable his speed can be.
Mustafi 8: He made a number of key interventions during the match. In the first half he headed Ozil's corner against the crossbar.
Koscielny 8: Like Mustafi, he made a number of key tackles and interceptions. He made one or two mistakes as well, but generally was excellent at the back.
Monreal 6: He had a tough day dealing with Barrow, who beat him a number of times. Nacho definitely is working hard every week these days.
Xhaka 3: Most of the day he played quite well, but his mistakes turned the game from a comfortable one into one of survival at the end. His first half mistake saw him let Swansea back into the match. His red card against Barrow was nasty and cynical. I thought he'd get a yellow, but I knew there was a chance he'd get a red … and he did.
Cazorla 7: Worked hard, helped to dominate the midfield, but he didn't have any highlight moments.
Ozil 8: His volley was spectacular, a perfect birthday gift to himself. He looked dangerous most of the game and he even strayed offside several times.
Walcott 8: Two fine goals in the first half, but he'll be thinking about the two chances he didn't put away in the second half. He was the man of the match, but it could have been even better.
Sanchez 7: Looked dangerous, but was also careless sometimes as well as a little selfish (he should have passed to Monreal on one notable occasion). His assist to Ozil was a thing of beauty and the two are combining well together.
Iwobi 8: He had several moments where he showed sublime skill, able to tiptoe and dance around defenders. He was very influential on attack.
Substitutes:

Coquelin 6: Helped to shore up the defence.
Gibbs n/a: Came on to help with Barrow, who left the field a few minutes later.
Oxlade-Chamberlain 7: Twice he set up Walcott and twice Theo squandered the gift. The Ox even dribbled into the corner near the end, something we don't do often enough.