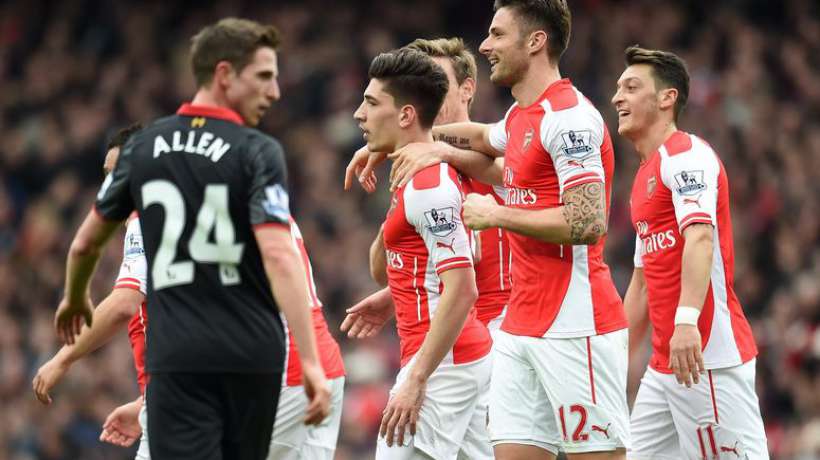 Arsenal started fast and Liverpool barely got a touch of the ball in the first ten minutes.
Unfortunately, Arsenal didn't capitalize on their dominant start, with Aaron Ramsey guilty of missing a wonderful chance of putting the Gunners ahead.
Then came the lull and Liverpool started to get into the game. They should have scored when Markovic received the ball as he burst into the box, but he opted to pass it to Sterling for the tap in, but overcooked the pass.
Arsenal came back to life in the last ten minutes of the half and in this brief time they put the game to bed.
Hector Bellerin wandered into the box and when no one challenged he opted to shoot and what a shot it was. A left footed strike into the corner of the net.
Minutes later Liverpool fouled Ozil on the edge of the penalty area. He opted to take the free kick and beautifully curled it into the corner of the net. 2-0 to the Arsenal.
Right on the edge of halftime Arsenal grabbed a third, this one courtesy of a superb strike from Alexis Sanchez.
The second half featured a largely ineffective Liverpool hitting shots, but not on goal, and Arsenal looking to counterattack.
Bellerin would bring down Sterling in the area and Liverpool converted the penalty and made things a little closer.
However, Arsenal managed to hold them off and got a fourth, courtesy of a sensational thumping boot from Olivier Giroud.
Yes Chelsea, we're coming for you!
Player Ratings:
Ospina 6. Did not have to make many saves and those he made were easy for the most part. He'll wish he'd extended his arms on the penalty as he'd dived the right way and should have denied Henderson.
Bellerin 7. A fabulous goal. Initially he dribbled into the area and was looking to pass, but nobody challenged him and he opted to shoot. Was having a good game, but was lucky to remain in the game when he fouled Sterling in the area and conceded a penalty. Just earlier Sterling had embellished contact with Hector but the referee wasn't fooled. Anthony Taylor actually had a so so match.
Mertesacker 7. He had a good match and was never seriously tested.
Koscielny 7. A solid game, but he appears to have hurt himself. Left the game early in the second half.
Monreal 7. Solid at the back. He attacked more late in the match after Can was sent off.
Coquelin 8. Another good game for Francis. He broke up countless moves and he was good on the ball.
Ramsey 7. Had a great chance early, but he hit it softly and Mignolet made the save. Nothing really came off for him, although one sensed he is close to playing his best. Unfortunately, he came off after he'd hurt his ankle.
Cazorla 8. An early shot produced a great save from Mignolet and a late strike hit the upright. He looked a little sloppy during Arsenal's lull in the first half, but he had a good second half.
Ozil 8. His free kick was excellent. He looked up for the game and he was involved in a number of offensive moves.
Giroud 8. He worked hard and made a number of good touch passes to teammates. He had a fine header saved by Mignolet early in the second half, but got his reward late when he sent a howitzer into the corner of the net.
Sanchez 9. My man of the match. He was involved in countless attacks and was rewarded with my pick of the best goal of the game. He showed incredible control just to stay on his feet, but his shot was of the highest order.
Substitutes:
Gabriel 7. Came in for Koscielny and kept things solid at the back.
Flamini 6. Helped to solidify the defence. He made a nasty lunge at a Liverpool player as well.
Welbeck 7. An excellent cameo from Danny, who had several chances to score.