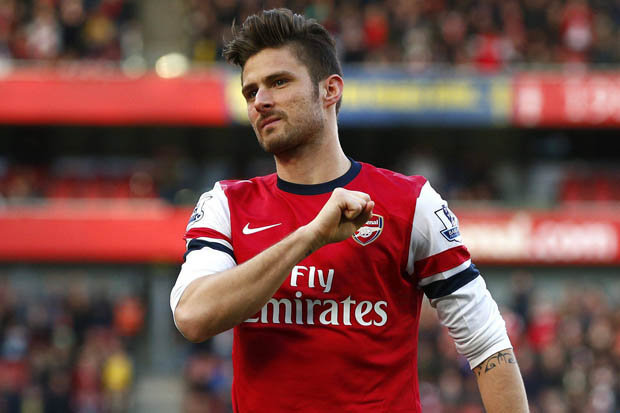 Sunderland were a little passive to start the game and Arsenal soon passed their way ahead, an intricate series of passes eventually found Giroud who scored with ease.
Minutes later, Phil Bardsley mistakenly passed the ball back to Giroud, who calmly put the chance away.
Sunderland surrendered completely when another intricate move was finished off by Tomas Rosicky, the pick of all the goals today.
Sunderland came to life in the second half and pressed higher up the pitch, but conceded a fourth goal on a corner, Koscielny left unmarked.
Finally Sunderland scored late in the game, but it was too little too late. Arsenal keep pace with Chelsea and Manchester City at the top of the table. Only concern will be the number of injuries picked up during the game.
Player Ratings:
Szczesny 6. Largely had little to do. Had to come off his line a number of times to collect the ball and made a couple of saves in the second half. Not really to blame on Sunderland's goal, but could have caught the cross, rather than punched it out.
Sagna 7. Quite the day for Bacary. He started at right back, moved to left back, and ended up a centre back. He played well in all of them.
Mertesacker 7. He had a good day, dominating the high balls and keeping Sunderland quiet.
Koscielny 7. Like Mertesacker, he was rarely troubled. Scored an impressive goal. Left the field with an injury.
Monreal 7. Kept Adam Johnson quiet and played an efficient game, supporting the attacks. Didn't reappear after the intermission, an unspecified injury the cause.
Arteta 7. A good game for Mikel, probably his best this year. He shielded the defence and was able to join in the attacking moves.
Wilshere 8. A good game for Jack. He was always looking to push the ball forward and had a key role to play in the opening goal. Ended up the day limping, not a comforting sight.
Rosicky 8. Scored a great goal in the second half. He was instrumental in most of Arsenal's passing moves and did well to press when Sunderland had the ball.
Cazorla 7. A relatively quiet game for Santi, but he was deeply involved in most of the passing moves. Made a number of good cross field passes.
Podolski 7. A good game for Lukas, who was pressing his opponents and passing very well. He had one good shot at goal and forced Mannone to make a great save.
Giroud 8. Man of the match. Two goals, one assist. Not a bad outing for Olivier and hopefully the time off has refreshed him and cleared those lustful thoughts out.!
Substitutes:
Jenkinson 6. A largely quiet game for Carl. Made a few minor mistakes, but he kept the wing mainly quiet.
Flamini 6. Came in and played left back.
Gnabry 6. Had a couple of shots at goal. On his first and best chance his standing foot slipped as he shot at goal.