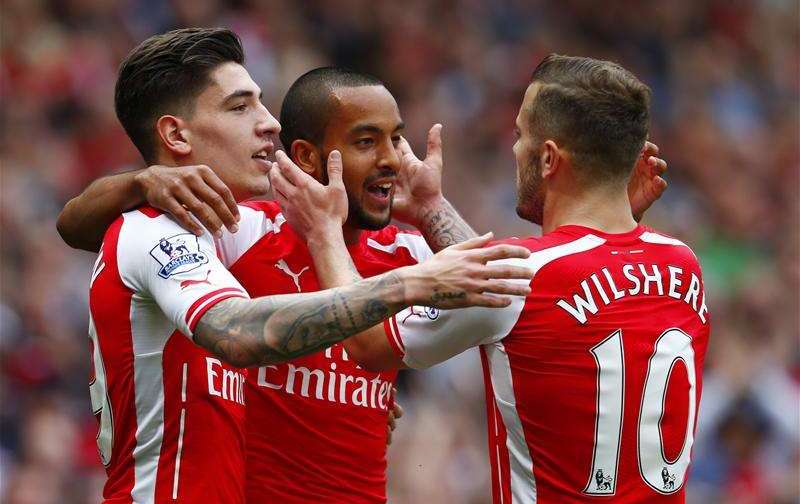 Theo Walcott had a first half hat trick, pouncing on three good opportunities and converting them ruthlessly.
Jack Wilshere scored as well, a volley that'll be contender for goal of the week.
Arsenal were in complete control in the first half, much to the frustration of Tony Pulis, the Albion manager.
West Brom played better in the second half, but still gave up a number of chances and were lucky to not concede more.
They did score off a corner when McAuley beat Ospina to the ball and later an Ospina gaffe almost gifted Albion a second goal, the ball passing through his flapping hands, but luckily glancing off the crossbar.
Aaron Ramsey twice hit the iron as well, unlucky not to score on both occasions.
In the end Arsenal coasted to victory and now have a week to prepare for the FA Cup Final against Aston Villa. Perhaps they will also reflect on how they might have won the title if they had played the first half of the season the way they played the second part.
Player Ratings:
Ospina 5. At fault for their goal where he was unable to get the ball after he left his line. His flappy handed gaffe was another howler, designed to create anxiety for every Arsenal fan over the summer. If he had played this game in the middle of the season, Wojciech would be getting his job back next week. As it is, Szczesny is scheduled to play next week in the cup final.
Bellerin 7. A good outing for the most part. He looked good coming forward, although one or two of his crosses were poor. Didn't have too many problems with Chris Brunt.
Mertesacker 7. Reasonably quiet afternoon, although he had to keep a sharp eye on Berahino.
Gabriel 7. Solid outing for Gabriel. Assisted on Wilshere's goal.
Gibbs 6. Appeared to have hurt his shoulder, which restricted his attacking in the latter part of the match.
Coquelin 7. Another solid outing for Francis. He helped to control the midfield and to keep Albion quiet.
Cazorla 8. A great match for Santi. He assisted on Walcott's third, crossing it for the tap in. Albion gave him too much room and he exploited it.
Ozil 8. He should have had three assists, but nobody showed enough poise to knock them in. He worked hard as well and was quietly very efficient with the ball.
Wilshere 8. A phenomenal first half, with a goal to boot. The goal was a picture perfect volley to the top corner, one of the best Arsenal goals of the season. Jack played with energy and his short bursts upfield were great to watch. He could have had a hat trick by half time as well, but the other chances didn't quite come off.
Walcott 9. Man of the match. He too could have had three more. His first goal showed his speed to get open and a powerful shot to the top corner. The second showed his quick reactions as he latched onto the ball, which was moving around like a pinball and he poked it into the goal. The third revealed him to be the predator, watching the move build and then sweeping in for the tap in. He forced Myhill to make a great save as he cut in from the left, another toe poke was saved, he almost got to a rebound off the keeper, and a long pass just eluded him when he was in alone.
Sanchez 8. Even though he won't be remembered for this game, Alexis made his presence known and kept the defence on their toes. He had a hand in the buildup of a number of the goals and he had a couple of shots on goal as well.
Substitutes:
Giroud 6. Never really got in the flow of the game.
Ramsey 8. Another who could have scored a hat trick. His first two shots both hit iron and his third shot was pushed wide of the goal.
Oxlade-Chamberlain 6. It was good to see Alex back after so long away, but he still has a little rust to work off.