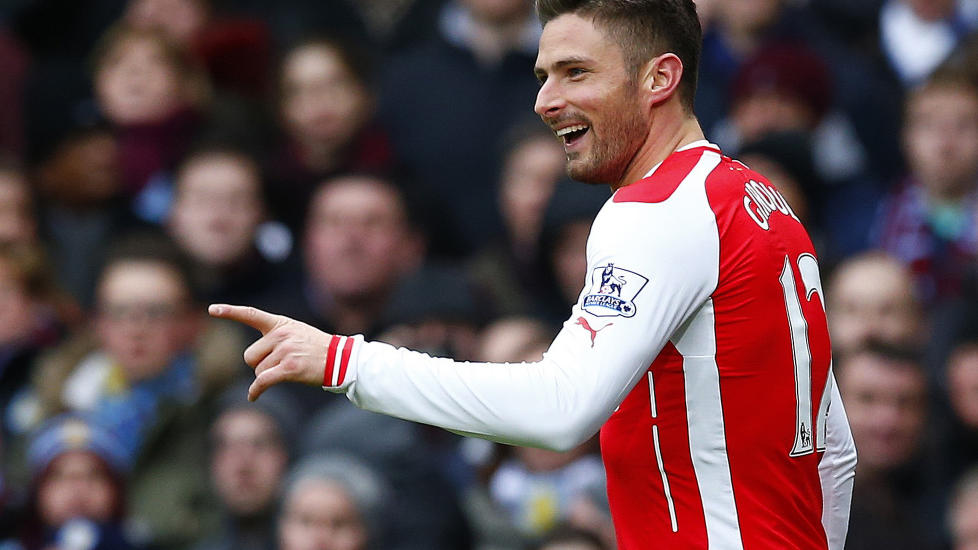 The first half saw Arsenal start fast, cutting Aston Villa open and creating gilt edged chances.
One feared they wouldn't score, but score they did when Mesut Ozil, with an audacious flick, sent Olivier Giroud free.
Giroud almost bungled the chance, but deftly managed to chip the ball over the advancing Guzan.
It all looked too easy and the Gunners were somewhat wasteful at times. Then they fell into a funk and for the next quarter hour they looked quite ordinary.
They came alive after Santi Cazorla's shot hit the post. Ozil had a goal disallowed and Guzan saved from Ramsey.
Just before halftime Villa had their only chance of the half when Ospina saved from Weimann, a warning about only having a one goal lead.
Villa created another good chance at the start of the second half, but Benteke shot wide.
From this point on, Arsenal started cutting Villa apart. As Villa attacked, Arsenal counterattacked.
Ozil scored first, Walcott scored next. Chuba Akpom won a penalty and Cazorla luckily scored the fourth after he hit it straight at Guzan.
Arsenal scored their fifth in extra-time when Hector Bellerin scored his first ever goal with a well placed shot in the corner of the net.
It was a complete performance. Now let's score five against Spurs!
Player Ratings:
Ospina 7. A solid game for Ospina. He actually had a couple of saves to make. He made a good save from Weimann at the end of the first half and he made an excellent save from Westwood at the end of the match.
Bellerin 8. Brimming with confidence he had a solid game going forward. He made a number of good crosses as well. He also made a good slide tackle in the penalty area. Finally, he scored, a great moment for the lad, particularly because his parents were in town this week (they posed with him in a picture taken at London Colney).
Mertesacker 7. Fine match for Per. Only one sniff at goal for Benteke. He also made a good cross when he ended up on the left wing.
Koscielny 7. He was solid as well. Mopped up when needed.
Monreal 8. Playing very well right now. Is he now our first choice left back? Effective attacking, strong defending.
Coquelin 8. Solid outing for Francis. He physically imposes himself and does the dirty work. Helped Arsenal dominate the midfield. My only qualm is his tendency to be a little over aggressive at times and to be too grumpy at the referee, such as the foul he committed before halftime. Anthony Taylor is not a ref to mess with.
Aaron Ramsey 7. He worked hard, had a few good shots, but still looks a little sloppy with the ball sometimes.
Santi Cazorla 9. Another man of the match performance. His work rate was impressive and he is in the groove right now. Lucky to score on his penalty. Assisted on Walcott's goal with a lovely pass.
Theo Walcott 7. Looking better every week. Involved in the buildup for the second goal and he scored an excellent goal.
Olivier Giroud 7. Scored the opening goal, but he almost flubbed the chance. He assisted on Ozil's goal and he headed over the crossbar in the second half.
Mesut Ozil 8. A goal and an assist. He also had a disallowed goal (a questionable offside call against Cazorla), and a good scoring chance that was blocked. Despite the good, he made several poor passes as well, so there's still a little rust to clean off.
Substitutes:
Akpom 7. He won the penalty, beating Guzan to the ball and drawing the foul. He headed over the bar and when he made a good run and received Cazorla's pass he could only get a soft shot away.
Rosicky 7. A fine cameo from Tomas. How I wish we had room in the team for him to play more. He passed well and played with energy.
Flamini 6. Came and filled in for the last fifteen minutes.