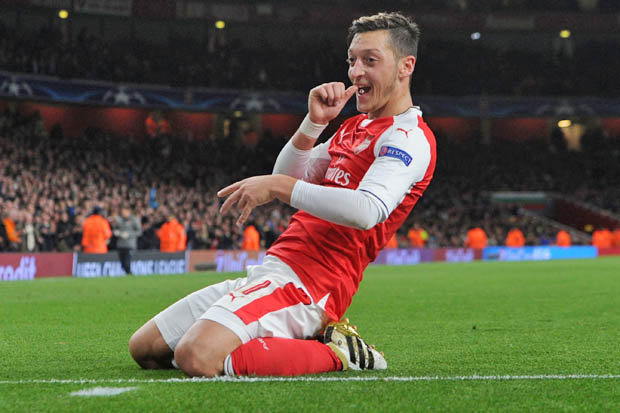 The Gunners dominated from the start and took the lead courtesy of a sensational chip from Alexis Sanchez. Theo Walcott doubled the lead when Ludogerets failed to close him down, firing home from outside of the box.
The Bulgarians had a number of chances in the first half, but fine saves from David Ospina and some late interceptions helped to cover up some sloppy defensive play.
Alex Oxlade-Chamberlain put the game out of reach when he scored early in the second half.
From that point on, Arsenal sat back and countered the Bulgarian team's attempts to get back in the match.
Three times Arsenal managed to hit them on the counter, all converted by Mesut Ozil, who scored his first hat-trick as a Gunner. The win puts Arsenal at the top of their group, thanks to the impressive haul of goals.
Player Ratings:

Ospina 7: Ospina made a number of fine saves in the first half, one of which he made with his face, going down to deflect the ball away from Cafu.
Bellerin 7: He had a strong match, but was caught upfield once or twice when he needed to be back. He was dangerous at times, but also frustrated, especially when he made a tepid pass after he'd charged fifty yards upfield.
Mustafi 7: Generally played well, but there were gaps a number of times and a better team would have punished us.
Koscielny 8: Like Mustafi, he looked out of position a number of times. That said, he made several fabulous interceptions that kept the Bulgarians from scoring.
Gibbs 7: A good match for Kieran, who kept the wing quiet and supported the attack effectively. He assisted on Walcott's strike and his cross into the area led to our third goal.
Coquelin 8: An excellent match from Francis, who made a number of key tackles and interceptions to help break up attacks.
Cazorla 7: A good match for Santi, who got a nice assist on Arsenal's fourth goal. He ended up with a bag of ice on his ankle on the bench, not a good sign.
Ozil 9: He had a solid match and he scored three fine goals. He is certainly in the groove right now. His first was a breakaway, the second and third saw him convert good crosses. Walcott should study Mesut's technique.
Walcott 8: Theo scored a fine goal, but he could have scored several other goals. He looked dangerous every time he got the ball.
Sanchez 8: His goal was a thing of beauty. He peaked and saw the goalie was off his line and he chipped it over him. He looked dangerous whenever he got the ball and also should've scored more than one. He continues to combine well with his teammates and create good chances for others.
Oxlade-Chamberlain 8: A good game from the Ox who also looked dangerous throughout the match. He scored a fine goal, pouncing on a poorly cleared ball to slot home Arsenal's third. He was in the buildup for our fifth goal as well. He almost scored a second when he forced a fine save after Sanchez found him racing into the box.
Substitutes:
Elneny 6: He helped to steady the defence.
Perez 8: A good half hour from Lucas, who had two fine assists on Ozil'sfifth and sixth goals.
Iwobi n/a: Not really on long enough to make a big impact.