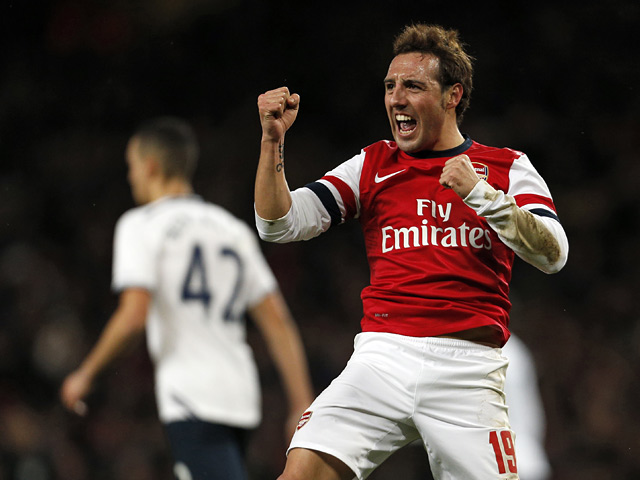 Going on holiday means not watching Arsenal and relying on websites with live updates. I can tell you that waiting for your page to refresh can be agonizing. It's even worse when you are trying to hold off Newcastle or trying to score a late goal against Cardiff.
The relief one feels when a goal is scored or a final whistle goes is amazing. However, lying in bed at three in the morning in Hawaii watching your ipad screen is not an experience I'd recommend.
Player Ratings:
Szczesny
5 vs. West Ham
6 vs. Newcastle
7 vs. Cardiff
Against West Ham, Szczesny spilled a routine save into the path of Carlton Cole and Arsenal were behind. He looked nervous for the next ten minutes and had West Ham played up front with more precision, they might have been rewarded. Against Newcastle he made a fine save off Sissoko in the first half, but was a little stranded when a header hit the crossbar just prior to halftime. In the second half he had a moment he needs to purge from his game, a casual clearance that struck Remy in the face and rebounded past a stranded Szczesny and just missed the goal. Against Cardiff he had virtually nothing to do, but he made a fine save in injury time.
Sagna
7 vs. West Ham
8 vs. Newcastle
8 vs. Cardiff
We still haven't got Bacary to sign a contract extension. He was excellent in all the games over this period, particularly Cardiff. His header set up the winning goal. Against Newcastle he kept his flank secure. His health is critical to our second part of the season.
Mertesacker
6 vs. West Ham
8 vs. Newcastle
7 vs. Cardiff
Per had a superb match against Newcastle, where he and Koscielny kept Remy quiet. Against Cardiff he had a number of chances where he missed headers that could have won the match.
Vermaelen
6 vs. West Ham
n/a vs. Cardiff (came on as a late substitute)
Thomas had a reasonably good game against the Hammers. Still needs to be more precise when passing upfield.
Koscielny
8 vs. Newcastle
7 vs. Cardiff
Laurent had a fine match against Newcastle, witness their inability to threaten the Arsenal goal. His pace is essential at the back.
Gibbs
8 vs. West Ham
6 vs. Newcastle
Gibbs was excellent against the Hammers, constantly providing a threat on the left flank. He had more trouble against Newcastle, where Sissoko and Debuchy were able to make his life miserable. Injured his calf against Newcastle.
Monreal
8 vs. Cardiff
Provided the cross that led to the winning goal. Nacho was constantly moving forward and providing the overlap that the Gunners needed.
Arteta
7 vs. West Ham
7 vs. Newcastle (was a substitute)
7 vs. Cardiff
If I was Arsene Wenger I'd consider buying a holding midfielder this January. Arteta played well, but physically he's taken a pounding and while he plays well, he doesn't dominate. Wenger has tried to alternate playing Arteta with Flamini, but both are past thirty and I wonder whether they can last the entire campaign.
Flamini
6 vs. West Ham (was a substitute)
7 vs. Newcastle
7 vs. Cardiff
Was solid through these three games. My comments about Flamini would be similar to what I said about Arteta.
Wilshere
8 vs. Newcastle
8 vs. Cardiff
Two solid performances for Jack following his two game suspension. His performance against Newcastle was probably man of the match. Against Cardiff, he was excellent as well, almost scoring once with a shot to the near post.
Rosicky
7 vs. Newcastle
8 vs. Cardiff (was a substitute)
A hard working performance against Newcastle where he provided both offensive and defensive spark. Against Cardiff, he injected some pace into the Arsenal attack when they needed it.
Ramsey
7 vs. West Ham
Aaron was playing quite well when he limped off against the Hammers.
Ozil
7 vs. West Ham
Mesut was looking a little tired when he came off. A shoulder injury followed and the Gunners were without him for a couple of games.
Cazorla
9 vs. West Ham
7 vs. Newcastle
8 vs. Cardiff
Santi bossed the game against West Ham and was unlucky not to score. He seems to relish playing against the Hammers. He battled hard against Newcastle, but was not as influential. Against Cardiff he was buzzing, but nothing was going in.
Walcott
9 vs. West Ham
7 vs. Newcastle
8 vs. Cardiff
Two goals against the Hammers, although the first was a little soft. His second was from his head, something you won't see very often. Against Newcastle he provided the assist for the only goal, but had trouble making an impact. He was in dominant form against Cardiff, but couldn't score until injury time. Seems to be growing in confidence.
Giroud
7 vs. West Ham
8 vs. Newcastle
Olivier battled hard against the Hammers but couldn't put away his chances. However that all changed against Newcastle with the softest of headers beating Tim Krul. However, he injured himself and looks a tired warrior.
Podolski
8 vs. West Ham (came on as a substitute)
6 vs. Cardiff
Lukas scored against West Ham and had several other chances to add to his account. He plays better when he plays alongside a true centre-forward, but when he has to play up front himself, he struggles to make an impact such as in the game against Cardiff.
Bendtner
6 vs. West Ham (came on as a substitute)
n/a vs. Newcastle (came on as a substitute)
8 vs. Cardiff (came on as a substitute)
Scored the most important goal of the season? A draw would've been psychologically difficult to take. However, big Nick scored a huge winner, but hurt himself in the process.
Jenkinson
6 vs. Newcastle (came on as a substitute)
Came on late to provide some defensive stability. Was slow to take a throw-in, which taken quickly could have provided Bendtner with a good opportunity.