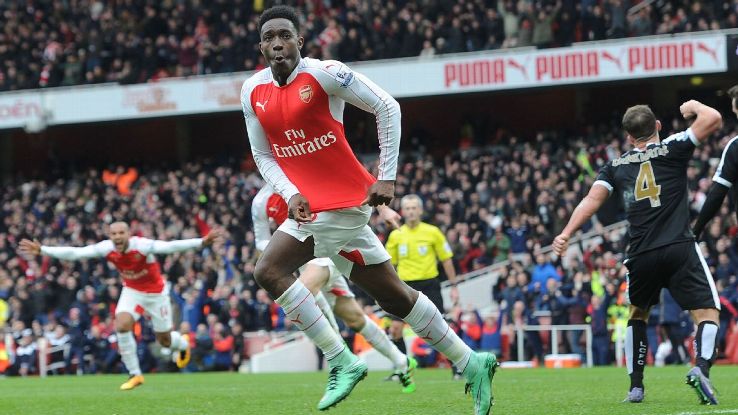 The England international has been missing all season after a serious knee injury but came off the bench to rescue a win for the Gunners, who moved to within two points of leaders Leicester with the 2-1 win.
Jamie Vardy had put the Foxes ahead with a penalty on the stroke of half-time having been tripped by Nacho Monreal but, after Danny Simpson was sent off after picking up two yellow cards in five minutes, Theo Walcott levelled after coming off the bench.
With Arsenal laying siege to Kasper Schmeichel's goal, Wenger threw on Welbeck, who had played just an hour for the under-21s as he strives for fitness having not played a senior game since last April, and the former Manchester United man was on hand to glance home Mesut Ozil's free-kick in the fifth minute of added time.
"You know Danny Welbeck, he is a great guy, with a great mentality

He worked extremely hard

That is why he is fit," Wenger said, having only decided to put the forward on the bench at the last minute.
"(I decided) yesterday

In the last two days he was convincing in training

I planned at the start, when I made my press conference on Friday morning, to play him next week.
"But in the last two training sessions he was very strong and I decided just in the end to include him in the squad.
"It was a great decision because Danny Welbeck is a great player, and you never know in our job, if somebody else had come on, would he have scored or not?
"But everybody is extremely happy for him, because he has been out for 10 months, that is an eternity for a player

We work very hard, our medical team, our fitness team, to bring him back so strong

Let's not forget he has not played one minute for us."
Vardy's 19th goal of the season had put Leicester on course to be eight points clear of Arsenal and Wenger admitted afterwards that he would have feared the worst if his side had not hit back.
"A loss today would have been massive, yes," he said.
"Even after that you get all the negative vibes, the belief goes down, it would have been much more difficult

We would not have given up, but eight points is three games to come back

We would need to win three , they would need to lose three."
Leicester boss Claudio Ranieri said he and his players were left "very sad" by the result and was unhappy with referee Martin Atkinson


Asked how his players were feeling, the Italian said: "Very sad

Me too.
"My reaction is to laugh with you because I am strong and I want my players to follow me.
"If I think about the match I am very angry because I think maybe I make mistakes but an international referee gives two yellow cards for normal fouls and the match was full of fouls.
"I remember the first half when we scored and there was a bad tackle from Aaron Ramsey and it was a yellow card but it is not the same yellow card when Simpson stopped the other player.
"Maybe (he sent Simpson off) because the crowd pushed a lot and put him under pressure

But I am very proud of my players

They showed a fantastic performance.
"Also sometimes the referee stopped the time at 94 (minutes) - four minutes' extra time

But there were five minutes' extra time when they scored

Sometimes they stopped when it was a corner or a free-kick, finished

But it's okay

It doesn't matter

We continue to fight."
Ranieri also revealed he has given his squad a week off, with no FA Cup commitments next weekend.
"It's the same as if you won the match

'Go home, and we will see you next Monday' because they deserve it

They made a fantastic performance today

They go, I don't know where, Dubai maybe

They go wherever they want."
Source : PA
Source: PA