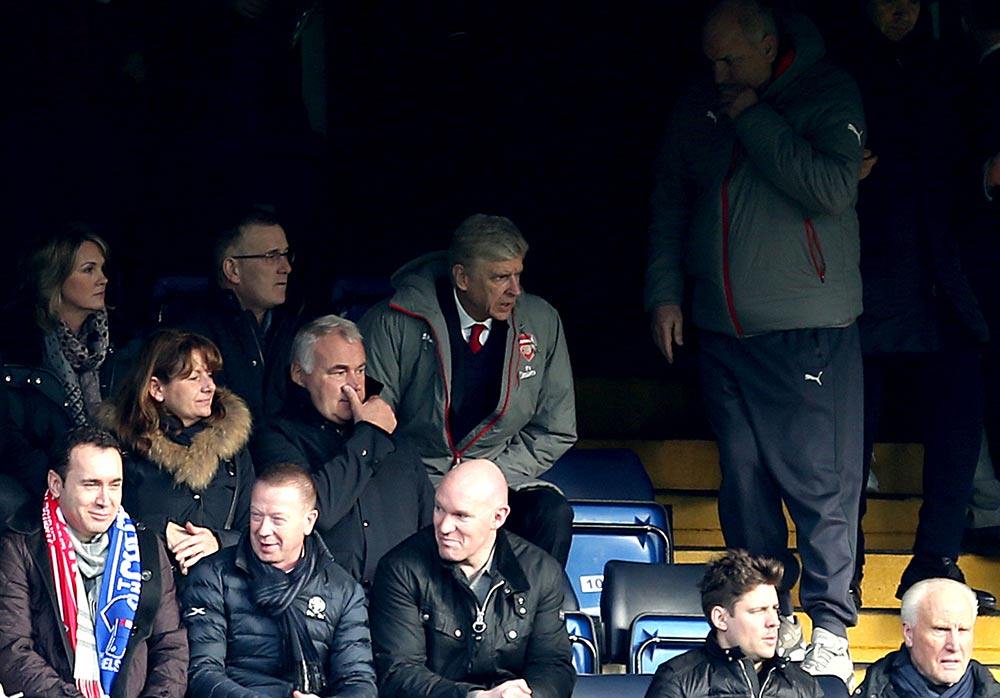 Chelsea were comprehensive winners in a game illuminated by Eden Hazard's solo strike.
But Wenger's grievance was with the opening Chelsea goal, after 13 minutes, when Marcos Alonso collided with Bellerin in mid-air before heading beyond Petr Cech.
"Of course it was a foul, but he (referee Martin Atkinson) allowed the goal," Wenger said.
"Referees are much more severe with tackles on the ground and let much more go with elbows in the face

It's not only today, but in many, many games I see that.
"But it's more dangerous to hit the head than the legs."
Bellerin was immediately replaced.
"He didn't know the score at the time

Didn't see the goal," Wenger added.
Conte, unsurprisingly, disputed Wenger's argument.
"I understand, because when it happens against you..." the Chelsea boss said.
"To hear this in England, I'm surprised

I must be honest

In England, in this league, this is always (a) goal.
"This ball, a contest and Alonso jumped more than Bellerin and scored a goal.
"For me this is correct decision

If we were in other countries, maybe we can have a conversation about this yes, or not

Here I don't think it's right to talk about this."
Hazard's second was sensational and Cesc Fabregas scored a third, declining to celebrate against his former club, before Olivier Giroud's late headed reply proved scant consolation as the Gunners fell 12 points behind their rivals.
It was Arsenal's fifth straight loss at Stamford Bridge, for the first time since 1966 to 1970


The lowest point was a 6-0 defeat in Wenger's 1,000th game in charge, but it felt like Groundhog Day.
The Frenchman, confined to the stands by a touchline ban, conceded his team were second best.
"It was the kind of game Chelsea loves and they mastered very well," Wenger said.
"Chelsea is very strong at defending and very good on transition and counter attack

And we paid for that.
"We lost many balls in positions where you cannot afford to lose it when you play against a team good on counter-attack."
Wenger joined Manchester City boss Pep Guardiola in anointing Chelsea champions.
He added: "They look at the moment in full confidence, powerful, strong

They don't concede goals

It's for them to lose it."
Chelsea have won 16 of 18 Premier League games since losses to Liverpool and Arsenal in September.
Conte, a multiple Serie A winner as player and boss of Juventus, is taking nothing for granted.
"The league is not finished today," he said.
"We must know that we must work and continue to work very hard if we want to realise a dream.
"I don't slip and I don't want my players to slip

In my squad I have a lot of players with good experience, because they won a lot in their careers.
"They know that until now we haven't won the title

And it's important to know this, to keep our antennae very high because in my career as a footballer, I won a lot, but I lost a lot.
"And when you lose three finals of the Champions League and you win only one, I think you have a great hunger."
Conte lauded a fine team performance in an 11th straight home win, but had special praise for Hazard's all-round game after his goal.
The Belgium playmaker picked the ball up in the centre circle, evaded Laurent Koscielny and brushed off Francis Coquelin before fooling Koscielny, again, and drilling in past Cech.
"Yes, he scored a great goal, but Eden I think today showed a great form, great shape," Conte said.
"We all know his talent, his strength

He's a really, really good, talented player.
"Today I'm pleased for his work, above all without the ball, defensively.
"He played with great attention, with great concentration

When we are able to work together in this way, it's simple to try to win for us."
Source : PA
Source: PA