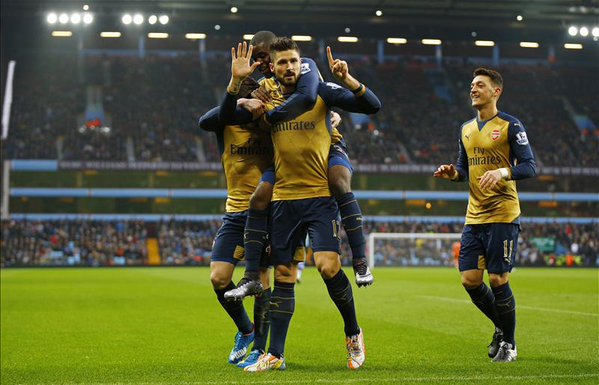 Arsenal's first goal came out of the blue in the seventh minute when Hutton fouled Walcott in the penalty area. Referee Kevin Friend took several moments to decide to award the penalty, much to the chagrin of the Villa crowd.
Olivier Giroud promptly scored and Arsenal were on their way. It was a restrained Arsenal, who seemed content to soak up the pressure and wait for the counter-attack.
Eventually it came, started from a Ramsey tackle, a fine through ball from Walcott, an unselfish cross from Ozil, and an easy finish from Ramsey.
The second half saw Arsenal continue to let Villa attack ineffectively and look for the counter.
Following a header from Sinclair and a shot from Bacuna, Wenger sent on Gibbs and the Ox for more defensive solidity.
Villa rarely threatened from then on and Arsenal saw out the match and claimed the three points.
Player Ratings:
Cech 6. Nothing much to do. I only remember him saving easily from Sinclair in the first half. He did make a poor punch clear in the first half, but got away with it. He has now equaled David James's record for clean sheets.
Bellerin 7. A better game from Hector, although he gave Bacuna too much space at one point in the second half. Attacked a little more this game and had a late diving header at goal, but it was right at Guzan.
Mertesacker 6. A largely uneventful game for Per. Had one giveaway in the first half, but that was about it.
Koscielny 6. Same as Mertesacker. He did lose Sinclair at one point, but the header went over the bar.
Monreal 6. He had a busy day trying to stop Hutton as Walcott was not always helping to defend. He was generally quite tidy on the ball.
Flamini 7. Was busy throughout the game and he helped to keep Villa from getting good chances in the middle.
Ramsey 8. I'll make him my man of the match. Was a little sloppy and gave the ball away early on. However, he was instrumental in the second goal, starting and finishing the move. He worked hard throughout and had a good second half.
Ozil 7. Good match and a good assist. He played well, but there were times the team looked a little static and nobody was running for him. In the second half he almost pulled off a great move after he ran down a pass and shed a defender on the byline, only to see his pass lack enough pace to make the cross.
Campbell 6. A decent first half, but he faded in the second half. Giroud 8. An excellent penalty kick and a hard working performance. He had several fine runs out on the wings as well.
Walcott 7. His pace won him the penalty as Hutton could not contain him. Why Arsenal didn't keep exploiting this mismatch is something I couldn't understand. Walcott made a fine through ball in the buildup of the second goal. Otherwise he looked a little better and he defended more than he did midweek.
Substitutes:
Gibbs 6. Once he came on, Hutton's effectiveness decreased.
Oxlade-Chamberlain 6. A decent cameo for the Ox. He had a good shot deflected wide.
Chambers n/a. Not on long enough.