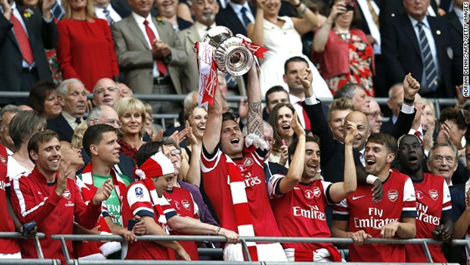 We come off last season with a win and a trophy in the FA Cup final against Hull City at Wembley. Some of the players are then called for their international duties during the 2014 FIFA World Cup in Brazil, which more or less acted as a buffer for the long awaited 2014-2015 Premier League season. An exciting World Cup group stage makes way for three Gunners and the rest of the German contingent to reign as champions of the world.
Gooners all around the world kept one eye on the World Cup and another on the oh-so-important summer transfer market which saw Real Madrid create one of the most lethal 7-8-9-10-11 combos in recent history. But what was important was for Arsenal to bring in some new talent at positions where we needed it.
Our first signing: Alexis Sanchez. Alexis had a solid career for Barcelona and continued that run of play at the World Cup for Chile, which caught Wenger's eye. A forward at heart, Alexis will probably play on the wing for the Gunners but if called upon, can definitely sustain the center forward role.
Our second signing: Mathieu Debuchy. Debuchy has the luxury of taking over for former Gunner and French International teammate Bacary Sagna. At the World Cup, Debuchy actually started of Sagna and has Premier League experience with Newcastle. He'll have to learn the Arsenal way but will turn it around quickly.
Our third summer signing: David Ospina. He was one of the many World Cup goalkeepers who made a name for themselves. He was a big reason why Colombia advanced through the group stage. From Nice, Ospina will definitely bring a highly competitive edge for Szczesny.
Our fourth summer signing: Calum Chambers. Another young prodigy taken from the clutches of Southampton this summer, Chambers brings versatility to the Arsenal backline. He played right back for most of the season last year but can also move into the center if needed.
The transfer window closes at the end of August which gives Wenger more time to see how the team plays for first few games of the season. At that time, he can make some last minute decisions (we brought in Ozil on the final day last year).
On to the much anticipated first match of the season at the Emirates vs. Crystal Palace. Crystal Palace hasn't delved too deep into the transfer market but had one major signing back in July which was Frazier Campbell from Cardiff City. He scored 9 goals in all competitions last season and won his first cap for England back in 2012. Crystal Palace finished 11th last season and can be dangerous.
As for our Gunners, we know the moves that Wenger and club made to bring in some big names and Aaron Ramsey has said that he is confident that Arsenal can win the league title. It all starts with this first game.
Projected Starting XI:
Wojciech Szczesny, Kieran Gibbs, Laurent Koscielny, Calum Chambers, Mathieu Debuchy, Mikel Arteta, Aaron Ramsey, Jack Wilshere, Santi Cazorla, Alexis Sanchez, Olivier Giroud
I see a side very similar to the one that thrashed Manchester City at Wembley during the Community Shield. The Germans just returned this week and will probably not be fit for a few more weeks which gives a player like Calum Chambers to step in with Koscielny at center back. Hopefully Ramsey can pick up where he left off last season and Giroud can keep scoring goals.
Theo Walcott in close to a return and if the squad can stay healthy they have a really good chance of taking the league by storm.