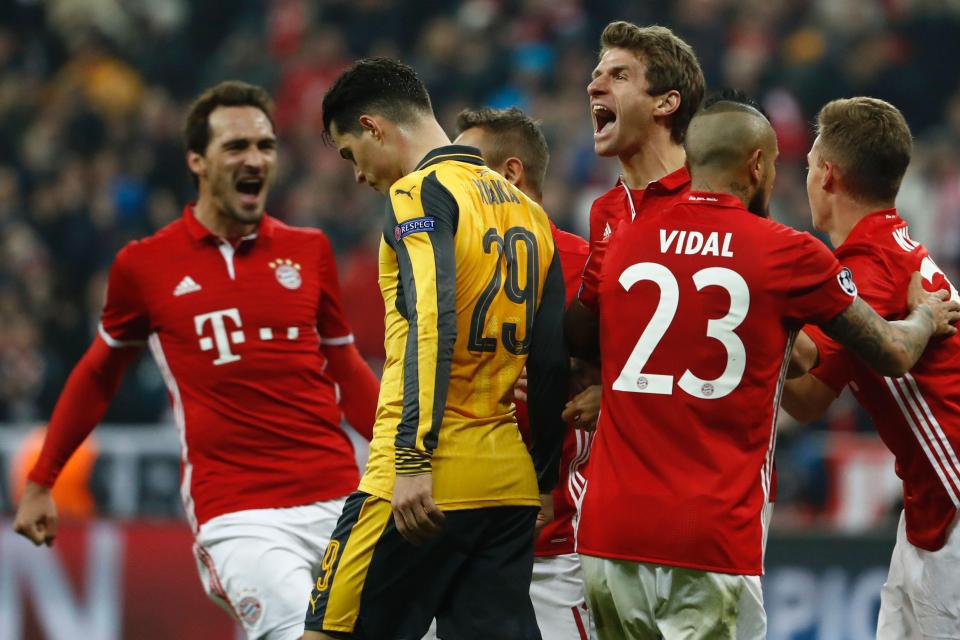 GOALS: Bayern - Robben (11), Lewandowski (53), Thiago (56, 64), Muller (88). Arsenal – Sanchez (30)
MAN OF THE MATCH: David Ospina made several excellent saves which kept the scoreline from being even more lopsided.
THE WEAK LINK: Where to start? There were several candidates, but Ozil stands out. Mesut Ozil did little and his body language reeked of defeatism.
THE REFEREE: Milorad Mazic 5. Wenger wasn't happy with his performance, but he was not to blame for our performance. He was suckered several times by Bayern's theatrics.
THE MANAGER: 4. Lowest point of his career? At the half he was looking like a genius, but Koscielny's departure opened the floodgates. Substitutions couldn't stem the tide.
OVERALL TEAM RATING: 3. They played well in the opening half, but they were manhandled in the second half. All of their defensive weaknesses were on display and the inability of the midfield troika of Coquelin, Xhaka, and Ozil to provide any stability or to keep possession proved critical.
VERDICT: Champions League is over. Arsenal will once again make a "valiant" attempt to overcome a first leg catastrophe and will again fall short.
PLAYER RATINGS:
Ospina 7: Perhaps he could have done better on the second goal, where he momentarily came out and then retreated into the goal. He made several excellent saves, particularly the reflex save off Javi Martinez.
Bellerin 5: Poor display from Hector. He had trouble dealing with Alaba, Douglas, you name it. He offered little going forward.
Mustafi 3: He made a number of frightful errors and his passing was erratic as usual. His defending on Bayern's third goal, where he waited for the ball to bounce in the box, was disastrous. He lacked presence, particularly in the air. Late in the game he was charging upfield, leaving the defence exposed.
Koscielny 6: Strained his thigh making a key overhead clearance. He had a few dodgy moments as well, but the dike held while he was in there.
Gibbs 5: I surmised that Wenger brought him in on the weekend because he was tasked to deal with Robben. Would Monreal have been better? Probably not. Was lucky not to concede a penalty when the ball glanced off his hand. He didn't play well, but he was not our main problem.
Coquelin 4: Poor match from Francis. He gave too much room to Robben when he cut inside and unleashed a thunderbolt. Looked unsure of where to play most of the night.
Xhaka 3: I expected more, given he's had time off and should have been raring to go. He couldn't maintain possession, looked unsure of what to do, and defensively he looked slow. Had a good chance to score in the first half, but his shot was right at Neuer.
Ozil 3: He had a few moments, but he cut a frustrated figure at the end. He had a chance to score near the end of the first half, but Neuer made the save. In the second half he failed to track back several times and was unable to provide any leadership when the team needed it.
Oxlade-Chamberlain 4: He had a few good moments, particularly in the first half, but the bottom fell out of his game in the second half. Two errors stood out. Arsenal had a breakaway and he didn't make the quick pass to Walcott, who was clear, and seconds later Lahm took him down with a professional foul. The other mistake was his giveaway that led to the fifth goal, the killer goal. Arsenal at that point could still have overturned the result in the second leg or even had a remote chance of scoring a second goal. The fifth goal ended any hope.
Sanchez 5: A poor penalty was followed by hustle and the reward of scoring against Neuer. Sanchez lacked support, but still could have used the ball better.
Iwobi 5: Another poor match for Alex, who wasn't able to make good use of the ball when he had it. Defensively, he tried hard but it's not his forte to play defence for extended time.
Substitutes:
Gabriel 5: What a nightmare to come on into this game. He and Mustafi don't make a great team and Bayern quickly pulled them apart.
Walcott 4: He had one quick run where he showed a burst of pace, but hardly saw the ball the remainder of the time.
Giroud n/a: Was on too little time to have an impact beyond a header off a corner.