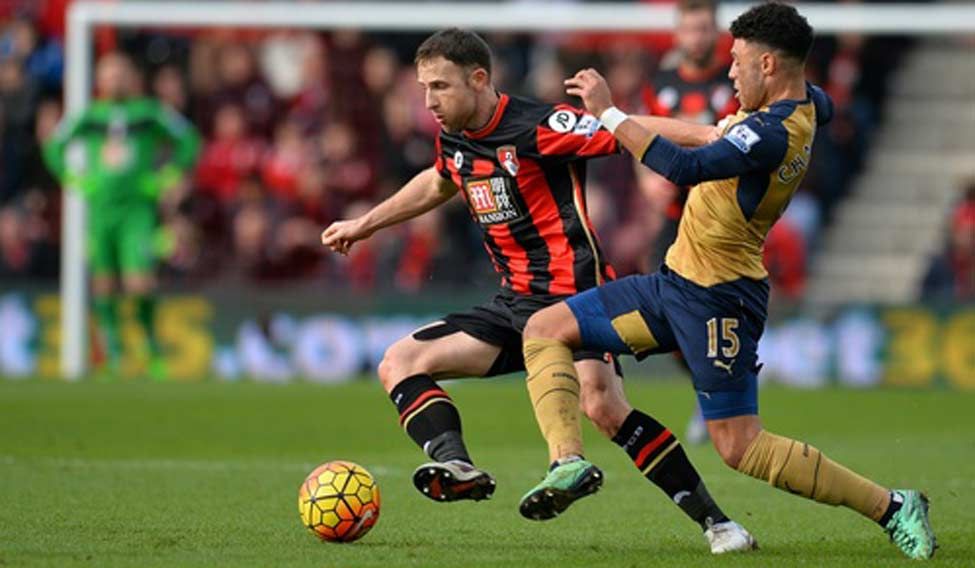 The game began fairly evenly until the 22nd minute, when Arsenal unlocked the Bournemouth defence.
Ramsey chipped the ball into the box, Giroud headed back across the middle and Mesut Ozil applied a powerful right-footed volley past a stranded Boruc. 1-0.
Less than a minute later Arsenal swept forward, Ramsey finding Oxlade-Chamberlain racing in from the right flank and his shot whipped into the far corner. 2-0. Game over.
Well, not quite. Cech had to bail the Arsenal defence out a number of times, making a fabulous save from Arter, as well as a save from Smith before halftime.
In the second half Arsenal seemed content to soak up the pressure and not make any effort to score a third. Sanchez and Ramsey had chances, but they were squandered and left us fans feeling a little nervous down the stretch.
Bournemouth had a couple of decent chances, but Cech denied Daniels, Cook and Arter. Arsenal next face league leader Leicester.
Player Ratings:
Cech 8: A clean sheet and several excellent saves. He was my man of the match.
Bellerin 7: Helped to bail Gabriel out with his speed at one point. He had a quiet game (perhaps due to having to partner with the Ox), but he was effective.
Gabriel 7: He had a good all round game. He's becoming more confident.
Koscielny 7: Like Gabriel, he was solid at the back and never looked seriously stretched.
Monreal 7: A tidy match from Nacho. He combined well with those around him.
Flamini 7: I was surprised to see him back again, but he played well and helped to provide cover for the defence. A reckless challenge in the first half earned him a yellow card.
Ramsey 7: Was involved in both goals. He had a good chance to score the third, but he hit the shot wide. In our half, he still gives the ball away too often.
Ozil 8: A fabulous goal with his weaker foot. He ran tirelessly and put in a lot of effort.
Oxlade-Chamberlain 8: The Ox finally scored. He took his shot well and hopefully he'll continue in this vein. He made a couple of decent passes and played within himself, rather than trying to force things. Perhaps he's moved ahead of Campbell in Wenger's mind.
Giroud 7: A fine assist on Ozil's goal, but Olivier received little service the entire afternoon. He had one header on goal from a corner, but there was little else.
Sanchez 7: Early on he had a volley he punted over the goal. He kept the Bournmouth defenders busy and he had a couple of other shots, but none of them seriously looked like going in.
Substitutes:
Coquelin 5: Came in to provide defensive stability.
Gibbs 5: Replaced a tired Alexis.
Walcott n/a: The briefest of cameos.