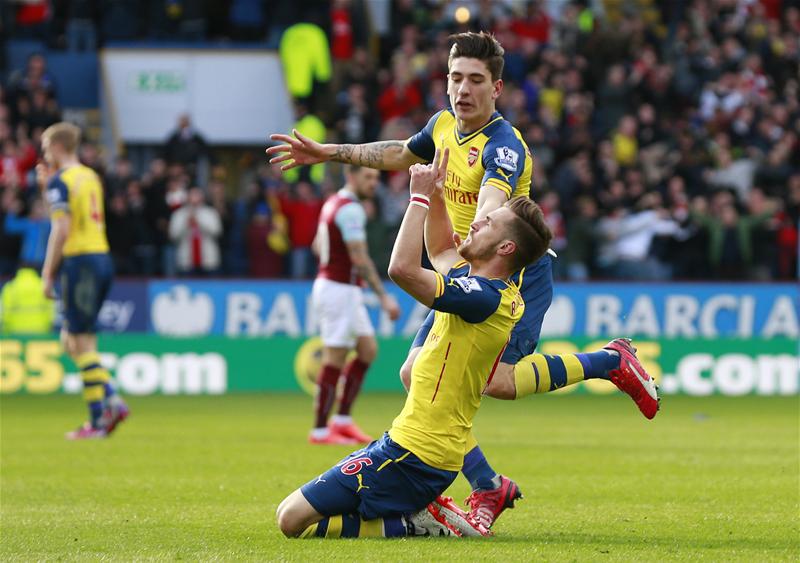 Chances to score were few and far between, with both sides doing a good job of pressing and limiting space for their opponents.
Arsenal played a little better in the first half than the second, but while they dominated possession, they created few good chances.
The best early chance came for Burnley, as Vokes outran Mertesacker, but Ospina came off the line and made a vital block.
Shortly after Arsenal took the lead in a move started by Francis Coquelin intercepting a pass and quickly passing it upfield. Ozil's shot ricocheted eventually to Aaron Ramsey, who quickly smashed it into the top corner of the net.
Cazorla narrowly missed doubling the lead when his free kick just missed the top corner.
A free kick at the other end by Trippier produced a spectacular save from Ospina just before halftime.
Arsenal were more untidy in the second half, content to try and hit Burnley on the break.
Cazorla and Welbeck had Arsenal's best chances of the half, but they never looked close to scoring.
Burnley produced several enticing looking crosses late in the game, but there was no one there to meet them. Ings produced a turnaround effort, but it lacked pace and Ospina made an easy save.
Arsenal's win puts pressure on the teams around them and extends their streak to eight Premier League games in a row.
Player Ratings:
Ospina 8. While not very busy, he made key saves when he needed to and he cut out the crosses which were threatening. His early block off Vokes was important and showed he was concentrating.
Bellerin 6. Had some good moments going forward, although the end product was lacking. Defensively he had a tough day, particularly late in the game when he was nutmegged once and beaten another time, allowing Burnley to launch dangerous crosses. I wouldn't be surprised to see Debuchy play at Wembley next week.
Mertesacker 7. Vokes was able to outrun him early in the match, but he was pretty solid the rest of the way. Won most of his aerial battles.
Koscielny 6. He played well defensively, but made at least four giveaways which put the team in danger.
Monreal 8. Solid game from Nacho, who made a couple of vital interventions around the goal to keep Burnley from scoring.
Coquelin 8. Another man of the match performance from Francis. He was solid throughout the game and made a number of key tackles, although one was a little reckless near the edge of the box. One of his interventions led to the Gunner's only goal of the match.
Ramsey 8. Not enamored of his playing on the right, but he would score the vital goal that keeps the team's streak going. His work rate was impressive. I must admit I found him to be frustrating when he opted several times to play the ball back rather than keep attacking moves going.
Cazorla 8. Put in a good shift. He had a couple of good chances to score, but his shooting has let him down lately.
Ozil 8. Did well to retain possession and to direct attacks. His powerful drive led to the goal being scored.
Giroud 6. Not his day. His recent scoring streak came to an end. He received little service and had few chances to score.
Sanchez 7. He had several half chances and he kept the Burnley defence busy. Some of his moves lacked an end product, but he is always involved and always interesting to watch.
Substitutes:
Welbeck 7. Welbeck had one decent chance to several other half chances. He immediately gets involved and his pace makes him a threat, particularly against tired defences.
Chambers n/a. Came on to waste time and to help stabilize the defence.