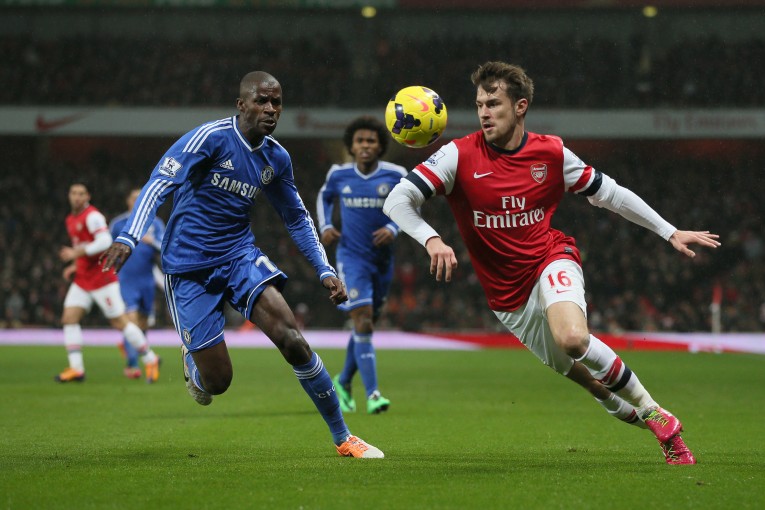 It all looked so promising. Arsenal started well and were able to create a few half chances while looking quite safe at the back.
However Diego Costa had other ideas and he duly flailed and pushed Koscielny around. Gabriel chose to insert himself into the tussle and increasingly became more and more wound up, enough to earn himself a yellow card (along with Costa).
Unable to put the incident out of his mind, he sidled up to Costa and tapped his ankles with his boot, earning a red card from Mike Dean.
Arsenal were able to keep things even, until a set piece awarded for a dubious foul. Fabregas floated a deep cross and an unmarked Zouma headed home.
The task was more difficult now, but the Gunners were able to set up Sanchez for a volley, which he flubbed.
Santi Cazorla earned a red card, when he committed his second bookable offence, leaving the Gunners down to nine men.
Chelsea scored again as time was expiring, a Hazard drive deflected cruelly off Chambers and beat Cech.
Arsenal also lost Coquelin in the match and we don't know how severe his injury is. Arsenal are very thin in midfield now as both Wilshere and Rosicky are out and we are just left with Arteta and Flamini on the bench. Scary!
Player Ratings:
Cech 6: Had no real chance on both of the goals conceded. He did make a good save off a powerful Hazard drive. Not the homecoming he envisioned.
Bellerin 6: He had a solid game, despite a couple of poor clearances early on. Couldn't get forward as often as he wanted, but he managed to prevent Chelsea from crossing the ball on his wing.
Gabriel 3: He made two poor clearances early in the game, but he settled in. Was a little aggressive in dealing with Hazard in the box, but that's what we like about him? Right? Wrong it turns out. He inserted himself into Costa's pushing match with Koscielny and in just seconds he was losing his cool. He got the card and then retaliated twenty seconds later and was sent off. I suspect he's got an anger management problem, having seen his tetchiness in previous games. What a pity. Just when some were thinking he'd replace Mertesacker in the lineup. He cannot get wound up so easily and blow a gasket. He cost us the game today.
Koscielny 6: Stood up to Costa when by rights he should have smacked Ihim on the free kick. Probably needed some more help. Again he made a nasty challenge on the edge of the area that gifted Chelsea a dangerous free kick.
Monreal 7: Our best defender on the day. Perhaps the best player of the day.
Coquelin 7: Was playing well until he took a tumble and hurt his knee. He's a player we cannot afford to lose. We should have bought another defensive midfielder this past summer, because Arteta and Flamini don't give me too much confidence.
Cazorla 6: Santi had a decent match, wiggling out of tight situations and making good forward passes. Unfortunately, he made two bookable fouls and was sent off. When he left the game was lost for good.
Ozil 5: Largely anonymous game from Mesut. I really thought he was on the verge of having a great season, but he had little influence in the game.
Ramsey 6: Admirable work ethic, but without the flash. He had a great opportunity to shoot in the first half, but didn't take the shot. He looks like he's lost some confidence in his shooting right now. He really needs a goal.
Walcott 6: In the first half he managed to get around the keeper but the ball was too close to the touchline to get a shot. He had several speculative shots during the match, but they lacked pace and direction. Almost broke through the defence, but Zouma made a last ditch tackle.
Sanchez 5: Not a very effective game from Alexis, who was contained by the Chelsea defence. He had his moment in the second half when he couldn't convert a volley that would have tied the game up. He is another who needs a goal right now and some more confidence.
Substitutes:
Chambers 6: He had a solid outing today in the second half. Was a little aggressive and picked up a yellow card. He couldn't really be blamed for the own goal as the ball took an unfortunate deflection.
Oxlade-Chamberlain 5: Had barely arrived in the game when Cazorla was sent off and he ended up chasing the ball most of the time.
Giroud 5: The same as the Ox. Was unable to make much of an impact on the match.