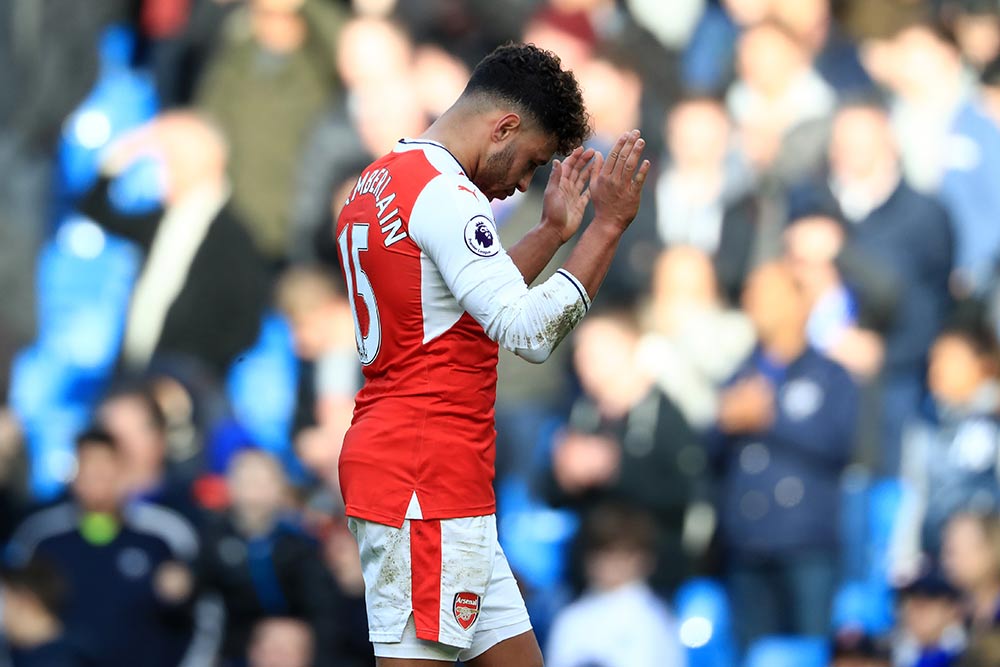 GOALS: Chelsea: Alonso (13), Hazard (53), Fabregas (85). Arsenal: Giroud (90)
MAN OF THE MATCH: Alex Oxlade-Chamberlain. Probably the only player who had a decent match. On top of it the role he was playing is a new one and he showed he has a future in the middle.
THE WEAK LINK: Francis Coquelin. There were several who could have been named, but Coquelin was overrun a number of times.
THE REFEREE: Martin Atkinson 5. Missed the big call of the match, the first goal where Alonso took out Bellerin before he headed it home.
THE MANAGER: 5. I thought Welbeck should have started in place of Iwobi. Perhaps a change could have been made at half-time.
OVERALL TEAM RATING: 5. To their credit they kept trying to the end, but they allowed Chelsea to move them to the middle rather than exploit the flanks. The defence made a number of poor passes upfield and the team showed little ability to open the Chelsea defence.
VERDICT: Two losses on the trot and a trip to Munich in the offing. Arsenal need to halt the skid and fast.
PLAYER RATINGS:
Cech 4: An atrocious clearance to Fabregas resulted in the third goal and the end to any chance of a comeback. He made several good saves, but bobbled an easy one and conceded a corner in the first half.
Bellerin n/a: Removed after Alonso elbowed him in the head and scored. Probably a concussion.
Mustafi 4: He should have scored on a header in the second half. Had a miserable afternoon. Received a yellow card after a blatant foul on Hazard early in the match. He made a number of poor passes upfield that usually led to desperate defending.
Koscielny 5: He too made several poor passes in the second half. His poor challenge on Hazard was a key factor in the second goal. He did make a key sliding tackle to stop Pedro.
Monreal 7: A good assist on the only goal at the end. He had a decent match at both ends of the field.
Coquelin 4: Poor match from Francis. He made a number of poor attempts at a tackle, the worst on Hazard's goal where he should have kept on his feet and waited rather than make a pathetic lunge.
Oxlade-Chamberlain 7: He played well in midfield, was disciplined and stayed in position, made good passes to find people open, but wasn't able to unlock the Chelsea defence. Made a nice pass for Gabriel in the first half, but he couldn't convert.
Ozil 6: To his credit, he didn't go missing today, although he was not as influential as he should've been. His corners were a little better than against Watford. He still wasn't able to impose himself on the match. He had a good chance in the first half which he really should've hit first time.
Walcott 5: He tried hard but had no real impact. Bellerin's loss didn't help.
Sanchez 5: Gave the ball away too often, dribbled into cul-de-sacs, couldn't find space. He cut a frustrated figure. One of his worst games of the season.
Iwobi 5: A poor match from Alex, who couldn't find space, gave the ball away too often, and had little impact on the match.
Substitutes:
Gabriel 6: Came on for Bellerin.He had a great chance to score just before the half, but couldn't get the header down. He had a decent match, but wasn't able to make much of an offensive contribution.
Welbeck 6: A decent outing for Danny who almost scored late with a header.
Giroud 6: Had little impact until his goal in injury time, a nice header into the corner.