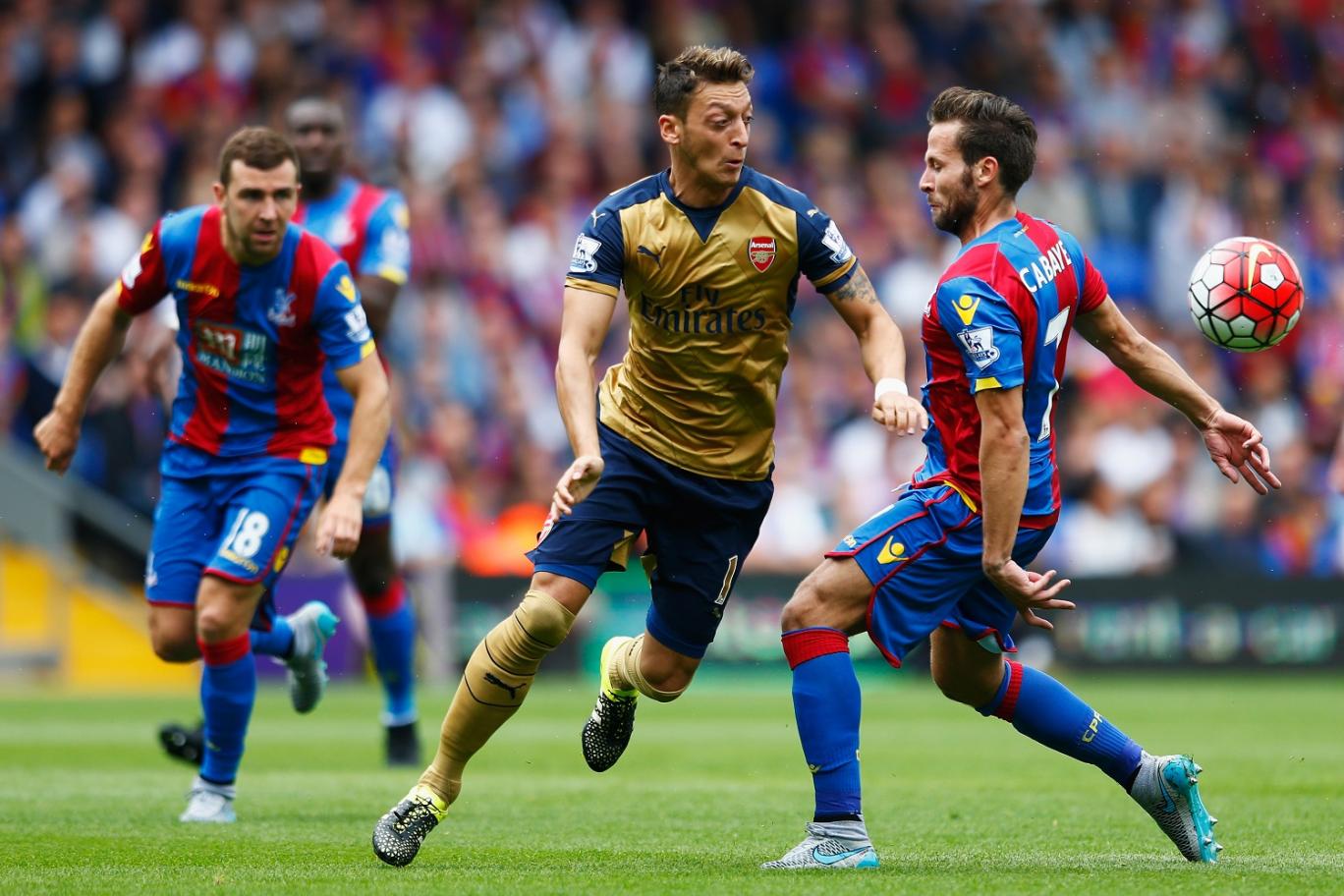 A lack of sharpness in front of goal kept the game close, but Arsenal were able to hang on and win in the end.
Alexis Sanchez could have had a hat trick by half time, but couldn't take any of his opportunities. His first opportunity may have been his best. Played in alone on goal by Ozil, he had trouble pulling the trigger, but finally rounded the keeper and shot only to have it cleared off the line.
His second chance produced a good save from the Palace keeper and his third saw him head a Monreal cross over the bar, despite being all alone in the box.
Despite these and other misses, Arsenal did score in the sixteenth minute, courtesy of a fine Olivier Giroud volley from an Ozil cross.
Palace would equalize on one of their first real chances on goal, a fine strike from Ward, that punished some slack defending.
Connor Wickham almost put Palace in front shortly after halftime, his shot hit the upright, keeping the score level.
Arsenal finally scored the winning goal when Alexis Sanchez outjumped Ward on a Bellerin cross and headed goalwards. The ball deflected off Delaney, a Palace defender, and beat the keeper.
From that point on Arsenal played defensively, looking to counterattack, while Palace tried to lob the ball in the box. Arsenal dealt with these threats with ease and created the best chances to score in the final twenty minutes.
One final note. The Gunners definitely need to improve their time wasting skills. On a couple of occasions during extra-time, they needlessly squandered possession.
Player Ratings:
Cech 6. Maybe I'm too picky, but a part of me feels that Cech could have done better on the goal he conceded. He also looked a little shaky on a couple of crosses and clearances, but he was in the right place and made some important, although not difficult, saves near the end.
Bellerin 6. He had his hands full and didn't get forward as often as he usually does. He made no major mistakes and he put the body on Wickham as came close to scoring in the second half.
Mertesacker 6. He had a few tough moments, but he largely kept Wickham under control.
Koscielny 6. Some said he was partially to blame on the goal with his body positioning. Perhaps. Most of the game he was solid.
Monreal 7. Made a nice cross in the first half, but Sanchez didn't score. He was good coming forward and he played quite well on defence, although he had his hands full with Zaha.
Coquelin 6. For the most part he was very effective on the field. He ended up being a source of controversy as Palace felt the referee should have sent him off. His first offence was a little harsh, but each subsequent infraction increased the pressure on the ref and affected his game. Thank goodness Lee Mason didn't listen to the Palace fans. That said, Coquelin needs to be more subtle and needs to pick up his cards in the second half, rather than the first.
Cazorla 8. Restored back to the centre, Santi was an important cog in the Arsenal machine, launching our attacks by passing through the Palace midfield. He also had a couple of shots himself, his second half shot being the one he'll think about missing the most.
Ozil 7. A good match for Mesut. He assisted on the first goal and made a number of good opportunities for others.
Ramsey 7. He also had a good match and caused the Palace defence a number of problems. He had several shots as well, one of which came quite close.
Giroud 7. He worked hard throughout the day and was rewarded with a fine goal, where he acrobatically had to adjust to a cross that was behind him.
Sanchez 8. Man of the match. Despite squandering a number of chances, he was dangerous almost every time he touched the ball. That he caused the own goal was due to his motivation to challenge for the header on Bellerin's cross.
Substitutes:
Oxlade-Chamberlain 6. Played some good minutes where his pace gave Palace something to worry about.
Arteta 6. Came in to stabilize the defence. Made a vital intervention in the box late in the game.
Gibbs 5. Helped steady the ship at the end.