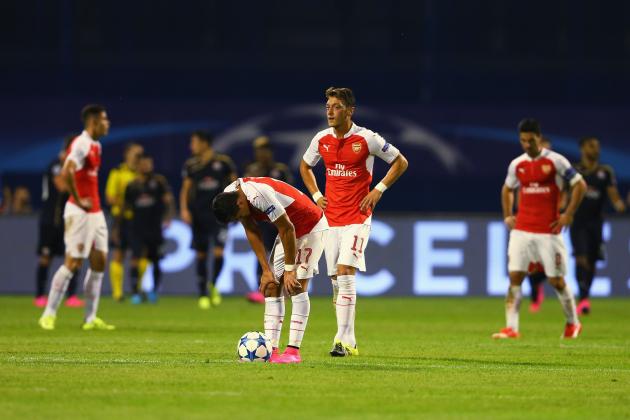 Early in the game Arsenal looked dangerous and came close to scoring twice. Giroud's header from a corner was well saved by Eduardo and the post denied Giroud after he stabbed at an Oxlade-Chamberlain cross.
The first time Zagreb had significant possession they scored. The Ox lost Pivaric, who may have been offside, whose shot ricocheted off Ospina onto the Ox and back into the goal.
Things got worse for Arsenal when Olivier Giroud, who had already picked up a yellow card for arguing, went into a challenge with a lazy challenge and picked up a harsh second card. Now Arsenal were under the gun.
In the second half things got worse when Soudani hit the post and minutes later Fernandes scored Dinamo's second, courtesy of slack defending from Gibbs and Koscielny.
At the sixty minute mark Wenger brought on three subs, hoping to change the game.
Arsenal had a number of chances ruled out for offside, but they finally scored when Walcott broke free, collected an Alexis pass and put the ball past Eduardo.
Unfortunately, they couldn't conjure up an equalizer and now their future passage to the next round is in jeopardy.
Arsene Wenger's Champions League record continues to be marred by red cards. Perhaps he needs to pull any player who gets a yellow card immediately, given the history.
Player Ratings:
Ospina 5: He had a rough night and wasn't close on any of the goals. Late in the game he came out of goal to clear a ball, almost gifted it to an opponent, kicked him on the knee, and managed to clear the danger. The referee obviously didn't see the kick, which may have led to a red card.
Debuchy 6. He had a few good moments in the game, but went down often (at least four times) and the referee wasn't sympathetic once.
Gabriel 6. He made a number of decent challenges. Wasn't really to blame for the debacle.
Koscielny 5. He made some strong challenges, but was beaten to the corner by Fernandes. Got away with a very robust challenge on the edge of the box in the second half when the ref played advantage.
Gibbs 6. He was effective early on, but failed to even jump at the cross on Dinamo's second goal.
Arteta 5. Not up to the needed level on this night. He made several weak challenges.
Cazorla 6. He was more prominent in the second half than the first. He made some good corner kicks, but he was not able to influence proceedings.
Ozil 5. Almost invisible in the first half. He was a little more effective in the second half. He was caught offside several times when Arsenal appeared to open the Dinamo defence.
Oxlade-Chamberlain 6. He made several good runs and made a couple of good crosses. However, defensively he was suspect. He failed to track back quickly enough on the opening goal, which deflected off him and into the goal. When Soudani hit the post, the Ox looked completely lost.
Giroud 4. He had two good chances to score and looked set for a big evening. Then he picked up the yellow cards. The first his fault completely, the second due to sloppiness.
Alexis 6. Assisted on the Walcott goal, but for most of the night he had trouble getting going. Missed a good chance to score from a free kick.
Substitutes:
Coquelin 6. Was better than Arteta in his thirty minutes.
Walcott 7. Second goal in a week. Should have come on earlier. My man of the match, although he wasn't that great.
Campbell 6. A couple of decent passes and a couple of poor fouls. Could have been red carded at the end as well.