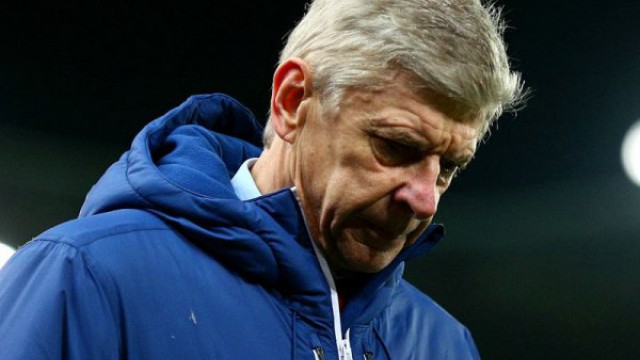 It was a particularly hot New Jersey day and this Yank had finally reached the breaking point with the day's heat and the ineptitude of Wenger's business dealings. In the past twenty-four hours the boss has remained steadfast to our transfer policy. We supposedly tabled a 30 million pound offer for Mahrez knowing wholeheartedly that Leicester will not even consider parting with their ace for under 40 million pounds plus, showing no real desire to actually sign the winger simply placating the fan base in the short term by making an offer. Leicester predictably scoffed at the offer and summarily dismissed it. Arsenal remained active deciding to increase their offer to the foxes for 35 million pounds, an offer that will not bring the deal to it's completion but will give the illusion that Arsenal are proactive and are making attempts to upgrade the squad. In "Déjà vu' all over again" I explained that these players are priced based on their actual worth in the current market, there is no need to quibble over a few million, simply pony up the scratch and bring Mahrez into the fold.
On the defensive front there was no progress made as it was predicted from a number of sources that a bid would be made to acquire Mustafi tomorrow. There is that word again, tomorrow. We have been considering this acquisition for weeks now. I am quite certain the due diligence has been compiled on this defender. He is no Leonardo Bonnucci, but he is bona fide nonetheless and is capable of upgrading our defense immediately. Valencia has made it clear that they are willing to part with the player for 25 million pounds, which once again in this inflated market represents actual value, so instead of offering 21.3 million plus 3.4 million worth of add ons stop wasting time and pony up the 25 million that is necessary and get him on the books. In addition to Mustafi, Johnny Evans is still being rumored as a possible acquisition as is Hoffenheim Swiss midfielder Fabian Schar, who has been connected to the Gunners for the past four windows. Schar is a solid center back who at 6'1" officers an excellent aerial presence on set pieces and has a host of international, and champions league experience during his years at FC Basel and is rumored to be available for around 10 million pounds. All of the aforementioned would bolster our current defensive options and are priced based on value not on potential. So why Gooners, Why I ask were no offers made today? The beginning of our campaign is nigh and yet we remain impotent in our attempts to make headway. In the past week for example, EvertonFC, who has had an outstanding window by the way under Dutch front man, Ronald Koeman expressed an interest in Wales and Swansea City captain, Ashley Williams, a player incidentally connected with the Arsenal for the past two years. During that time I didn't read articles about Koeman's pre contemplation of making a bid for Williams. He wanted the player, the player filled a need, he signed the player. Roma decided over the past two weeks that due to the injury to German International center back Anthony Rudiger before the Euros that it was necessary for them to sign an experienced back to replace him, they set their sights on former Arsenal captain, Thomas Vermaelen. Vermaelen has been languishing in purgatory at the Camp Nou since his shortsighted transfer to Barcelona in 2014. He was available for good value between 10-14 million and miraculously he was signed. I use the example of Roma and Everton, as they are good teams; fringe level European caliber teams but certainly not on a level with the Arsenal, though somehow they seem to be able to make acquisitions look simple compared to the travesty that is the Law-Wenger-Gazidis triumvirate.
In closing we touch on our longest standing conundrum, that of the "world class" striker. We passed on Higuain, were snubbed by Vardy, have been priced out of Icardi, and appear to be uncertain on whether Lacazette. I believe Hernandez of Leverkeusen would be a class signing based on need and would provide the depth necessary during Danny Welbeck's convalescence. I do not feel that Benteke would be a good fit due to the fact that he requires a long run of consecutive starts to achieve the form we all know he is capable of. Balotelli, although enormously talented, appears to have lost his passion for the game leaving most world-class clubs unwilling to take a chance on him. Sturridge, along with Benteke and Balotelli are Liverpool players and it is unlikely that Klopp would be willing to do business with Wenger on any player other than a utility squad player. I mentioned Wilfried Bony, City's Ivorian international briefly when discussing options still possible for Arsenal's16/17 strike force and it appears that he has risen as a possible option to spell and possibly compete with Olivier in the upcoming campaign. The Gooner faithful appeared less than enthusiastic about the possibility of bringing Bony to the Emirates based on today's reaction to the story. I analyzed Bony today and believe that his acquisition would be excellent business. He is a physical marvel for a striker resembling an NFL running back more than a football player. He possesses skilled feet a strong and accurate shooting touch and an excellent aerial presence and inspires fear into any oppositions back line. He was a poor fit for City's style of football and found opportunities playing behind Kun Aguero inconsistent at best. Arsenal is the possession master of the EPL, frequently laying siege to an opponents box though on many occasions finding it difficult to find that elusive winning strike when their opponents park the bus. Bony would bring a punishing style of striking under those circumstances and would greatly improve our chances of walking away with the full three points when teams choose to defend for 80 minutes a game. Bony needs a team that values his unique skill set and will give him the opportunity to put them on display. Imagine Ozil, Xhaka, Cazorla, and Mahrez providing scoring opportunities for the big man to bully the opposition sounds very promising to say the least.
In the past 24 hours we have made no headway to achieving our goals. Hopefully, tomorrow night we will be discussing the future instead of cursing the present and trying to forget the past.
Wenger is coming to the end of it. A man who is responsible for making the Premier League the top league on the planet. He globalized the English game and his legacy is long and distinguished indeed. I have one wish for the boss, to prove to the world that he is not past it. I believe that if he can for once match, Mourinho, Guardiola, Conte, and Klopp on the pitch, that he can win the Chess match proving once and for all that on an even playing field he is the best of them all.
It is still there to be had. Spend the cash, Boss, unite the Gooners once again under a single banner: IN ARSENE WE TRUST. It's not to late but tomorrow it might be.