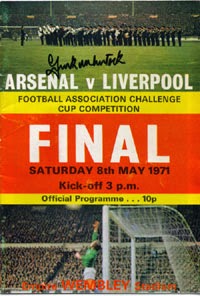 Its been the same for every Final I've ever been to and I've now got tickets for 12 Arsenal Cup Finals plus a replay so it can't be that difficult if you are a serious fan and apply all means at your disposal to get one. It used to be that we queued for 3-4 hours around Highbury early on a Sunday morning to get them. In later years we had to collect programme vouchers to ensure a ticket - a full set guaranteed you a ticket. A much fairer method but still not perfect, and it also had the downside of wrecked a set of programmes by cutting them up.
Its my opinion that fans who travel away and support the team all around the country and all around Europe are the most deserving because they make the time and put in the effort to support Arsenal away. Arsenal gave away season ticket holders priority so no beef there surely. Anyone who doesn't think these fans are the most deserving has clearly never travelled away and doesn't really understand what being a fan is all about. So why would they want to travel across North London now just because we're in a Final?
Season ticket holders with a away credits got priority this season and deserved to. Building away credits is difficult and in order to do so you have to initially go to games others don't want to travel to. When we started building away credits we did so by going to places like Boro, Sunderland, Toon, Blackburn and the likes because they were never sold out and fewer fans wanted to go because these are the difficult trips. If you can't be arsed and only ever want to travel to Old Trafford, The Bridge or WHL then tough. Those who've put in the time and effort are more deserving. Many fans who've been happy to use away season ticket holders tickets will now see the value in this. 9 years without a Cup Final sorts the men from the boys.
Being an old git on a pension I can no longer afford to travel so despite having had over 40 away credits at one time which guaranteed me tickets I now have no away credits. So I have a vested interest in long term fans getting priority, long term season ticket holders especially. But if anything there is a far strong argument for those newer fans who've never had the chance previously to go. Just because I've been a fan for longer and seen many more games than most doesn't make me any more of a fan than someone 50 years younger. So a ballot of season ticket holders was as fair as the Club could get in my opinion.
I'd like to see Arsenal FC take it further by prioritising those season ticket holders who could be arsed to fill their seat every game. We know there are some who can afford tickets and then only come along to the big games. So priority in the future should be given to season tickets that have been used for every game. And that obviously includes those who've sold tickets on to friends, the point being that they've made an effort to sell their seats and given someone else an opportunity to go to a game. Such fans are way more deserving than someone who can afford not to use a season ticket.
I'd also like to see those who used theirs for League Cup games get some sort of priority.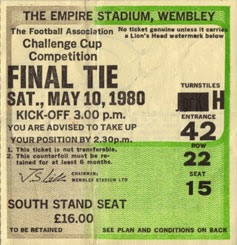 That said I got lucky in the Gold Member ballot and there is no way I'm giving up my ticket to anyone I think might be more deserving because I love FA Cup Finals. I feel sorry for those fans who are not going because being there is everything. Being at a game that millions are watching live is always a really big deal.
Then again I also hate Cup Finals because I can't eat before a game due to nerves and remain depressed for ages if we get beaten.
Whatever you do - do not despair of a ticket, if you try hard enough you might yet get one if you really care enough and use all means at your disposal. My nephew has already paid over £400 for a ticket via a Wembley Club Level Member, but you've already missed your chance there. Wembley Club Level will be red, full of rich buggers but Arsenal supporting rich buggers. I got a spare 1971 Final ticket for a friend via Fulham Football Club. I got some spares for another Final via Wembley Greyhounds. That channel was closed years ago of course, but many others have opened since. We picked up a ticket from a referee on the Friday night before the game so my father-in-law could see his beloved Sunderland beat Leeds in 1973. I got a ticket for Newcastle v United for a friend when I applied for tickets via a Youth Football team when I happened to be their Club Secretary. My kids saw us beat Newcastle because a friend who had tickets got offered a pair of hospitality tickets for that Final. The best ever was at a Arsenal Internet List Meet Up before one of Cardiff Finals, a fellow listee, Nige, approached me about half an hour before the game and advised that his friend couldn't make it and so he had a spare available for someone deserving - did I know anyone in the pub without a ticket? Indeed I did and it went to Karsten and his mates over from Germany, who were in Cardiff on a wing and a prayer. How they chose which of them should see the game I don't recall. But the pint is don't just give up on a ticket yet, work you rollocks off and you may yet acquire one.
Hull will have 25,000 fans at Wembley and no more. My guess is that Arsenal fans have probably already sourced between 3-10,000 tickets in addition to those supplied by the Club. Your chances of getting one via Gold Members who don't want to go are minuscule but the neutral tickets are all up for grabs if you can track them down. There will be loads of people, neutrals, with a Cup Final ticket who'd quite like to go, but they will probably have to go alone, they won't be supporting their team, the journey might be difficult and at the end of the day money talks when it comes right down to it. You may even be able to persuade them that Cup Finals should really be for the supporters of the two teams involved. These tickets are currently all over the country waiting for you to track them down and make an offer that cannot be refused.
I've even heard stories of touts being beaten up and having their tickets stolen. I don't condone such violence but I find it somewhat difficult to feel in the least bit sorry for such individuals....please don't take that as a suggested way of acquiring tickets by the way.
*cough*
(Read more at The Highbury Library).