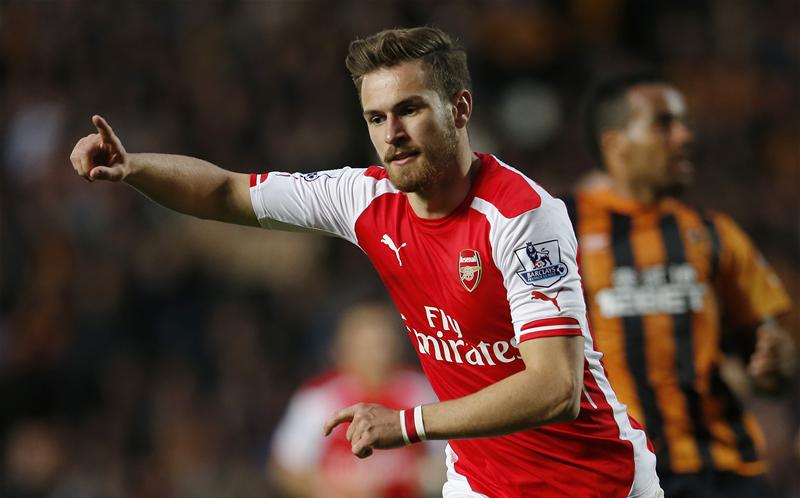 The first two goals featured fortunate deflections which completely befuddled the Hull goalkeeper and put the Gunners on easy street the remainder of the way.
The first came off a deflection from a Hull defender's head in the wall set up to stop Alexis Sanchez.
The second goal came after a fine Cazorla through ball found Ramsey, who swiveled to get a shot and it deflected perfectly to beat Harper in the Hull goal.
Arsenal added a third just before halftime, an Alexis Sanchez special, receiving a Ramsey pass and rounding the keeper to fire into the empty goal.
Hull scored their only goal relatively early in the second half, courtesy of referee Lee Mason swallowing his whistle when Meyler fouled Koscielny, allowing Quinn to header home seconds later.
Hull were never able to build on that first goal or to seriously threaten the Arsenal goal the remainder of the way.
Arsenal squandered a good half dozen chances and may rue their profligacy at the end of the season if goal difference prevents them from claiming second place.
Player Ratings:
Ospina 6: Not to blame for the Hull goal. He had little to do other than that, but had to challenge for a couple of crosses.
Bellerin 7: He was generally pretty solid throughout, but could've gotten forward a little more in the first half. He had a good second half.
Mertesacker 7: Late to challenge on the Hull goal, but other than that he was good most of the game.
Koscielny 7: A good match, mopping up attacks and looking commanding in the air. Was fouled on the buildup to their goal, but he had been left exposed.
Monreal 8: Could well be our most consistent defender right now. Did have a little trouble with El Mohamady in the first half, but he kept him under wraps in the second half.
Coquelin 7: He had a few untidy moments, but he was good most of the evening, breaking up their attacks and helping to launch ours.
Cazorla 8: Lovely assist on the Ramsey goal. He had a shot which Harper saved with his feet after his misjudged it. This was Santi's best game in a month.
Ozil 8: An excellent game for Mesut. His back flick to Sanchez was world class. He was involved in the buildup of the first two goals as well as creating several chances in the second.
Ramsey 9: A goal, an assist, and several other chances were the highlights. The lowlight came in the middle of the first half when a Livermore challenge almost fractured his leg. I thought he'd come out, but he ran off the pain and swelling and produced his best game in weeks.
Giroud 7: He had few chances, but he made a number of lovely touch passes and created several good chances for others. I'm sure he was disappointed not to score to provide an answer to Thierry Henry's criticism.
Sanchez 9: My man of the match. He was terrific all night and might have had two or three more goals. He had an early breakaway against Harper but couldn't get around him. He forced several other saves and made a cheeky stabbed pass for Ozil in the box that Hull were lucky to cut out.
Substitutes:
Wilshere 8: In his brief cameo Wilshere was excellent. An early run drew a foul on the edge of the box. He had a chance to score, but a Hull arm prevented the ball from going in. Later he was pushed in the area and a kinder referee may have given a penalty. Very promising return.
Walcott n/a. Played the last ten minutes, but had little chance to influence the game. Did have one shot he hit wide.