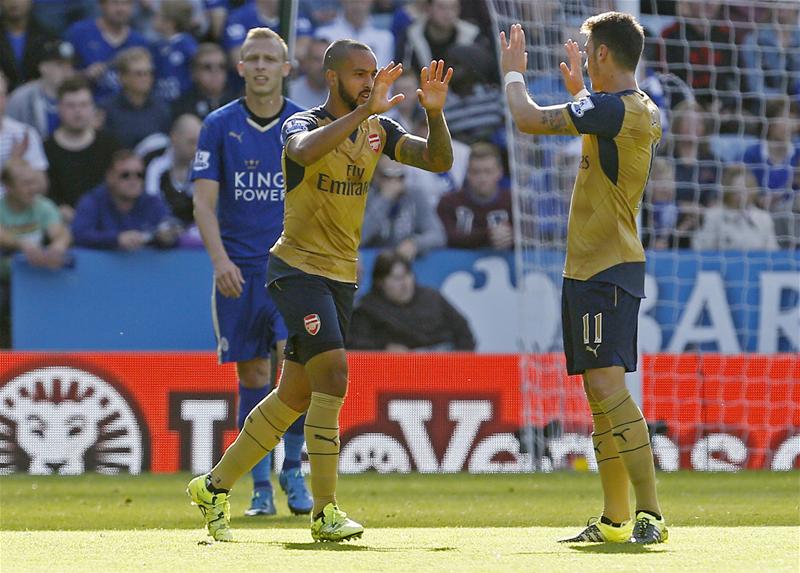 It was their best offensive performance of the season, hopefully a harbinger of good things to come.
It was Leicester though who started quickly out the blocks, putting Arsenal under severe pressure.
Vardy eventually scored from a counter attack when just two Gunners were back defending and he was able to take advantage of Mertesacker's lack of pace.
They hit the woodwork twice as well, although just following the second time Arsenal counter attacked and Walcott slotted home the equalizer with his left foot.
Arsenal took the lead shortly before halftime. Alexis managed to pounce on a Bellerin cross that Walcott had been unable to convert.
The Gunners took control in the second half and they managed a fourth, courtesy of a sublime chipped pass from Ozil that Sanchez headed home.
Alexis completed his hat trick with a lethal drive to the bottom corner and the points were safe.
Leicester managed to put Arsenal under severe pressure in the last ten minutes and Vardy scored a second from a tight angle.
However, Giroud scored from a Monreal cross and Arsenal had their fifth.
All of the Arsenal forwards scored and they all have three goals on the season so far.
Player Ratings:
Cech 7: Good game for Petr. He made several good saves and a number of routine saves. Couldn't be blamed for any of the goals.
Bellerin 6: Had a hand in both of Leicester's goals. On the first he was missing and on the second he should have been tighter on Vardy. Despite a couple of giveaways he was able to contribute with a couple of good crosses.
Mertesacker 7: He made a number of key clearances and headers, but his lack of pace allowed Vardy to shoot and score.
Koscielny 7: On several occasions he had trouble marking his opponents. However he made a number of important interventions.
Monreal 7: For the most part he kept Mahrez quiet and he played hard. A fine assist on Giroud's goal.
Flamini 5: A giveaway or two and then a tweaked hamstring. The hero of the Capitol One tie hurt his hamstring after about twenty minutes and he had to leave.
Cazorla 8: A fine assist on Walcott's opening goal. Giroud should've tapped in Santi's fine cross near the end. He was involved and he looked dangerous.
Ozil 8: Anonymous first half, but was dominant in the second. His assist on Sanchez's second goal was sublime. He should've scored twice, but slight pauses and a lack of control cost him dearly.
Ramsey 7: A decent game, but he still lacks conviction when shooting. Made several untidy passes during the match.
Walcott 8: Theo's best game since the Spurs game two seasons ago. He was dangerous and he made a number of important runs. He might have had a couple more if he shot better.
Sanchez 9: Man of the match. Scored his first goal and then followed up with two more. This should put the strut back into his step.
Substitutes:

Arteta 7: Flamini's injury saw Mikel return to action. He had an impressive outing both in attack and defence.
Oxlade-Chamberlain 6: He made a couple of good runs and made a super cross field pass to Ozil that never had the finish it deserved.
Giroud 6: He missed the easy chance, Cazorla's lovely cross which needed a tap in, but converted the more difficult, Monreal's cross into the box.