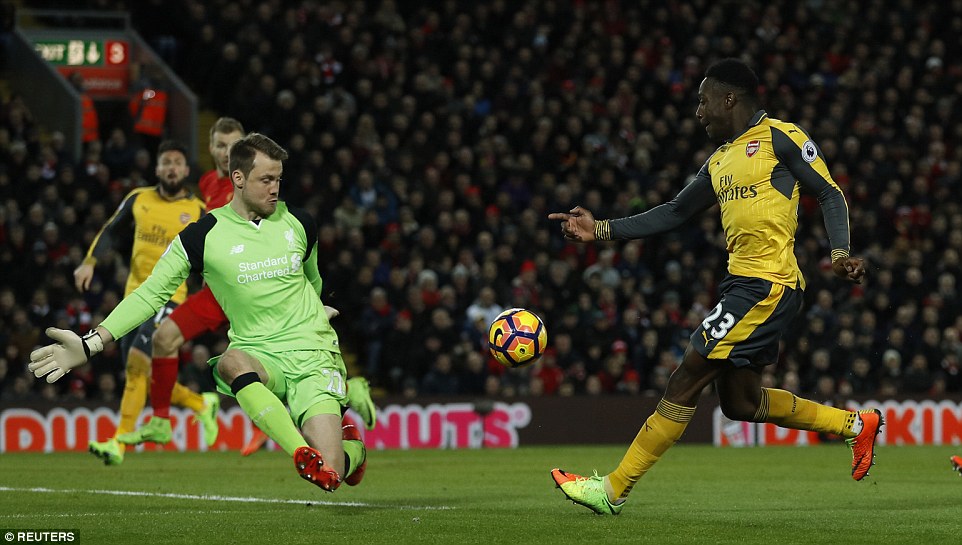 GOALS: Liverpool - Firmino (9), Mane (40), Wijnaldum (90). Arsenal – Welbeck (57)
MAN OF THE MATCH: Hard to find one. Welbeck finished nicely, so he gets my vote.
THE WEAK LINK: Coquelin again. I can't remember the last time he had a great match. He was overrun several times.
THE REFEREE: Robert Madley 3. Could have sent Emre Can off, but instead he gave a yellow to Xhaka. The crew missed the offside on the third goal as well.
THE MANAGER: 2. Why didn't he start Alexis? Probably something happened behind the scenes that we're not privy to. What he got was an anemic lineup without much life. Gibbs might have been better than Monreal … maybe.
OVERALL TEAM RATING: 3. A poor opening half and a better second half, but they couldn't complete the comeback. The time off didn't help them at all.
VERDICT: Horrible. Yet they still might have got something from that match. They have Bayern this Tuesday and they need to get their heads together fast, otherwise a top four place will be out of the question.
PLAYER RATINGS:
Cech 7: Didn't have much of a chance on any of the goals. He made several great saves that kept the team in the match. He was also saved by the upright as well.
Bellerin 5: Attacked with purpose, but his crosses generally didn't find their mark. Defensively he had a tough afternoon. Unluckily missed the cross that resulted in the opening goal. Ever since he's started wearing that head band in his hair the team have been losing (someone should check on that!).
Mustafi 5: All over the place. Is inclined to panic. Did make one nice buccaneering run forward on the right wing.
Koscielny 6: Pulled out of position a number of times, but he still is our best defender. He could've picked up Wijnaldum on the third goal.
Monreal 5: He was a virtual punching bag for Mane, who was toying with him. Gibbs is a little faster, which is why I thought he'd play.
Coquelin 4: Very poor match from Francis. When Adam Lallana out muscles you, you know you're having a bad night. He lasted till halftime.
Xhaka 4: He was largely culpable on the second goal as he reacted too slowly. He never really established himself in the middle. On top of it, he talked himself into a yellow card. Referees seem to be targeting him and he needs to react accordingly.
Iwobi 4: Anonymous for most of the game. Six months ago I thought he could play the number ten position, but I was wrong. In the dying moments of the game he had a chance to shoot, but gave the ball back to Alexis. He lacks confidence and probably had a better chance to shoot if he reacted quickly.
Oxlade-Chamberlain 6: Started on the right wing and ended up playing in midfield. He was okay for most of the match and showed some nice touches.
Giroud 5: Seemed to be playing injured for most of the first half. He had few touches as service was nonexistent. In the second half he almost scored when Mignolet saved his header, palming it against the crossbar.
Welbeck 6: Scored a lovely goal, but struggled to make an impact.
Substitutes:
Alexis 7: Turned the game around and had a nice assist on the goal. After awhile he started forcing things and Liverpool adapted to having him on the pitch.
Walcott 5: He had a run or two, but couldn't save the match.
Lucas Perez 5: He too had a couple of moments, but he wasn't able to make a big impact.