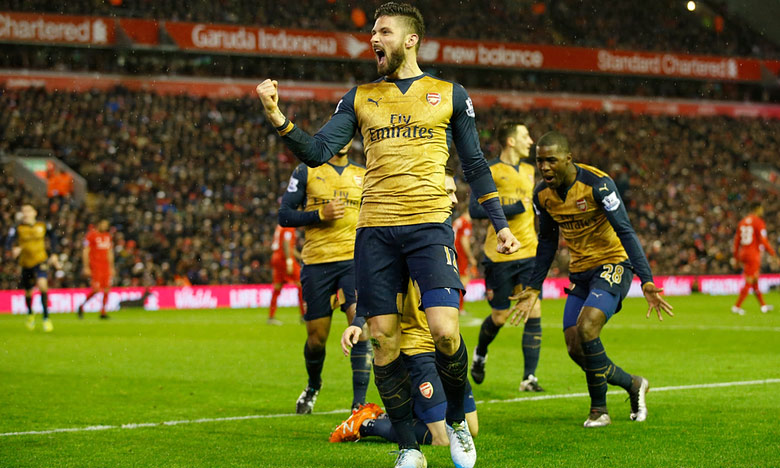 For much of the first half the Gunners struggled to gain possession and had to defend against a much more buoyant Liverpool squad.
Theo Walcott failed to clear a corner and Emre Can smashed a shot which Cech parried to the waiting Firmino, who scored through the legs of Koscielny.
Minutes later Arsenal made their first foray into the Liverpool area and scored when Aaron Ramsey ran onto a fine through ball from Campbell and shot past Mignolet at the near post.
Liverpool restored their advantage when Campbell twice failed to clear the ball and Firmino fired Liverpool ahead with a stunning goal to the top corner.
Again Arsenal responded, this time from a corner when Giroud managed just the slightest of touches on Ozil's low cross and the ball beat Mignolet.
Giroud had a chance to put the Gunners up before halftime, but he contrived to blow one of the best chances of the year, set up by Campbell and Walcott's cross.
In the second half Arsenal gradually assumed control and created chances to take the lead.
In the 55th minute Campbell fed the ball into Giroud, who pivoted around Kolo Toure and blasted Arsenal into the lead.
From that point on Arsenal looked content to hold onto the lead rather than going out and sealing the victory.
Constantly giving the ball away resulted in almost constant pressure and Liverpool's Joe Allen scored in the 90th minute when he got to a loose ball first.
Arsenal now have to clear their heads and prepare to play Stoke City, always a challenging encounter.
Player Ratings:
Cech 6: On the first goal he parried Can's shot back into danger and on the third goal he managed to get a hand on Allen's shot, but he couldn't redirect it. Perhaps will feel he could have done better.
Bellerin 7: He had a tough day keeping Moreno quiet and he did a good job for the most part. He had a couple of good runs in the second half.
Mertesacker 7: He made a number of key interventions, especially in the second half when he made a great block on a Lallana shot.
Koscielny 6: A solid day, but he'll be dreaming about Firmino's shot passing through his legs.
Monreal 7: He had a tough day chasing Ibe and Clyne, but he reduced their effectiveness for the most part.
Flamini 6: Flamini worked hard, but at times our defence looked more vulnerable than it should have. We also had trouble bringing the ball out of defence, particularly in the first half.
Ramsey 7: He scored a key goal that brought us back into the match, when we were showing little. He struggled to get on the ball throughout the match, particularly in the first half.
Ozil 7: The game passed him by in the first half, although I believe he gets an assist on Giroud's goal. In the second half he started to become more influential, making a sensational cross to Campbell at one point, but things didn't quite come off for him. When he left the game, I shuddered, as he was one of the few outlets we had out there. Sure enough … Liverpool equalized.
Campbell 8: One of the two men of the match for me. He assisted on Ramsey's equalizer, but was partially at fault for Liverpool's second goal as the ball deflected off him twice. He was involved in the buildup for Giroud's terrible miss, but helped to set up Giroud for the go ahead goal. He was dead on his feet when he came off, courtesy of working hard defensively.
Giroud 8: An eventful game. Was smacked on the head during the buildup for Ramsey's goal, scored Arsenal's second, missed one of the easiest chances he'll get this entire year, scored a sensational go-ahead goal, and he worked hard. My other man of the match.
Walcott 6: Goals are not coming for Theo right now, but he remains a valuable player. He dragged one shot wide after making a fine run, he set up Giroud for the chance of the season, and he looked dangerous at times, but his touch lets him down sometimes.
Substitutes:
Gibbs 6: He helped to slow down Ibe.
Oxlade-Chamberlain 5: Squandered a couple of opportunities on the counter-attack.
Arteta n/a: I had a bad feeling when he came in for Ozil. He wasn't to blame, but the team became more passive.