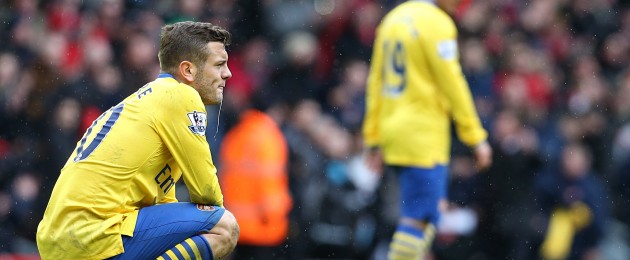 At least against Manchester City, Arsenal threatened the City goal.
In less than two minutes Liverpool were ahead, Skrtel scoring from an offside position from a Gerrard free kick. Skrtel scored a few minutes later off a corner, losing Koscielny and powering home a fine header into the corner.
The next ten minutes saw Arsenal overrun, Mertesacker's lack of pace cruelly exposed, and Arteta nowhere to be seen. Sterling and Sturridge both scored and the rout was on.
Suarez thumped one against the post and Toure was unable to score with the goal gaping in front of him.
If Arsenal played a little better the ten minutes before halftime, it was probably more Liverpool taking a break than Arsenal imposing themselves.
The second half was a lot more even, but still Liverpool created the better chances. Sterling scored his second, Szczesny's save kindly bouncing straight back at him, to give Liverpool five for the day.
Arsenal finally scored when a penalty was awarded after Gerrard tripped the Ox in the box. Arteta perhaps eased some of his pain by getting the goal.
The Gunners will need to refocus for the next game against Man United and put this lousy performance behind them.
Player Ratings:
Szczesny 6. Not really to blame for any of the first half goals. He was left brutally exposed by the defence. Made a couple of good saves in the second half, particularly off Suarez's cheeky free kick.
Sagna 6. A couple of times was caught upfield, leaving Mertesacker exposed. Made a few forays forward, but unable to make much of an impact.
Mertesacker 4. From the first minute when he tugged Suarez's shirt, you knew he would have a long day. The Liverpool players danced past and Per couldn't catch up. Continued to have problems in the second half as well, particularly with Sterling, and received little help from Sagna or Arteta.
Koscielny 6. Lost Skrtel on Liverpool's first goal, couldn't stop Sturridge from getting behind him a little later. He seemed to be trying to cover up for Mertesacker, which upset the balance to the defence. Made a few key interceptions as well, which kept the score from climbing even higher.
Monreal 5. Was having problems containing Sterling and on several occasions was nowhere to be seen. Had a half chance to score in the first half when the ball ricocheted between Mignolet and the Liverpool defender.
Arteta 5. Arteta's lack of pace was exposed time and again as he struggled to contain the Liverpool attack. He also made a few sloppy passes. He scored from the penalty spot and almost had a second with a well placed free kick in the second half.
Wilshere 6. Our man of the match, as only he seemed to play with some passion. Yes, he was a little rash sometimes, but he kept moving forward and tried to create something.
Ozil 4. Very disappointing game from Mesut, who created very little. Went down too easily which resulted in Liverpool scoring their third goal. We need more from him in these games.
Oxlade-Chamberlain 6. Almost anonymous in the first half with just one shot taken being my only recollection of his contribution. Could have done more defensively. He was more productive in the second half, winning our penalty and being more on the ball.
Cazorla 5. Largely ineffective throughout the game. Liverpool kept him contained and very little came off for him.
Giroud 5. Received little service, but too often he turned the wrong way or made a poor pass. Had a chance early, but his poor touch allowed the ball to roll out of reach.
Substitutes:
Gibbs 5. Even speedy Gibbs was beaten a couple of times. Made a few forays forward, but his crosses/passes were ineffective.
Podolski 5. Offered little on the day other than a tame header at Mignolet.
Rosicky 5. Came on and did nothing of particular note.